Artworks by Lee Krasner
The below artworks are the most important by Lee Krasner - that both overview the major creative periods, and highlight the greatest achievements by the artist.
Self Portrait (1930)
Painted in 1930 when she was just 22 years old, Self-Portrait illustrates Krasner's early traditional training in realism, her strong technical skill, and her self-assuredness in the role of an artist. Such training and control were the foundations from which her abstraction would take off, leading to her signature Little Image series of the late 1940s. Situated outdoors, which creates an air of 19th-century naturalism, Krasner painted Self-Portrait in order to advance as a student within the National Academy of Design. Krasner chose to paint herself in the garb of a working artist who confidently holds her paintbrushes firmly in hand. To capture her own reflection, she nailed a mirror to a tree and worked on the painting throughout the summer. Krasner has frozen the act of painting as she works on the canvas. Although initially her teachers under-appreciated Krasner and doubted the veracity of her painting outdoors, they did promote her into the life drawing class.
Seated Nude (1940)
Showing her indebtedness to Picasso, Seated Nude displays Cubist elements such as Krasner's non-realist command of geometrical, cube-like forms and her experiments with space. The drawing's structure becomes the armature for Krasner's energetic and expressive application of line, a marker of the more pure abstractions to come. Her use of charcoal on paper gives the work a sense of immediacy and vibrancy rather than artistic finish. Her dark application of charcoal line, vigorously worked over the surface, testifies to her assured hand and growing talent.
From Our Sponsor. Article Continues Below
Composition (1949)
During the mid to late 1940s, Krasner worked hard to undo her Cubist orientation and to more fully express her inner self. This work is part of the Little Image series of 31 paintings (1946-50) that represent her first all-over abstractions. With these paintings, Krasner expanded the visual vocabulary of Abstract Expressionism. Taking her start from Pollock, she worked more directly from instinct, but painted in a state of "controlled chaos." The series' title most likely came from her new small studio, out in the Springs, located in a small bedroom in the upstairs of the home she shared with Pollock; he commanded the large barn on their property. Krasner's painting demonstrates the expressive power of small, intricate lines and gestures as opposed to the mural-sized paintings of Newman and Pollock. This series was unique in her career since this was the only time she worked looking down on her canvas, dripping paint, rather than situated on an upright easel. Brightly colored with thickly textured surfaces, Krasner tightly controlled the drips she applied, which is evident in the white lines and drawings that cover the underlying support. The painting's overlapping skeins of white paint form tightly controlled small units that shimmer on the painting's surface. These small forms echo ancient picture-writing systems, and may relate to Jewish mysticism and the Kabalah. This deep connection to her inner-self and all-over covering of the canvas stand as key turning points in her career.
Milkweed (1955)
Milkweed is an excellent example of an aesthetic "break" by Krasner and her subsequent turn to collage. Highly self-critical of her own work, in the early 1950s, Krasner started to rip and shred early paintings which did not meet her standards. Milkweeds was conceived by Krasner by recycling some of these remenents, which she incoporates with paper scraps and by applying a new layer of oil paint. The title was chosen once she had finished the work, and was most likely named after the stem and leaf-shapes of the common milkweed plant and the orange and black monarch butterfly which deposits its eggs on the milkweed. With these collages, Krasner introduces the natural world - a long interest of hers - into her aesthetic and also broadens the vocabulary of the greater Abstract Expressionist movement.
Cool White (1959)
Krasner's Cool White demonstrates how she could exploit a limited color palette of somber umber tones and white to its maximum effect through her dynamic use of form and brushwork. Krasner aggressively applied paint from a thickly loaded brush, dragging and pushing the pigment all over to create an energetic, pulsating image. The limited colors and tones do not limit the work's impact in any way, and in fact, draw attention to Krasner's powerful forms and assertive brushstrokes.

After Pollock's death, Krasner worked in his studio in the barn, which permitted her to work on a larger scale and with greater, sweeping gestures. Krasner created Cool White during the difficult time after Pollock's sudden death, during which she was dealing with the increasing demands of his estate and the abrupt cancelation of an exhibition organized by Clement Greenberg. Of this and similar works of the late-1950s, Krasner explained their autobiographical origins: "I painted a great number of them because I couldn't sleep nights. I got tired of fighting insomnia and tried to paint instead. And I realized that if I was going to work at night I would have to knock out color altogether, because I couldn't deal with color except in daylight." Cool White stands as Krasner's own interpretation of large scale, broad-gestured, intuitive painting for which Pollock is better known.
From Our Sponsor. Article Continues Below
Gaea (1966)
Krasner's signature vibrant use of color, lifelong interest in the fecundity of nature, and joyous sensibility were among her key contributions to the often brooding, deeply serious post-war abstract tendencies of her peers. Via her paintings, Krasner worked through her profound anguish and anger after Jackson Pollock's death. Later, she turned to nature to create large-scale, brilliantly colored canvases that show the influence of Henri Matisse and the Fauvists, again demonstrating her connection to early-20th-century modernism. Inspired by the natural world, Krasner painted large, floral, and organic shapes, alive with color and pulsating with new energy. The piece's title refers to the Mother Earth goddess of Greek mythology, representative of her continued interest in ancient civilizations as artistic sources. Her creative output of the 1960s expresses a sense of rebirth and elation after her emotional trauma and struggles of the prior decades.
Mysteries (1972)
Here, Krasner's use of rich unsaturated colors, hard-edged organic forms, and palette of white, red, and black displays the influence of Northwest coast art, especially wood carving by such peoples as the Haida, the Tlingit, and the Kwakiutl. In 1941, MoMA exhibited a major show of Native American art, which greatly excited several abstract painters including Lee Krasner and Barnett Newman. Inspired by Carl Jung's theories of a collective unconscious, Native art was seen as especially relevant to modern art and life through its formal complexity and mythological basis.
Related Artists and Major Works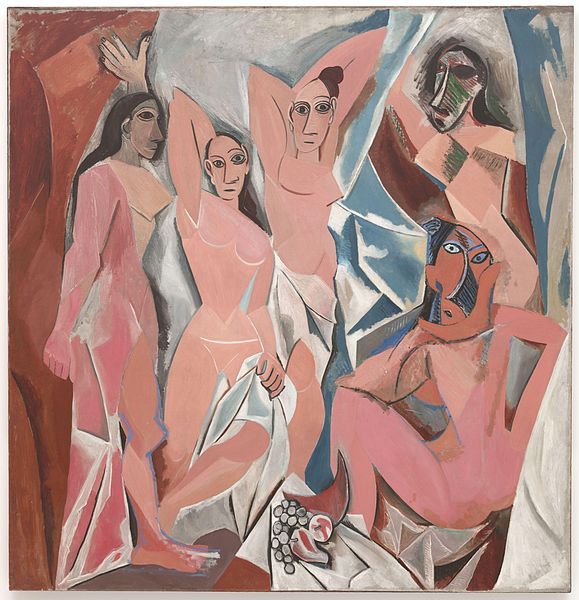 Les Demoiselles d'Avignon (1907)
Artist: Pablo Picasso (Read Full Artist Overview, Biography, and Artworks pages)
This painting was shocking even to Picasso's closest artist friends both for its content and its execution. The subject matter of nude women was not in itself unusual, but the fact that Picasso painted the women as prostitutes in aggressively sexual postures was novel. Picasso's studies of Iberian and tribal art is most evident in the faces of three of the women, which are rendered as mask-like, suggesting that their sexuality is not just aggressive, but also primitive. Picasso also went further with his spatial experiments by abandoning the Renaissance illusion of three-dimensionality, instead presenting a radically flattened picture plane that is broken up into geometric shards, something Picasso borrowed in part from Paul Cézanne's brushwork. For instance, the leg of the woman on the left is painted as if seen from several points of view simultaneously; it is difficult to distinguish the leg from the negative space around it making it appear as if the two are both in the foreground.

The painting was widely thought to be immoral when it was finally exhibited in public in 1916. Braque is one of the few artists who studied it intently in 1907, leading directly to his Cubist collaborations with Picasso. Because Les Demoiselles predicted some of the characteristics of Cubism, the work is considered proto or pre Cubism.
The Moroccans (1915-16)
Artist: Henri Matisse (Read Full Artist Overview, Biography, and Artworks pages)
Matisse planned this picture as early as 1913, and it recalls visits made to Morocco around this time. A figure sits on the right with a back to us, fruit lies in the left foreground, and a mosque rises in the background beyond a terrace. Matisse said that he occasionally used black in his pictures in order to simplify the composition, though here it undoubtedly also recalls the stark shadows produced by the strong sunshine in the region. Like Bathers by a River (1917), The Moroccans was significantly influenced by Picasso's Cubism, and some have even compared it to Picasso's Three Musicians (1921). Although it employs the same brilliant color as much of Matisse's work, its use of abstract motifs and rigid diagrammatic composition is unusual, and has attracted considerable speculation. Rather than use the scene as an opportunity for decoration, it is as if Matisse has tried to find the means to chart and map it.
Composition with Color Planes (1917)
Artist: Piet Mondrian (Read Full Artist Overview, Biography, and Artworks pages)
While still in Holland during World War I, Mondrian helped found the group of artists and architects called De Stijl, and it was during this period he refined his style of abstraction even further. Composition with Color Planes shows his break with Analytic Cubism and exemplifies the principles he expressed in his essay "The New Plastic in Painting." Here, Mondrian has moved away from the Cubist palette of ochres, grays, and browns, opting instead for muted reds, yellows and blues - a clear precursor to his mature palette that focused on primary colors. The blocks of color float on a white ground and no longer reference a physical object in nature such as a tree or building, while all reference to illusionistic depth has been eliminated. The composition is based on color and balance and gives even weight to all areas of the picture surface, moving toward the precise balance of his mature canvases.