Collage
I want to incorporate into my painting any objects of real life.
Summary of Collage
A common technique practiced by decorators, advertising agencies, and hobbyists alike, collage upended the fine-art world when Cubists Georges Braque and Pablo Picasso incorporated bits of newspaper and printed wallpaper into their paintings, subverting traditional definitions of what is important art. Combining painting, real-world objects, images, and ephemera into a single work, collage directly questions the tendency to separate fine art from everyday objects, the delineations between so-called high and low culture, and the status of the artist.

Adopted by subsequent artists, collage became a dominant technique in the Dada, Surrealist, Pop Art, and Neo-Dada movements, each using the technique to explore different subject matters. Because collage often incorporates mass-produced images, the practice is often inseparable from its historical and political context, making it a mode of powerful social commentary. Contemporary artists continue to explore the richness of collage in their efforts to question assumptions, biases, and pressing political crises.
Key Ideas & Accomplishments
Whether purposefully or randomly composed, the juxtapositions between images and objects created by the collage technique have long intrigued artists. Because images can take on new meanings in new contexts, collage can subvert traditional meanings and at the same time multiply meanings, creating works that don't easily settle into single, fixed analyses.
From the French meaning "to glue," collage describes the technique of composing an artwork by gluing a wide range of materials - including pieces of paper, fabric, newspaper clippings, and sometimes readymade objects - to a surface. Art historians make technical differentiations between collage techniques based on the materials an artist uses. Papiers collés are collages made only with bits of paper; decoupage, which means cutting, consists of cutting out colored paper or images and then gluing them to an object; photomontage uses photographs and images from mass-media sources, while assemblage is a three-dimensional accumulation of objects.
Many avant-garde artists, from the earliest days of modernism to contemporary postmodernism, use collage to question the traditional role of the artist. By using found, often mass-produced, images and objects that the artists themselves don't make, collage undermines the traditional importance placed on the presence of the artist's hand in an original work of art. Additionally, often relying on chance to create compositions, many artists use collage to subvert the importance placed on the artist's creative genius in composing works.
Key Artists
Overview of Collage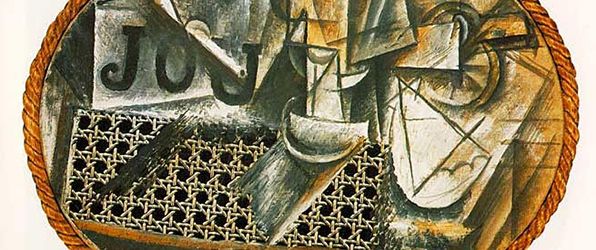 By the 12th century, both the Chinese and Japanese routinely glued brightly colored pieces of paper to various objects, sometimes applying a layer of lacquer to seal the surface for more permanent effect. The technique spread to medieval Europe, where additional materials, such as shells, gemstones, or gold foil, were incorporated into compositions. By the 18th century, decoupage, from the French "to cut out," had become a popular pastime among the European aristocracy, including Madame de Pompadour, Marie Antoinette, and Beau Brummell. An 18th-century letter described the trend: "We are here in the height of a new passion for cutting up colored engravings.... These cuttings are pasted on sheets of pasteboard then varnished. We make wall panels, screens, and fireboards of them."
The Important Artists and Works of Collage
Useful Resources on Collage