Meyer Schapiro
Art Historian and Critic
Born: September 23, 1904
Siauliai, Lithuania
Died: March 3, 1996
New York, NY, USA
Style is, above all, a system of forms with a quality and meaningful expression through which the personality of the artist and the overall outlook of a group are visible. It is also a vehicle of expression within the group, communicating and fixing certain values of religious, social, and moral life through the emotional suggestiveness of forms.
Summary of Meyer Schapiro
Meyer Schapiro was a critic, teacher, and art historian who spent most of his life in New York City after emigrating from Lithuania as a child. In the 1940s and '50s, Schapiro delivered many lectures that were attended regularly by many of the well-known modern artists of the time. Schapiro was a huge proponent of modern art as well as a close friend and adviser to many artists, such as Willem de Kooning and Robert Motherwell, who benefited from Schapiro's vast knowledge of art history and theories on aesthetics and perspective. More so than many of his critical contemporaries, Schapiro was a learned expert on matters of art history and theory, which made his opinions all the more valuable to the many artists he lectured to and socialized with.
Accomplishments
Schapiro was, above all else, a teacher and an intellectual who believed that all art must be appreciated within a specific context and that any great art is linked to the social and economic conditions of its time.
Schapiro's ideas about art and culture were firmly rooted in the teachings and writings of Georg Hegel, the German philosopher, who believed that the spirit and significance of art is constantly being reinvented in different times and places.
When it came to modern art, Schapiro looked to ancient forms of art (Roman and Greek sculpture, religious art, different forms of folklore, etc.) as possible influences, refuting the perspective that they are merely historical documents.
In addition to modern and abstract art, Schapiro was also an accomplished scholar of Romanesque sculpture, but surprisingly, he did not consider this specialty to be separate from his love for modern art. When it came to discussions and studies on modernism, Schapiro made sure that ancient art history was an integral part of the lesson.
Biography of Meyer Schapiro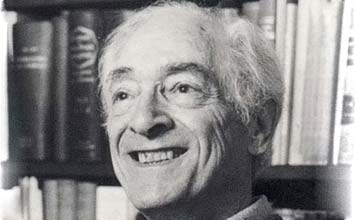 The descendent of Talmudic scholars, he was born Meir Schapiro in Lithuania to Nathan Menachem Schapiro and Fanny Adelman Schapiro. Nathan had abandoned the Orthodox Jewish faith and was influenced by an Eastern European enlightenment movement that favored Western secular learning.
Meyer Schapiro and Important Artists and Artworks
Influences and Connections
Influences on Meyer Schapiro

Influenced by Meyer Schapiro

Influences on Meyer Schapiro
Friends
Georg Hegel

Karl Marx

Hannah Arendt

Whittaker Chambers

Influenced by Meyer Schapiro
Friends
Saul Bellow

Robert Goldwater
Useful Resources on Meyer Schapiro