Frank Stella
American Painter and Printmaker
Born: May 12, 1936
Malden, Massachusetts
I like real art. It's difficult to define REAL but it is the best word for describing what I like to get out of art and what the best art has. It has the ability to convince you that it's present - that it's there. You could say it's authentic... but real is actually a better word, broad as it may be.
What you see is what you see.
A sculpture is just a painting cut out and stood up somewhere.
Making art is complicated because the categories are always changing. You just have to make your own art, and whatever categories it falls into will come later.
I think that many gestures artists make, gestures that seem casual and improbable but surprisingly effective in making art, can be made available to architecture.
Painting is a flat surface with paint on it.
You can only take advantage of those gifts that you really have - that are part of your character, and you're lucky to be born with those gifts. I have a gift for structure, and the strength of all the paintings I made in the sixties lay in their organization, their sense of what pictorial structure could be.
The crisis of abstraction followed from its having become mired in the sense of its own materiality, the sense that the materials of painting could and should dictate its nature. That's not enough, and the belief that it was killing painting.
Summary of Frank Stella
In 1959, Frank Stella gained early, immediate recognition with his series of coolly impersonal black striped paintings that turned the gestural brushwork and existential angst of Abstract Expressionism on its head. Focusing on the formal elements of art-making, Stella went on to create increasingly complicated work that seemed to follow a natural progression of dynamism, tactility, and scale: first, by expanding his initial monochrome palette to bright colors, and, later, moving painting into the third dimension through the incorporation of other, non-painterly elements onto the canvas. He ultimately went on to create large-scale freestanding sculptures, architectural structures, and the most complex work ever realized in the medium of printmaking. Stella's virtually relentless experimentation has made him a key figure in American modernism, helping give rise to such developments as Minimalism, Post-Painterly Abstraction, and Color Field Painting.
Accomplishments
A decisive departure from Abstract Expressionism, Stella's Black Paintings series consists of precisely delineated parallel black stripes produced by smoothly applied house paint. The striped pattern serves as a regulating system that, in Stella's words, forced "illusionistic space out of the painting at a constant rate." This device was intended to emphasize the flatness of the canvas and prompt the viewer's awareness of painting as a two-dimensional surface covered with paint - thereby overturning the notion of painting as window onto three-dimensional space that emerged in the Renaissance and dominated the medium for many centuries thereafter.
Created according to a predetermined, circumscribed system imposed by the artist, the Black Paintings served as an important catalyst for Minimalist art of the 1960s. Similar to Stella's parallel stripes and smooth handling of paint, Minimalist artists created abstract works characterized by the use of repeated geometric, industrial-appearing shapes stripped of all thematic or emotional content.
Stella was an early practitioner of nonrepresentational painting, rather than artwork alluding to underlying meanings, emotions, or narratives, and has remained one to this day. Working according to the principle of "line, plane, volume, and point, within space," Stella focuses on the basic elements of an artwork - color, shape, and composition. Over time, Stella succeeded in dismantling the devices of three-dimensional illusionism; his shaped canvases underscored the "object-like" nature of a painting, while his asymmetrical Irregular Polygons explored the tension between the arrangement of colors on the flat surface of the canvas as well as the optical effect of the advancing and receding forms.
Baroque artists such as the early-17th-century Italian painter Caravaggio developed illusionistic "tricks" that convincingly suggested that their subjects emerged out of the canvas and into the space of the viewer. Several centuries later, Stella took such innovations one step further by literally extending painting into the third dimension in his painterly reliefs, which entered the viewer's space with their incorporation of protruding materials.
Biography of Frank Stella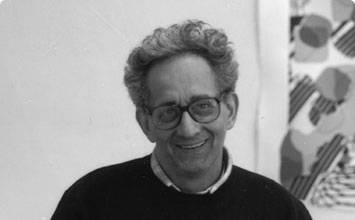 Frank Stella was born the oldest of three children to first-generation Italian-American parents. In his sophomore year of high school at Phillips Academy in Andover, Massachusetts, he began learning to paint from the abstractionist Patrick Morgan, who taught there. Stella continued taking art courses at Princeton University, while earning a degree in history. His Princeton professors, painter Stephen Greene and art historian William Seitz, introduced Stella to the New York art world by bringing him to exhibitions in the city, thereby shaping his earliest artistic aesthetic.
Important Art by Frank Stella
Influences and Connections
Influences on Artist
Influenced by Artist
Influences on Artist
Friends
Richard Meier

Philip Johnson
Influenced by Artist
Artists
Daniel Libeskind
Useful Resources on Frank Stella