Caravaggio
Italian Painter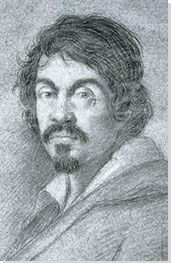 Born: September 29, 1571
Caravaggio, Lombardy
Died: July 18, 1610
Porto Ercole, Lombardy
Summary of Caravaggio
The intensity of Caravaggio's paintings was matched only by his tempestuous lifestyle. Despite being a hot-headed, violent man often in trouble with the law and implicated in more than one murder, he created striking, innovative paintings and pioneered the use of dramatic lighting and the representation of religious figures in modern clothes and attitudes. Working from life and without the aid of preparatory sketches, Caravaggio paired close observation of his models with the use of strong beams of light to focus attention on certain elements of his images, contrasting these well-lit areas with dark shadows elsewhere on the canvas. This use of chiaroscuro became a core part of Caravaggio's highly individualized style and was widely imitated by his contemporaries. Even though he only lived until the age of 39, Caravaggio had a profound influence on the painters around him and on later art movements notably Baroque art and 19th-century Realism.
Accomplishments
Caravaggio's populist portrayals of religious figures were groundbreaking, showing biblical characters in a non-idealized fashion through the addition of signs of age and poverty and the use of contemporary clothing. This served to humanize the divine, making them more accessible to the average viewer. In doing this Caravaggio's work represented a type of spiritual populism. The bare, dirty feet of Caravaggio's figures united the artist's works with church teachings which emphasized the poverty of Christ and were also consistent with calls for a simplicity in religious art following the Council of Trent (1545-1563). Despite this alignment with current dogma, these portrayals drew some of Caravaggio's harshest criticism.
Whilst the technique of chiaroscuro was not introduced by Caravaggio, he was the first painter to incorporate the technique as a dominant stylistic element, making the shadows darker and using clearly defined rays of light for emphasis and to highlight the narrative of the image. The style became increasingly prevalent in his later work and has subsequently become synonymous with his more mature images.
As far as records show Caravaggio never married and had no children, this alongside his many sensual portrayals of young men (in conjunction with a lack of erotic female characters in his work) has led to a debate surrounding his sexuality and there have been a number of contemporary homoerotic readings of his work.
Biography of Caravaggio
Reliable biographical information on Caravaggio is scarce and what does exist has been pieced together from court and municipal records and other surviving documents. As a child, Caravaggio was known as Michelangelo Merisi, a reference to his birth on the feast day of the Archangel Michael. The artist grew up between the quiet agricultural town of Caravaggio in Lombardy and the bustling city of Milan where his father, a master stone mason, worked. Though of lower social status, Caravaggio's family had elite ties. Caravaggio's aunt had served as a wet-nurse to the children of the Milanese Sforza nobility, and members of the Sforza family, notably the Marchese Francesco I Sforza di Caravaggio and his wife, Costanza Colonna, witnessed the wedding of Caravaggio's parents in 1571. Costanza Colonna would later become a supporter of the artist during his many flights from the law, although she never personally acquired a painting.
Important Art by Caravaggio
Influences and Connections
Influences on Artist
Influenced by Artist
Influences on Artist
Artists
Guido Mazzoni
Friends
Cardinal Francesco

Maria del Monte

Costanza Colonna
Influenced by Artist
Friends
Cavalier Giambattista Marino
Useful Resources on Caravaggio
Books
The books and articles below constitute a bibliography of the sources used in the writing of this page. These also suggest some accessible resources for further research, especially ones that can be found and purchased via the internet.