Leland Bell Artworks
American Painter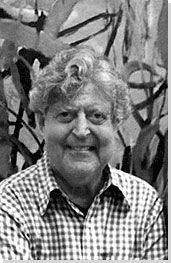 Born: September 17, 1922
Cambridge, Maryland
Died: September 18, 1991
New York, New York, USA
Progression of Art
1965
Croquet Party
Based on photographs of a weekend spent with family and friends, Croquet Game is one of the few paintings Bell has not modified since its original creation. It is representative of the recurring, career-long motif of family and domestic scenes. At the far left is Bell with his arm around his wife Ulla, who appeared in many of Bell's works, showing a tender connection between the two. The profound influence of Helion and Léger on Bell's work is apparent even in these early works, particularly in Bell's dark outlines that would become starker and crisper in his later paintings.
Oil on canvas - Center for Figurative Painting, New York
1969-1971
Still Life with Portrait of Temma
Given his focus on domestic life, still life arrangements were unsurprisingly a frequent subject for Bell. In these paintings, he often included disparate objects such as roses, skulls and cymbals, the latter a reference to his musical interests. Even in this seemingly static scene, Bell found ways to integrate movement through shadow and in the folds of the fabric. While remaining abstract, the carefully placed objects in these still life paintings each have a strong, distinct presence; the black outlines give clarity to the individual parts while bringing harmonious balance to the composition. In addition to the outlines, Bell's use of flat color and manipulations of perspective are reminiscent of works by Léger.
Oil on canvas - Center for Figurative Painting, New York
1975
Temma in Orange Dress
In many of Bell's works, the arms and legs are a primary focus to convey a feeling of movement. Here, the curves of Temma's limbs are echoed in various parts of the chair, the curved shadow under the chair and the shapes delineated on her dress. These curves contrast with the sharp, geometric shapes of the furniture and surrounding architectural frame. Temma in Orange Dress is one of many canvases Bell painted of his daughter throughout his career.
Oil on canvas - Estate of the artist
1977-78
Dusk
Numerous Bell paintings recreate a scene similar to that of Dusk, where a domestic group responds to a butterfly or bird, taking inspiration from Balthus' La Phalene (The Moth), in both the intrusion of nature and the figures' lively gestures. Bell's playful, almost choreographed images make expressive use of the arms, both to denote a celebratory mood and to visually connect sections of the painting, almost like a Greek frieze. Bell depicts each figure as an individual entity, while also drawing them together through nearly sculptural use of light and shadow.
Acrylic on canvas - Center for Figurative Painting, New York
1978-81
Morning II
Part of a series of paintings of similar titles and subjects, Morning II is one of Bell's largest two-figure works. Bell placed these statuesque bodies within an intimate scene of intersecting planes, diverse angles and rhythmic movement to evoke the energy and flow of life. He connected the figures through outstretched, moving limbs and planes of flat color. In contrast to the distinct, black lines outlining the forms within his paintings, Bell often blurred fingers and toes into the surrounding colors, further suggesting continued movement. Balthus, one of Bell's main sources of influence, uses a similar tactic in his La Phalene, in which a nude woman's outstretched hands and feet recede into the background.
Acrylic on canvas - Estate of the artist
1979
Standing self-portrait
Bell's self-portraits, of which he painted many, are striking and powerful images. Many focus only on the face, while others, such as Standing self-portrait, feature the entire body. In all of them, Bell presents the head in a very sculptural manner, giving it weight and intensity as well as a psychological depth in the carefully rendered features. This painting also includes everal personal references: one of his Morning paintings hangs on the back wall, and to the right are drums that denote Bell's proficiency as a jazz musician.
Oil on canvas - Private collection
Similar Art
Composition with Color Planes (1917)
Annette with Chariot (1950)
Untitled (Squares Arranged according to the Laws of Chance) (1917)
Related Artists
Related Movements & Topics