Hans Arp
French-German Sculptor, Painter, and Collagist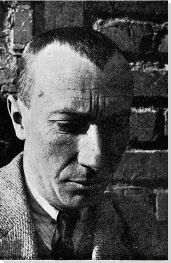 Born: September 16, 1886
Strasbourg, Alsace
Died: June 7, 1966
Basel, Switzerland
Art is a fruit that grows in man like a fruit on a plant or a child in its mother's womb.
Summary of Hans Arp
Something of a one-man movement, Jean Arp could (and did) make anything into art. Best-known for his biomorphic sculptures, and one of the most versatile creative minds of the early-20th century, he fashioned sculptures out of plaster, stone and bronze, and also expressed himself in paintings, drawings, collages, and poems. His approach to form, often referred to as organic abstraction, was remarkably consistent: his wavy lines suggested plants, body parts and other natural motifs, while remaining entirely abstract. Like an extraterrestrial on earth for the very first time, Arp's genius was in presenting visual information as if he is first seeing it. Transformation, growth, fecundity, and metamorphosis are among the dominant themes in his work.
Accomplishments
Arp's work is non-representational, yet firmly rooted in nature. His most abstract compositions suggest organic forms. This keeps the viewer curious, and provides a consistent framework for satisfying the eye.
One of the first artists to make randomness and chance part of the work, Arp saw chance as a collaborator in his process. This was a game-changer in the visual arts. Until then, Western artists had striven for a skilled level of control.
Rather than beginning with a subject (as artists had done for years), Arp generated the form first, and titled his works after they were completed. In this way, he sought to minimize the intervention of the conscious mind.
Arp is a transitional figure. As one of the founders of Dada, and subsequently an active participant in Surrealism, his work forms a link between these two major movements of the early-20th century.
Biography of Hans Arp
A restless thinker and a nomad, Arp was born into circumstances of uncertainty that shaped his path as an artist. Neither fully French nor fully German, the artist referred to himself as "Jean" when speaking French, and "Hans" when speaking German. Born Hans Peter Wilhelm Arp in 1886 in Alsace (still part of Germany at the time), he began studying art in his home town of Strasbourg, transferred to Weimar, completed his schooling in Paris and by 1911, had co-founded the first modern art alliance in Switzerland, Der Moderne Bund. With Der Moderne Bund, he worked for a brief period with Wassily Kandinsky and Der Blaue Reiter group in Munich, but soon returned to Paris where he hobnobbed with Amedeo Modigliani, Pablo Picasso, Sonia and Robert Delaunay, as well as Guillaume Apollinaire and Max Jacob.
Important Art by Hans Arp
Influences and Connections
Influences on Artist

Influenced by Artist


Influenced by Artist
Movements
Modern Sculpture
Useful Resources on Hans Arp