Theo van Doesburg
Dutch Painter, Designer, and Architect
Born: Born: August 30, 1883
Utrecht, Netherlands
Died: Died: March 7, 1931
Davos, Switzerland
What I am trying to realize is a universal form which entirely corresponds to my spiritual vision
Summary of Theo van Doesburg
Theo Van Doesburg was one of the founders and leading theorists of De Stijl along with Piet Mondrian, which began in the Netherlands and flourished into one of the major inter-war movements. It advocated a simplified, geometric, and reductive aesthetic in the visual arts and argued that painting, design, and architecture should be fully integrated. Van Doesburg created numerous abstract paintings and designed buildings, room decorations, stained glass, furniture, and household items that exemplified De Stijl's aesthetic theories and his personal ideas. He wrote numerous essays and treatises on geometric abstraction and De Stijl, published journals, and organized many exhibitions of works by De Stijl artists and related movements.
Accomplishments
Van Doesburg's personal version of De Stijl was called Elementarism, which emphasized subtle shifts in tones, tilting squares and rectangles at angles relative to the picture plane, and allowed straight horizontal and vertical lines to be colored, varied in length, and disconnected from one another.
Van Doesburg wanted to give De Stijl more variety, movement, and energy than found in Piet Mondrian's personal version of the movement, which was called Neoplasticism. This small but crucial difference in his thinking led to Van Doesburg and Mondrian's split in 1924.
Van Doesburg believed that art should be an absorbing, spatial, and environmental experience. This led him to create architectural designs, stained glass, interior decoration, furniture, and other functional, daily items that were carefully related to one another and were meant to be installed together for a holistic experience. Many of these were never actually built or manufactured.
Van Doesburg felt that abstraction's unique value was its ability to achieve social order and universal harmony with its precise, orderly geometry and vibrant, contrasting colors. He also felt that his reductive method had spiritually and morally uplifting qualities. His Dancers series demonstrates both his abstraction, and the spiritual inspiration he found in it.
Biography of Theo van Doesburg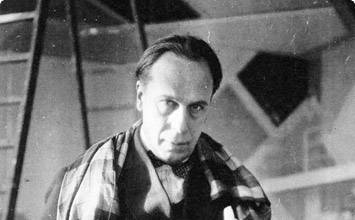 Theo van Doesburg was born in Utrecht, the Netherlands to Wilhelm Kupper and Henrietta Catherina Margadant. Originally named Christian Emile Marie Kupper, he considered his stepfather, Theodorus Doesburg, to be his natural father, eventually taking his stepfather's name when he began his painting career. Van Doesburg served in the Dutch military and during World War I (from 1914 to 1916), he was stationed near Tilburg. He was married four times; the first three marriages ended in divorce and the fourth lasted until his death.
Important Art by Theo van Doesburg
Influences and Connections
Influences on Artist

Influenced by Artist


Useful Resources on Theo van Doesburg
Books
The books and articles below constitute a bibliography of the sources used in the writing of this page. These also suggest some accessible resources for further research, especially ones that can be found and purchased via the internet.

biography