Charles Baudelaire
French Poet, Art Critic, and Translator
Born: April 9, 1820
Paris, France
Died: August 31, 1867
Paris, France
An artist, a man truly worthy of this great name, must possess something essentially his own, thanks to which he is what he is and no one else.
Summary of Charles Baudelaire
Baudelaire is arguably the most influential French poet of the nineteenth century and a key figure in the timeline of European art history. A denizen of Paris during the years of burgeoning modernity, his writing showed a strong inclination towards experimentation and he identified with fellow travellers in the field of contemporary painting, most notably Eugène Delacroix and Édouard Manet. A rebel of near-heroic proportions, Baudelaire gained notoriety and public condemnation for writings that dealt with taboo subjects such as sex, death, homosexuality, depression and addiction, while his personal life was blighted with familial acrimony, ill health, and financial misfortune. Despite these hinderances, he managed to leave his indelible stamp on three overlapping idioms: art criticism, poetry, and literary translation. It is in respect of the former that he can be credited with providing the philosophical connection between the ages of French Romanticism, Impressionism and the birth of what is now considered modern art.
Accomplishments
Baudelaire saw himself as the literary equal of the contemporary artist; especially Delacroix with whom he felt a special affinity. Like Delacroix, Baudelaire was committed to testing the limits of his art in the way he sought to capture the vicissitudes of human emotions. Where Baudelaire used poetry to achieve this affect, Delacroix used color, but both men were leading a charge towards a new - modern - era in art history.
Baudelaire's name is inextricably linked with the idea of the flâneur: the anonymous street wanderer who created a poetic record of the rapidly shifting environment to which he, and his fellow urban dwellers, were exposed. As a "man of the city", he wandered anonymously throughout the streets, embankments, and arcades of Paris observing the behaviour of crowds in this new age of window shopping and cafe culture. The concept of the flâneur became an important phenomenon for future artists and, after the writings of the philosopher and critic Walter Benjamin which introduced Baudelaire to a new twentieth century audience, for the academic development of the cultural studies too.
Baudelaire played a significant part in defining the role both of the artist and the art critic. In his call for a more modern (more relevant) art style, Baudelaire argued that artists like Delacroix and Manet offered the best step forward in that direction. But he also helped viewers see the importance of the Neoclassicist Jacques-Louis David, appreciate the talents of lesser-known artists such as the illustrator Constantin Guys and the etcher Charles Meryon, all of whom captured something of the fleeting mood of their times.
Baudelaire became a close friend of Manet on whom he had a profound influence. Indeed, it was through Baudelaire's encouragement that Manet - a kindred spirit who was reviled for his painting Olympia just as much as Baudelaire had been reviled for his collection Les Fleurs du Mal - ultimately fulfilled Baudelaire's vision of the true painter of modern life; one who could capture the transient quality of modern Paris with a new picture perspective and energized color palette.
Biography of Charles Baudelaire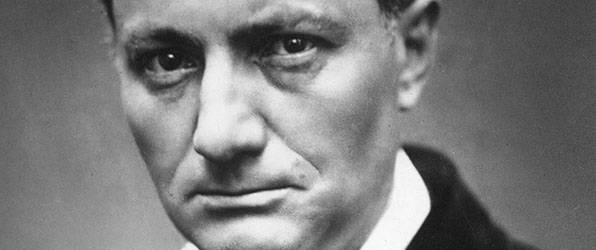 The original flâneur, Baudelaire was an invisible idler; the first connoisseur of the streets of modern Paris. "I walk alone", he wrote, "absorbed in my fantastic play [...] Tripping on words, as on rough paving in the street, Or bumping into verses I long had dreamed to meet".
Charles Baudelaire and Important Artists and Artworks
Influences and Connections
Influences on Charles Baudelaire
Influenced by Charles Baudelaire
Influences on Charles Baudelaire
Friends
Theophile Gautier

Victor Hugo

Charles Asselineau

Gustave Le Vavasseur

Gérard de Nerval
Influenced by Charles Baudelaire
Artists
Emile Deroy

Constantin Guys
Friends
Theophile Gautier

Edgar Allan Poe

Charles Asselineau

Gérard de Nerval

Charles Augustin Sainte-Beuve
Useful Resources on Charles Baudelaire