Impressionism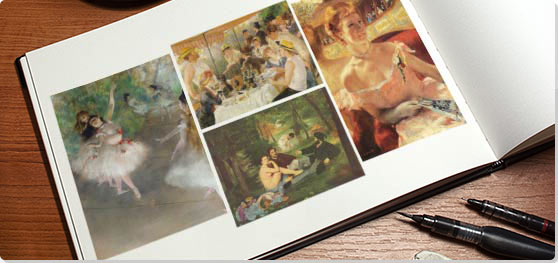 Impressionism is only direct sensation. All great painters were more or less Impressionists. It is mainly a question of instinct.
There are no lines in nature, only areas of color, one against another.
If the painter works directly from nature, he ultimately looks for nothing but momentary effects; he does not try to compose, and soon he gets monotonous.
If painting is no longer needed, it seems a pity that some of us are born into the world with such a passion for line and color.
What seems most significant to me about our movement [Impressionism] is that we have freed painting from the importance of the subject. I am at liberty to paint flowers and call them flowers, without their needing to tell a story.
I paint what I see and not what others like to see.
It is all very well to copy what one sees, but it is far better to draw what one now only sees in one's memory. That is a transformation in which imagination collaborates with memory.
Work at the same time on sky, water, branches, ground, keeping everything going on an equal basis... Don't be afraid of putting on color... Paint generously and unhesitatingly, for it is best not to lose the first impression.
When you go out to paint try to forget what object you have before you - a tree, a house, a field or whatever. Merely think, here is a little square of blue, here an oblong of pink, here a streak of yellow, and paint it just as it looks to you, the exact color and shape, until it emerges as your own naive impression of the scene before you.
After 1918, as we know, enlightened public - as well as critical - esteem went decidedly to Cézanne, Renoir and Degas, and to Van Gogh, Gauguin and Seurat. The 'unorthodox' Impressionists - Monet, Pissarro, Sisley - fell under a shadow. It was then that the 'amorphousness' of Impressionism became an accepted idea; and it was forgotten that Cézanne himself had belonged to, and with, Impressionism as he had to nothing else.
Summary of Impressionism
Impressionism is perhaps the most important movement in the whole of modern painting. At some point in the 1860s, a group of young artists decided to paint, very simply, what they saw, thought, and felt. They weren't interested in painting history, mythology, or the lives of great men, and they didn't seek perfection in visual appearances. Instead, as their name suggests, the Impressionists tried to get down on canvas an "impression" of how a landscape, thing, or person appeared to them at a certain moment in time. This often meant using much lighter and looser brushwork than painters had up until that point, and painting out of doors, en plein air. The Impressionists also rejected official exhibitions and painting competitions set up by the French government, instead organizing their own group exhibitions, which the public were initially very hostile to. All of these moves predicted the emergence of modern art, and the whole associated philosophy of the avant-garde.
Key Ideas & Accomplishments
The Impressionists used looser brushwork and lighter colors than previous artists. They abandoned traditional three-dimensional perspective and rejected the clarity of form that had previously served to distinguish the more important elements of a picture from the lesser ones. For this reason, many critics faulted Impressionist paintings for their unfinished appearance and seemingly amateurish quality.
Picking up on the ideas of Gustave Courbet, the Impressionists aimed to be painters of the real: they aimed to extend the possible subjects for paintings. Getting away from depictions of idealized forms and perfect symmetry, they concentrated on the world as they saw it, which was imperfect in a myriad of ways.
Scientific thought in the Impressionist era was beginning to recognize that what the eye perceived and what the brain understood were two different things. The Impressionists sought to capture the former - the optical effects of light - to convey the fleeting nature of the present moment, including ambient features such as changes in weather, on their canvases. Their art did not necessarily rely on realistic depictions.
Impressionism records the effects of the massive mid-19th-century renovation of Paris, led by civic planner Georges-Eugène Haussmann, which included the city's newly constructed railway stations; wide, tree-lined boulevards that replaced the formerly narrow, crowded streets; and large, deluxe apartment buildings. The works that focused on scenes of public leisure - especially scenes of cafés and cabarets - often conveyed the new sense of alienation experienced by the inhabitants of the first modern metropolis.
Key Artists
Overview of Impressionism
Édouard Manet said: "You would hardly believe how difficult it is to place a figure alone on a canvas, and to concentrate all the interest on this single and universal figure and still keep it living and real." Here he hints at the innovative thinking that went into Impressionism's new way of representing the world.
Important Art and Artists of Impressionism
Useful Resources on Impressionism