En Plein Air
Painting should be understood...as a pursuit, legitimate, scientific and mechanical.
Painting is with me but another word for feeling
There is room enough for a natural painter.
When I sit down to make a sketch from nature, the first thing I try to do is to forget that I have ever seen a picture.
I can only draw what I see.
I'm hard at it, working stubbornly on a series of different effects (grain stacks), but at this time of the year the sun sets so fast that it's impossible to keep up with it...
The richness I achieve comes from nature, the source of my inspiration.
If my painting depicts faithfully and without over-refinement the simple and true character of the place you have frequented, if I succeed....in giving its own life to that world of vegetation, then you will hear the trees moaning under the winter wind, the birds that call their young and cry after their dispersion...
The tree which rustles and the heather which grows are for me the grand history, that which will not change. If I speak well their language, I shall have spoken well the language of all times.
I am hard at work, at least I work as much as the weather permits.
When painting, make a choice of subject, see what is lying at the right and what at the left, and work on everything simultaneously. Don't work bit by bit but paint everything at once by placing tones everywhere, with brushstrokes of the right color and value, while noticing what is alongside. Use small brushstrokes and try to put down your perceptions immediately.
Summary of En Plein Air
En plein air, a French phrase meaning "in the open air," describes the process of painting a landscape outdoors, though the phrase has also been applied to the resulting works. The term defines both a simple technical approach and a whole artistic credo: of truth to sensory reality, a refusal to mythologize or fictionalize landscape, and a commitment to the idea of the artist as creative laborer rather than exulted master. Painting in the open air is recorded as far back as the Renaissance, but it was generally done in preparation for studio painting; only in the nineteenth century, through the cumulative efforts of artists such as John Constable, Camille Corot, and Claude Monet, did painting en plein air come to stand for the ethos of modernity and fidelity to nature which it still implies. More than any other movement, it was Impressionism that became synonymous with open air painting, which is thus also associated with the attention to light and atmosphere that defined that school. Today, en plein air painting, once considered an odd affectation, is what much of the public pictures when they imagine an artist at work, and is favored by many semi-professional and amateur artists.
Key Ideas & Accomplishments
Painting en plein air allowed artists to capture the emotional and sensory dimensions of a particular landscape at a particular moment in time. It thus expressed a new spirit of spontaneity and truth to personal impulse within art. The ongoing popularity of nineteenth-century plein air painting today - as compared to academic historical paintings from the same period, for example - shows how the technique allowed artists to communicate directly to viewers, without intellectual artifice.
Painting en plein air became particularly associated with the Impressionist movement, although it had been pioneered by earlier generations of artists, from English Romantic painters such as John Constable to the Barbizon School of central France. For that reason, en plein air painting often signifies a commitment to the loose, light, quick brushwork that marks out the Impressionist approach.
Considered as an ethos rather than a technique, plein air painting casts a huge shadow over modern art as a whole, because it signified the honest, unadorned depiction of reality, and was thus often bound up with radical formal or social commitments. In the work of Courbet and Cézanne, for example, painting en plein air stood for cultural and stylistic revolution respectively, though was the latter link that became more influential, given Cézanne's huge influence on Cubism.
The rise of painting en plein air across the nineteenth century was coextensive with the rise of landscape painting as a legitimate artistic genre. In the early nineteenth century, landscapes were only a worthy subject of attention if they provided the backdrop to a mythological or historical tableau. By the end of that century, it was a truism that landscapes. particularly natural landscapes, were worthy of attention in their own right.
Key Artists
Overview of En Plein Air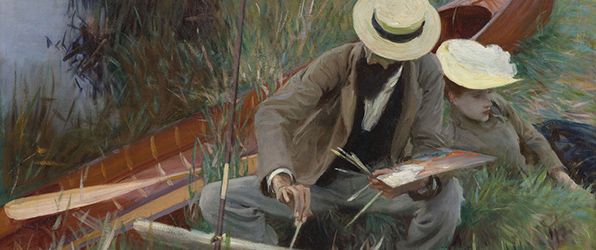 John Singer Sargent's oil painting An Out-of-Doors Study (1889) features the artist Paul Helleu relaxing with his wife, Alice. It shows how painting en plein air allowed painters to bring a new degree of intimacy and informality to their work, capturing their daily lives or those of their friends.
The Important Artists and Works of En Plein Air
Useful Resources on En Plein Air