Artworks by Andy Warhol
The below artworks are the most important by Andy Warhol - that both overview the major creative periods, and highlight the greatest achievements by the artist.
Campbell's Soup I (1968)
By the 1960s, the New York art world was in a rut, the very original and popular canvases of the Abstract Expressionists of the 1940s and '50s had become cliche. Warhol was one of the artists that felt the need to bring back imagery into his work. The gallery owner and interior designer Muriel Latow gave Warhol the idea of painting soup cans, when she suggested to him that he should paint objects that people use every day (it is rumored that Warhol ate the soup for lunch every single day). He painted Campbell's soup cans, Brillo boxes, and Coca-Cola bottles from 1962, onward.

Warhol started his career and became an extremely successful consumer ad designer. Here, he used the techniques of his trade to create an image that is both easily recognizable, but also visually stimulating. Consumer goods and ad imagery were flooding the lives of Americans with the prosperity of that age and Warhol set out to subtly recreate that abundance, via images found in advertising. He recreated on canvas the experience of being in a supermarket. So, Warhol is credited with envisioning a new type of art that glorified (and also criticized) the consumption habits of his contemporaries and consumers today.
Coca-Cola (3) (1962)
"I just paint things I always thought were beautiful, things you use every day and never think about." Warhol's statement epitomizes his ethos; his works put ordinary items front and center. This idea applies to the hand-painted portrait of a Coca-Cola bottle. Another challenge to the domination of Abstract Expressionism, Warhol's Coca-Cola is equal in size to many of the popular canvases of the time (6ft x 5ft) but is devoid of their abstractions. However, there are some other similarities here. As in Robert Motherwell's popular Stations of the Cross series of works, Coca-Cola is comprised of a large, black mass on a white background. The bottle jumps out at the viewer; demanding the kind of attention Motherwell's profound canvases received - yet now the sense of irony reigns.
From Our Sponsor. Article Continues Below
Gold Marilyn Monroe (1962)
After her sudden death from an overdose of sleeping pills in August 1962, superstar Marilyn Monroe's life, career, and tragedy became a worldwide obsession. Warhol, being infatuated with fame and pop culture, obtained a black-and-white publicity photo of her (from her 1953 film Niagara) and used the photo to create several series of images. A common idea to all the Marilyn works was that her image was reproduced over and over again as one would find it reprinted in newspapers and magazines at the time. After viewing dozens, or hundreds of such images, a viewer stops seeing a person depicted, but is left with an icon of popular, consumer culture. The image (and the person) become another cereal box on the supermarket shelf, one of hundreds of boxes - which are all exactly the same.

In Gold Marilyn Monroe, Warhol further plays on the idea iconography, placing Marilyn's face on a very large golden-colored background. The background is remeniscent of Byzantine religious icons that are the central focus in Orthodox faiths to this day. Only instead of a god, we are looking at an image (that becomes a bit garish upon closer inspection) of a woman that rose to fame and died in horrible tragedy. Warhol subtly comments on our society, and its glorification of celebrities to the level of the divine. Here again the Pop artist uses common objects and images to make very pointed insights into the values and surroundings of his contemporaries.
Sleep (1963)
In the early 60s, during a period of immense creativity, Warhol continued to challenge the status quo through a different medium, film. Over his career Warhol made over 650 films spanning a wide range of subjects. His films were lauded by the art world, and their influence is seen in performance art and expiremental filmmaking to this day. In 2013 the actress Tilda Swinton participated in an installation where she slept in a glass box at MoMA and the writer, actress, and director Lena Dunham recently expressed her desire to remake Warhol's Sleep shot for shot, but with herself as the subject.

Sleep is one of the artist's earliest films and his first foray into durational film, a style that became one of his signatures. This six-hour movie is a detailed exploration of John Giorno sleeping. Warhol's lover at the time, the viewer sees Giorno through Warhol's eyes, a strip of Giorno's naked body is in every scene. Although this seems to be a series of continuous images, it is actually six one hundred foot rolls of film layered and spliced together, played on repeat. Repetition was at the heart of Warhol's oeuvre, as well as his fascination with the mundane. All people need to sleep; Warhol once again transformed banality into artistic expression.

Empire and Eat succeeded Sleep in the canon of Warhol's duration films. Empire chronicles eight hours of the Empire State Building at dusk and Eat is a 45 minute film about a man eating a mushroom. Warhol's themes were as expansive as his filmography, delving into more explicit areas such as homosexuality and gay culture, such as Blowjob, a continuous shot of DeVeren Bookwalter's face while he receives oral sex from filmmaker Willard Maas, and Lonesome Cowboys, a raunchy western. His films are widely recognized as Pop masterpieces, enshrined in film institutes and modern art archives accross the world.
Orange Car Crash Fourteen Times (1963)
Orange Car Crash is from the Death and Disaster series that consumed much of Warhol's attention in this period. Often using gruesome and graphic images taken from daily newspapers, he would use the photo-silkscreening method to repeat them across the canvas. The repetition of the image, and its fragmentation and degradation, are important in creating the impact of the pictures, but also in sterilizing the image. To see the graphic photo once leaves the viewer distraught and shaken - but to see that photo reproduced over and over again (as seen every day in the press) undermines the image's power as the scene of horror becomes another mass-market image.

There is an alternative way to view this and other works from Warhol's Death and Disaster series proposed by the Los Angeles Times art critic Christopher Knight. The car crash shown is very similar to the photo of the Long Island car crash where Jackson Pollock died in 1956. Warhol is reminding the viewers that Abstract Expressionism (championed by Pollock) is now dead. So maybe Warhol is not so much involved in popular art, but rather providing very specific and elite art world commentary. Similarly, Warhol's Electric Chair series has a "Silence" sign at the back of the depicted electrocution room, which Warhol connects to John Cage's modernist work with sound (and Cage's 1961 book of essays). And even further, Warhol's Race Riot series is a response to the many popular abstract works that are each labeled Black Series from modern artists such as Jackson Pollock, Robert Rauschenberg, Ad Reinhardt, and Frank Stella.
From Our Sponsor. Article Continues Below
Brillo Boxes (1964)
Still using the silkscreen technique, this time on plywood, Warhol presented the viewer with exact replicas of commonly used products found in homes and supermarkets. This time, his art pieces are stackable, they are sculptures that can be arranged in various ways in the gallery - yet each box is exactly the same, one is no better than another. Rather than the series of slightly different paintings that have been made by many famous artists (think Monet's haystacks or cathedrals) Warhol makes the point that these products are all the same and (in his opinion) they are beautiful! Making these items in his "factory" Warhol again makes fun of (or brilliantly provokes) the art world and the artist-creator.

With Brillo Boxes, Warhol also has a personal connection. Warhol was originally from Pittsburg - steel city, the commodity that made the city prosperous and later quite depressed. Brillo is steel wool, a product stereotypically used by housewives to keep cookware shining in their lovely American homes. Did Warhol like the product itself, think the store displays for the product ridiculous, or as a gay man, did he enjoy the contrast of steel and wool, in one friendly package?
Mao (1973)
Warhol combines paint and silkscreen in this image of Mao Zedong, a series that he created in direct reaction to President Richard Nixon's 1972 visit to China. Warhol took the black and white image of Mao from his Little Red Book (Mao's famous communist publication), and created hundreds of different sized canvases of the totalitarian ruler. Some of these paintings are as large as 15 feet x 10 feet, a scale evoking the dominating nature of Mao's rule over China and the awesome cult of personality Mao wielded. This monumental size also echoes the towering propagandistic representations that were being displayed throughout China during the Cultural Revolution. But by creating hundreds of such images, and lining them up on the wall, Warhol made the image of Mao into a supermarket product - like Coca-Cola bottles - lined up on the shelves (and available in small, medium, and large). Warhol's Mao is now a consumer product, a basic building block of capitalism - or the very idea that communism is against.

Warhol goes even further. The graffiti-like splashes of color, the red rouge and blue eye shadow, literally 'de-faces' Mao's image - an act of rebellion against the Communist propaganda machine by using its own heralded image against itself. Warhol uses modernist art devices such as expressionistic brushstrokes around Mao's face as a further pun: the brushstrokes are a sign of personal expression and artistic freedom - the very ideas that Mao's Cultural Revolution was against.
Oxidation Painting (1978)
Created late in Warhol's career, Oxidation Painting is part of a series of works that was produced by the artist alone, or with a group of his friends, and made by urinating on a canvas of copper paint that was placed horizontally on the floor and then allowing the result to oxidize. The result was a metallic sheen with a surprising depth of color and texture; a surface reminiscent of works by Abstract Expressionists such as Jackson Pollock. Warhol put much thought and design into these works, and is quoted as saying, "[these paintings] had technique, too. If I asked someone to do an Oxidation painting, and they just wouldn't think about it, it would just be a mess. Then I did it myself -- and it's just too much work -- and you try to figure out a good design."
Rorschach (1984)
Although Warhol's earliest work declared a dramatic break with Abstract Expressionism, he remained interested in abstraction throughout his career, and, in 1984, focused his ideas into his large series of Rorschach paintings. They were inspired by the so-called Rorschach test, devised by the Swiss psychologist Hermann Rorschach. The test requires patients to say what they see in a set of ten standardized ink blots; in this way Rorschach believed we might gain access to unconscious thoughts. Warhol believed that much abstract painting functioned in a similar way: instead of artists being able to communicate thoughts through abstract form, as many believed, he thought that viewers simply projected their own ideas on to the pictures. His Rorschach pictures were therefore a kind of parody of abstract painting: they were mirrors which reflected the viewer's own thoughts, and at times they seemed to resemble genitalia or wallpaper designs.
General Electric with Waiter (1984)
It was at the suggestion of art dealer Bruno Bischofsberger that Warhol began collaborating on paintings. He worked first with the Italian Francesco Clemente, and with the much younger, Haitian-American painter Jean-Michel Basquiat; later he produced work with Keith Haring. Warhol's reputation was flagging in the early 1980s, and he had painted little since the 1960s, but his collaboration with Basquiat, which spanned two years between 1984-5, energized him and placed him amidst a young and more fashionable generation. General Electric with Waiter is typical of the pictures the pair produced together: Warhol contributed enlarged headlines, brand names and fragments of advertisements; Basquiat added his expressive graffiti. The success of the series rested on the cartoon qualities inherent in both Pop art and graffiti.
Self-Portrait (1986)
Warhol's self portraits that he created throughout his career reveal an underlying theme. It can be argued that Warhol's most successful artwork was the image of himself, invented and reinvented over his body of work. Simply consider the fact that Warhol started his art career as a nerdy, shy, balding designer and ended it as a star whose popularity could match his greatest depictions (Monroe, Elvis, Mao).

In this particular work, the focus is on Warhol's head and wig (one of dozens he wore over the years). By using repetitive images, each slightly different to the next, and then overlapping the images, Warhol produces the illusion of movement. Created towards the end of his life, Self-Portrait displays the artist in his signature wig, and also makes dramatic use of shadow and light.
The Last Supper (1986)
Behind Warhol's silver wig and black glasses (of Campbells Soup, Marylin, and drug/sex film fame) was a devout Catholic who went to mass and volunteered at homeless shelters regularly. Warhol's mother was a very religious woman who instilled in him a connection to the church.

Warhol's religiosity is most exemplified by the late works that he created based on Leonardo Da Vinci's The Last Supper (1495–1498). Warhol based his works on a black and white photograph of a popular 19th century engraving and ended up producing over a hundred drawings, paintings, and silkscreens of the Renaissance masterpiece. From superimposing brand names over the faces of the apostles, to cutting up the unity of the scene, Warhol honored the original painting while adding it into his business enterprise.
Related Artists and Major Works
Fountain (1917)
Artist: Marcel Duchamp (Read Full Artist Overview, Biography, and Artworks pages)
The most notorious of the readymades, Fountain was submitted to the 1917 Society of Independent Artists under the pseudonym R. Mutt. The initial R stood for Richard, French slang for "moneybags" whereas Mutt referred to JL Mott Ironworks, the New York-based company, which manufactured the porcelain urinal. After the work had been rejected by the Society on the grounds that it was immoral, critics who championed it disputed this claim, arguing that an object was invested with new significance when selected by an artist for display. Testing the limits of what constitutes a work of art, Fountain staked new grounds. What started off as an elaborate prank designed to poke fun at American avant-garde art, proved to be one of most influential artworks of the 20th century.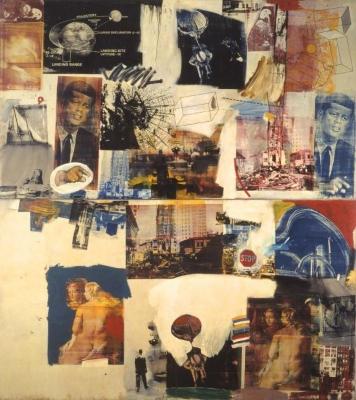 Skyway (1964)
Artist: Robert Rauschenberg (Read Full Artist Overview, Biography, and Artworks pages)
While Rauschenberg was no stranger to collaged found imagery, the silkscreen technique reinvigorated his artistic practice in the early 1960s. After Andy Warhol introduced him to the photo-silkscreen technique. Rauschenberg created a series of silkscreen paintings that allowed for an open-ended association of meanings through his appropriation and arrangement of mass media imagery. In Skyway, Rauschenberg wanted to communicate the frenetic pace of American culture encapsulated in the early half of the decade, particularly as represented on television and in magazines. He stated, "I was bombarded with television sets and magazines, by the excess of the world. I thought an honest work should incorporate all of those elements." He created the work in the year following the assassination of John F. Kennedy. Kennedy was a potent symbol for change, even though he was struck down only halfway through his first term as president. The image of Kennedy appears twice in the upper half of the painting surrounded by images that illustrate the ideals of American progress in the second half of the 20th century including an astronaut, the bald eagle, and a large, mechanical crane surrounded by a demolished building. The lower half of the canvas contains a repeated image of Venus at Her Toilet (1608) by Peter Paul Rubens. The mirror within the painting expands the image into the viewer's space, mirroring the world around them as well as the world around Rauschenberg when he created the work. While the appropriated images can be read as politically and socially laden, Rauschenberg claimed he aimed to encapsulate the contemporary climate rather than comment on it, using "simple images" to "neutralize the calamities that were going on in the outside world."
Painted Bronze (ale cans) (1960)
Artist: Jasper Johns (Read Full Artist Overview, Biography, and Artworks pages)
In this bronze sculpture, Johns intentionally blurs the line between the actual object and its artistic recreation, wherein the handcrafted appearance of the Ballantine Ale cans is only apparent after close inspection. He fashioned the sculpture in response to Abstract Expressionist Willem de Kooning's boast about art dealer Leo Castelli, "you could give [him] two beer cans and he could sell them." Johns accepted the challenge implicit in De Kooning's statement, casting in bronze two cans of his beer of choice, Ballantine Ale, which Leo Castelli promptly sold. The original beer cans were a deep brass-colored metal, which was ideal for casting in bronze to achieve an effective trompe l'oeil effect. However, in contrast to the authentic appearance of the cast cans, he allowed his brushstrokes to remain visible in the painted labels, creating an imperfection visible only upon careful observation.

Johns cast each can and the base separately and imprinted his thumb in the base as the autographic mark of the artist's hand, ensuring that the work is handmade. Johns cast one can with an open top and painted the Ballantine insignia and the word Florida on its top. The other can is unopened, unmarked, and solidly impenetrable. Some critics read the contrast between the cans as a metaphor for the relationship between Johns and Rauschenberg - an illustration of the differences and the growing space between them. In this reading, the open can serves as a signifier for the gregarious and popular Rauschenberg who began spending much of his time in his Florida studio in 1959, while the closed one stands for Johns and his quiet, impenetrable public facade. Other critics read a narrative of everyday life into the difference between the two cans - that everyone lives their lives between the after, or what has already happened embodied by the opened can, and the before, or what has yet to transpire in the closed can. Despite some clues, like the thumbprint, Johns left the final interpretation of the sculpture open to the viewer's discretion. His foray into representing mass-produced goods within the realm of fine art paved the way for Pop art.