Lisette Model
Austrian-American Photographer and Instructor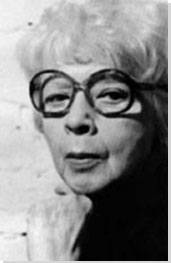 Born: November 10, 1901
Vienna, Austria
Died: March 30, 1983
New York City, USA
Summary of Lisette Model
Lisette Model redefined documentary photography in the early forties through her direct, honest portrayal of human character. Her large format photographs of common people registered the physical and emotional impact of modern life. Model was readily embraced by the New York photographic community, and her work appeared regularly in Harper's Bazaar and other publications. Her most influential works are the photographic series on the Promenade des Anglais in Nice and on the streets of New York's Lower East Side. Model later shaped the direction of postwar photography as a teacher of the medium at the New School for Social Research.
Accomplishments
Lisette Model's photography exemplifies the European photographic tradition and its influence on American modern photography. Avant-garde techniques such as low-angles, sense of movement, window reflections, and natural photomontages defined her approach. Together with Model's keen urban observation, these innovations allowed her to saturate her photos with the pulse and cacophony of city life.
Model's first series of photographs, known as the Promenade des Anglais, taken on the Riviera in France, demonstrates her first tentative experiments with the medium. In these photos, she approached her subject, the French upper middle-class, with a raw instinct, which was further enhanced by her over-sized, grainy, and coarse looking prints. Edward Weston readily recognized the raw power of her work.
Model's main subject was the social and psychological landscape of New York City during the 1940s. As the art historian Lisa Hostetler noted, "Model's penchant for photographing common people in lackluster urban places echoes Surrealism's insistence on the presence of psychic meaning in the often overlooked, humble details of everyday life."
Model's photography represented a new photographic expression that eliminated any pretension of objectivity. Model self-consciously revealed and confronted her subject, using photography's realism to expose a moment of truth between the photographer and the photographed. Model's subjective approach (its method and perspective) encouraged creative photographers, and her many students, to maintain their independent voice, while working for the mass media.
Biography of Lisette Model
Lisette Model was born Elise Amelie Felicie Stern in Vienna. Her Jewish father Victor Hypolite Josef Calas Stern was a wealthy Italian-Austrian doctor, and her Catholic mother François Antoinette Félicité Picus was from Savoy, France. In response to the growing anti-semitism in Europe at the time, Elise's father changed the family name from Stern to Seybert. Elise and her siblings, Salvatòr and Olga, were baptized in the Christian faith. The Seybert family lived in a fairy-tale mansion in a noble area of the city, but Elise was a reclusive child in comparison to the youngest of her three siblings, Olga, who was the most beautiful and smartest.
Important Art by Lisette Model
Influences and Connections
Influences on Artist
Influenced by Artist
Influences on Artist
Movements
Amateur Snapshots

Film Noir
Influenced by Artist
Artists
Rosalind Fox Solomon

Larry Fink

Bruce Gilden
Friends
Arnold Schoenberg

Peter Hujar

Ralph Steiner

Beaumont Newhall
Movements
Snapshot Aesthetic

New York Photography

Contemporary Photography
Useful Resources on Lisette Model
Books
The books and articles below constitute a bibliography of the sources used in the writing of this page. These also suggest some accessible resources for further research, especially ones that can be found and purchased via the internet.

biography

artworks