Egon Schiele
Austrian Draftsman, Painter, and Printmaker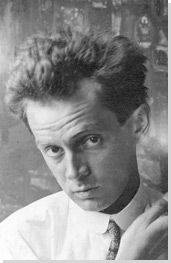 Born: June 12, 1890
Tuln an de Donau, near Vienna, Austria
Died: October 31, 1918
Vienna, Austria
Art cannot be modern. Art is primordially eternal.
Summary of Egon Schiele
With his signature graphic style, embrace of figural distortion, and bold defiance of conventional norms of beauty, Egon Schiele was one of the leading figures of Austrian Expressionism. His portraits and self-portraits, searing explorations of their sitters' psyches and sexuality, are among the most remarkable of the 20th century. The artist, who was astoundingly prolific during his brief career, is famous not only for his psychologically and erotically charged works, but for his intriguing biography: his licentious lifestyle marked by scandal, notoriety, and a tragically early death of influenza at age twenty-eight, three days after the death of his pregnant wife, and at a time when he was on the verge of the commercial success that had eluded him for much of his career.
Accomplishments
Schiele's portraits and self-portraits helped re-establish the vitality of both genres with their unprecedented level of emotional and sexual directness and use of figural distortion in place of conventional notions of beauty. Frequently depicting himself or those close to him, Schiele's portraits often present their sitters in the nude, posed in revealing, unsettling angles—frequently viewed from above—and devoid of secondary attributes often depicted in the portrait genre. At times, Schiele used traditional motifs, giving the intensely personal images a more general, allegorical statement on the human condition.
Creating some three thousand drawings over the course of his brief career, Schiele was both an extraordinarily prolific and unparalleled draughtsman. He regarded drawing as his primary art form, appreciating it for its immediacy of expression, and produced some of the finest examples of drawing in the 20th century. Even his painterly oeuvre revealed a style that captured some of drawing's essential characteristics, with its emphasis on contour, graphic mark, and linearity.
Painter Gustav Klimt was the primary influence on Schiele's development, serving as Schiele's friend and mentor. While Schiele inherited Klimt's focus on erotic images of the female form (and shared Klimt's insatiable sexual appetite), the emotionally intense, often unsettling Expressionist idiom Schiele eventually developed, with its investigation of his sitters' inner life and emotional states, in some ways directly opposed his mentor's Art Nouveau–inspired style, with Klimt preferring a more brilliant palette and glimmering, patterned surfaces.
Biography of Egon Schiele
To counter what he called, "a mourning world," Egon Schiele put his faith in art that "could only stem from intimacy," as he uniquely combined torment and eroticism in his Expressionistic works.
Important Art by Egon Schiele
Influences and Connections
Influences on Artist
Influenced by Artist
Influenced by Artist
Artists
Gunter Brus

Otto Muehl
Useful Resources on Egon Schiele