R.B. Kitaj Artworks
American Painter and Printmaker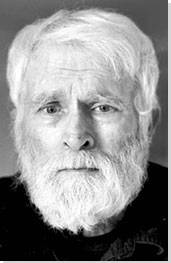 Born: October 29, 1932
Cleveland, Ohio
Died: October 21, 2007
Los Angeles, California
Progression of Art
1958
Erasmus Variations
One finds in this early work the features that were to characterize Kitaj's lifelong preoccupation with the human experience and history; what one might be inclined to call a figurative-intellectualism. The title Erasmus Variations (or Desiderius Erasmus) refers by name to the Dutch scholar (Erasmus) whose absent-minded sketches, or doodles, were (re)discovered by Kitaj while visiting Oxford. Kitaj had recognized the sketches as a precursor of the automatic drawing technique that was to become a linchpin of Surrealism and one can easily recognize this automatic technique in this painting. However, Kitaj also pays homage here to another Dutchman, Willem de Kooning, who he grew to admire while staying in New York; as Kitaj put it: "de Kooning's surreal-automatic 'Women' were my favorite action paintings of the School of New York [...] and so I adapted something of that mode here; Double Dutch (Erasmus and De Kooning, both of Rotterdam)". Indeed, though de Kooning is grouped with the leading Abstract Expressionists, his paintings appealed to Kitaj because his work retained a commitment to figuration.

We find the culmination of the 'Dutch effects' in the way that Kitaj's canvas is roughly divided into nine squares in a three-by-three grid. Each grid has the rough outline of a face, save the square at the center with two faces, and the lower left square which features a bouquet of flowers. The gestural spirit of artistic freedom is revealed in the way Kitaj's vibrant color contrasts bleed across the edges of their respective boxes, in the expressive drips and smears of paint, and in the dramatic sweep of Kitaj's brushstrokes.
Oil paint, ink, graphite and paper on canvas - Tate, London, United Kingdom
1960
The Murder of Rosa Luxemburg
Created while Kitaj was still a student in England, 'The Murder of Rosa Luxemburg' is characteristic of the artist's lifelong concern with the theme of human experience and injustice, typically as it related to Jewish history. Indeed, though he considered the painting to be largely unsuccessful, Kitaj acknowledged in 1980 that "at least some of the terms of its genesis, terms which really interested me" were still in evidence some "20 years later".

As its title suggests, his collage was inspired, in part at least, by the story of Rosa Luxemburg, a Russian-Polish Jew, and founder of the anti-bourgeois Spartacus League, who was assassinated in Germany in 1919 for her revolutionary socialist politics. However, while Kitaj described this "artless painting" - when compared to vigorous color schemes he employed in paintings dating from the same period, one is immediately struck by a toneless desolation perfectly fitting, perhaps, for the grey subject matter - as his "first political picture" that was not because he specifically "identified with [Luxemburg's] revolution (or its failure)". What Kitaj called his "other, oblique reasons" related to the personal narratives of persecution as experienced by his Jewish grandmothers which had effectively brought about their flight from Europe to America. Notwithstanding Kitaj's dour color palette, formally, the image shows elements that would characterize his work throughout his career. We see for instance painted and drawn figures that take their place alongside abstract shapes and found images including the statue in the upper right and the obelisk in the lower left. Meanwhile, the collage's allusions to political history, revealed in written text telling of Luxemburg's fate, is pasted to the top right of the frame.
Oil paint, ink, graphite and paper on canvas - Tate, London, United Kingdom
c. 1969 - 70
Marlborough (Mark Rothko)
While Kitaj is best known for his paintings, he was also recognized for the breadth and quality of his drawings and prints. The most widely distributed of these was In Our Time: Covers for a Small Library After the Life for the Most Part, a series of 50 prints featuring covers for books selected by Kitaj. For these prints, he chose books that ranged in subject from history, to mythology, to the one pictured above for his friend, Mark Rothko. As a whole, Kitaj's portfolio elucidates the breadth of the artistic interests and motivations. Art critic Catherine Bindman of Art in Print wrote that the prints showed "his predilection...for digressive exegesis, the key to both Kitaj's ambition and the critical rage that greeted it". The screenprints speak to the artist's mastery of the graphic medium, with the covers reproduced through a veracity of both color and texture. This body of work helped consolidate Kitaj's place in art history as a painter and also as a talented draughtsman and printmaker.
Screenprint - Various, including the Museum of Modern Art, New York, and the Tate, London, United Kingdom
c. 1974 - 75
If Not, Not
One of Kitaj's most well-known and gripping artworks, If Not, Not is a visually and conceptually multifaceted piece that the art critic Michael Glover described as "a seductive visual object [...] replete with much troubling and morally uncertain subject matter". On this occasion, Kitaj did not incorporate written text, though the painting was in fact inspired by T.S. Eliot's most celebrated poem 'The Waste Land' in which Eliot had called upon an array of cultural references to conjure a mental image of a modern world in ruin. Kitaj's intuitive take on the waste land theme is in keeping with his preoccupation with Jewish identity and history with the waste land narrative unfolding in the shadow of a Nazi death camp (Auschwitz) which sits in the top left hand of the frame. The scattered books, blackened trees and orange haze combine to create a chaotic landscape with Kitaj using a foreshortened picture plane to present the spectator with an image of an almost wraith-like dystopia.

In addition to Kitaj's almost kaleidoscopic visual treatments, the conceptual elements in his paintings can also provide specific 'intertextual' threads through which one can enter the work. In the lower left corner, for instance, the male figure is Eliot, just above him in the river is a bust of Henri Matisse, while the woman trying to cradle Eliot is represented in a style that recalls perhaps the Fauvist technique associated with early Matisse and Paul Gauguin. One can also find amidst the painting's striking dystopian drama an element of autobiography with the small man shown holding a baby in the centre-right of the frame is a self-portrait of the artist with his one-year-old son in his arms. Indeed, while one can read this painting as the coming together of great creative imaginations - Eliot, Matisse, Gaugin and, of course, Kitaj himself - one also suspects that, at root, Kitaj was expressing his heart felt anxieties about the sort of world he had brought young Max into.
Oil and black chalk on canvas - Scottish National Gallery of Modern Art, Edinburgh, UK
c. 1983 - 84
Cecil Court, London W.C.2 (The Refugees)
Cecil Court was the first important painting Kitaj completed upon returning to London after Elsi's suicide and marks something of a departure in style for Kitaj. Cecil Court was a street in London lined with second-hand bookshops and a favorite thoroughfare for London's bohemian community. The figure in the foreground is Kitaj himself, reclining on the famous Le Corbusier chair. The supporting figures are various Jewish acquaintances from Kitaj's past and present including his recently deceased stepfather, Walter, at the far right, and the antiquarian bookkeeper Ernest Seligmann seen holding flowers on the left. The composition is perhaps most notable however because it marked a departure, if not a clear break, from Kitaj's previous 'flat', or two-dimensional approach to his subject-matter. Here rather the figures are given three-dimensional perspective within the layout of the picture plane, and while the depth of field is still shortened, Cecil Court displays a feel for classical verisimilitude hitherto absent in his painting. Kitaj wrote that the composition of this piece was in fact inspired by figure placement in popular central European Theater, which he learned of through Franz Kafka and his Yiddish grandparents. Thematically, therefore, the painting is a continuation of the artist's commitment to exploring personal history within the bigger ambit of Jewish culture. Indeed, art historian Marco Livingstone called Cecil Court a "reverie on the way in which [Kitaj's] own life has been touched by that of refugees from the holocaust" and that the picture amounted to "a compendium of images rich in personal significance". Indeed, it was, above all else perhaps, Kitaj's inexorable self-examination that earned him his rightful place in the pantheon of modern portrait artists.
Oil paint on canvas - Tate, London, United Kingdom
c. 1989 - 93
The Wedding
Attributed to his late period, and painted six years after the event itself, The Wedding is in effect a figurative mosaic of Kitaj's marriage to the American artist Sandra Fisher. Certain formal qualities, notably the brighter and more vibrant color palette, represent the happiness of the occasion, but also something of a shift in tone for Kitaj that would repeat itself more than once in his mature period. The more personal subject matter has replaced allusions to Jewish history and this emphasis on his personal life experiences would also be much more characteristic of his mature period.

The Wedding features Kitaj, Fisher and his three children (though Kitaj and Fisher's son, Max, was not born until after the wedding itself) who mingle with luminaries of the School of London - his extended family of artists - namely David Hockney, Lucian Freud, Frank Auerbach, and Leon Kossoff. Kitaj claimed that he worked on this painting for longer than any of his other works, and said of the process: "I never learned how to finish it even though painter friends, including most of those in the picture, gave me good advice about it which I took up and changed things all the time. In the end, instead of finishing it, I finished with it and gave it away to a deserving old friend".
Oil paint on canvas - Tate, London, United Kingdom
2002
Los Angeles No. 17
Los Angeles No. 17 is one of a series of paintings Kitaj presented in an exhibition at L.A. Louver Gallery in Venice, California. The title of the series alludes to both the place where he was first introduced to Sandra Fisher (by Hockney) and to the city which he now called home. As a series, the works represented the prolongation of his somewhat morose obsession with the so-called 'Tate War' of 1994. Kitaj continued to blame those critics who had lambasted his Tate retrospective for Fisher's death and his work forward of the mid-nineties would often focus on these two related events. Given that the topic was so personal for the artist, the mature works signify something of a divergence from the historical Jewish intellectualism that had all but dominated the earlier phases of his career. No. 17 shows Kitaj (on the left) crying as he shares a kiss with his wife. In contrast to a frame in which a saturated color palette dominates, Fisher is shadowed in black with the effect that she is separated from the otherwise vivid composition while the black line that comes between them is a simple but moving metaphor for the boundary that divides the living and the dead and reveals a fearless artist prepared to express himself at his most raw and vulnerable. For those spectators who had learned something of Kitaj's biography, the image carries the theme of loss and longing, and on a more meditative level, the painting can be seen, not so much as catharsis, but rather as a means by which Kitaj would continue to communicate with the woman he loved. Indeed, Kitaj said of the piece: "Sandra and I became lovers again, after her death, in my old age in Los Angeles, The Angels. I could make love to my angel with my paintbrush, fondle her again, caress her contours". It is of some poignancy then that this was the last series the artist, diagnosed with Parkinson's disease in 2005, would produce before his suicide in 2007.
Oil paint on canvas - Private Collection
Similar Art
We Two Boys Together Clinging (1961)
Girl with a White Dog (1950-51)
Two Figures (1953)
Related Artists
Related Movements & Topics