Tamara de Lempicka Artworks
Polish-Russian, French, American Painter
Born: May 16, 1898
Warsaw, Poland (then Russia)
Died: March 18, 1980
Cuernavaca, Mexico
Progression of Art
1925
Group of Four Nudes
Lempicka's Four Nudes from 1925 exudes eroticism and powerful femininity. In the picture, four contorted, nude women recline in a complex tangle of rounded, heavily modeled, and sharply outlined body parts. The robust, sensual figures with their sultry expressions are reminiscent of the nude bathers of Lempicka's artistic predecessors - from Ingres and Delacroix to Matisse and Picasso.

Lempicka's figures have been likened to Ingres's fleshy and distorted but elegant bathers, such as those pictured in the work, Turkish Baths (1862). However, the piece must also be analyzed in comparison to Cubist works, including but not exclusively, nudes by Picasso such as Two Nudes (1905) or for that matter, the groundbreaking Les demoiselles d'Avignon (1907). Lempicka absorbed tradition but was also deeply influenced by Cubism.

The shallow background of the picture, which is typical of post-Cubist compositions, has the effect of making the women feel even more compressed within the space, thereby also heightening the eroticism. Art historian Joan Cox argues that "[Lempicka] has chosen to crop her view of the female bathers tightly and give the viewer - a presumably female viewer - the experience of joining in the frolicking. She invites the female viewer in as a lover rather than creating an experience for a male viewer as a distant voyeur into this all female public space." Indeed, works like the nude groupings by Ingres and Picasso presume a male viewer as, at the least, the artists themselves were males. Lempicka subverts that dynamic and, in a way, excludes male viewers altogether.
Oil on canvas - Private collection
c.1926
Kizette in Pink
One of the many portraits of her daughter Kizette, this painting features her dressed in whitish pink from head to foot. She seems childishly to have lost a shoe and she tries to hide her sock with her other foot. It has been suggested that Kizette's slightly awkward position may be a reference to a well-known Russian Orthodox Christian icon of the Madonna and Child, the Theotokos of Tikhvin (c. 1300). In a highly venerated painting, the infant Jesus is holding an object, probably a scroll, and crosses one leg over the other much like Kizette does in her portrait.

Lempicka was quite young when she gave birth to her daughter. A major consequence of Tamara's persistent ambivalence concerning motherhood was that in general, she had very little contact with Kizette, who lived instead with close family members and attended boarding school. The girl typically saw her mother during the holidays and, according to Lempicka's biography, the artist would sometimes pretend her daughter was her sister so she could lie about her age. When mother and daughter did meet, Lempicka would often paint Kizette's portrait. Images of Kizette are among her most successful and possibly psychologically revealing works. Indeed, in indirectly connecting Kizette to the Christ Child from the famous icon, Lempicka positions herself as the Madonna - the ideal mother- perhaps in part to assuage her guilt at essentially abandoning her child, perhaps also as a means of communicating the involuntary nature of her own motherhood.

Although this depiction of Kizette is somewhat naturalistic, the style is undoubtedly the so-called "soft Cubism" of Lempicka and L'Hote. The girl, whose expression reflects none of the coquettishness of Lempicka's typical female subjects, seems to be sitting within an arrangement of shapes recalling industrial materials with waves, ships, and a city in the background - forms that evoke not only the sharp, fragmented shapes of Cubism but also the standard geometrical forms of Art Deco.
Oil on canvas - Musée des Beaux-Arts de Nantes - France
1927
La Belle Rafaela
Lempicka is said to have found a new model for her paintings in the Bois de Boulogne, a very large public park in Paris that was also the place where prostitutes often proffered their services. Known only to us, the viewers, as "Rafaela", she became the main muse and subject for Lempicka's paintings for over a year.

The style of the painting is reminiscent of a work by Caravaggio in its emphasis of light and shadow. But in this dramatic picture, the focus is on the powerful, sensuous, and sculptural form of the nude female figure. The shapely curves of Rafaela have both a beauty and a strength that Lempicka is most famous for. This achievement was noticed by the German women's magazine, Die Dame, and Lempicka was commissioned to produce a series of covers for it.
Oil on canvas - Private Collection
1929
Self-Portrait
In what is probably her most famous painting, Lempicka depicts herself sitting at the wheel of a green Bugatti sports car, wearing fashionable brown driving gloves, a close-fitting hat that resembles a helmet, and a scarf that billows in dramatic, sharp folds to her right. The folds of the fabric, the chrome details so directly exemplary of Art Deco-style details, and the striking lighting provide the impression of speed as if the painting captures a fleeting moment.

The work offers a new image of modern woman - of unabashed self-determination and unapologetic sexuality. The artist's expression is controlled and dispassionate as she gazes directly at the viewer, appropriating the traditional male gaze and contradicting traditional depictions of women who are meant to be viewed exclusively by male viewers as sex objects.

The painting was commissioned for the front cover of Die Dame, a German magazine devoted to promoting the concept of the modern woman. This work exemplifies how Lempicka's work occupied a kind of liminal niche between fine art, portraiture to be specific, and graphic art. Unlike her male colleagues whose Cubism-inspired work included portraits and genre images, Lempicka's work, even in her day, was often considered within the context of the decorative arts.
Oil on board - Private collection
1929
The Musician
The Musician is one of Lempicka's genre paintings. It draws on a distinctly traditional theme: allegorical representations of the arts. In this case, music is depicted as a beautiful and elegant, dark-haired woman, absorbed in music making. Lempicka was deeply influenced by the Renaissance works she saw in the Louvre Museum, among other places, and this work might reference any number of paintings from the period and afterwards. Indeed, as recently as the early 1900s and 1910s, the Cubists had made musicians and musical instruments major themes of their work.

But Lempicka's thoroughly modern, sensual and fashionable female figure, while comprised of the characteristic generously modeled planes and forms of Cubism, is the main feature of the painting. This contrasts sharply with Cubist compositions in which objects and backgrounds seem to be constantly shifting, with individual components of the overall work of equal importance for the most part. Additionally, the bright blue dress rejects the customary, drab palette of early Cubism. Lempicka's paintings often feature limited palettes but color is rarely subdued and the colors she selects are often in step with the tastes of the period.
Oil on canvas - Private collection
1929
Portrait of Doctor Boucard
In 1929, Lempicka's most avid collectors (besides the Baron) Dr. Pierre Boucard commissioned a portrait of himself; the artist also painted a number of portraits of Boucard's wife and his daughter. A distinguished looking, middle-aged man, the confident Boucard is framed by a background of white geometric shapes comprised of sharp angles. The darkness behind them creates a kind of mysterious contrast. In comparison to the somewhat flattened forms that make up the figure and the background, the microscope is fully realized formally. It anchors Boucard to the background; it is as though he holds onto it for balance.

In the picture, Boucard wears a smartly tailored white coat - a lab coat transformed into a chic outer garment that doesn't even hint at his vocation as a physician and researcher. Rather, he could be a military officer or, more intriguing still, a spy. Indeed, he stands in the shadows with his face turned toward the light. The pose seems to be defensive or protective of the objects he possesses: a test tube half-filled with fluid. Indeed, although Dr. Boucard was tangentially involved in cloak-and-dagger activities during the Second World War - his racing yacht was used by the French Resistance to transport munitions and was found by the Nazis and scuttled (then later purchased by Greek tycoon, Aristotle Onassis), Boucard's claim to fame as a famous French bacteriologist - hence the test tube and the microscope - was his 1907 isolation of Lactobacillus acidophilus, which he developed into an antidiarrheal drug called Lacetol. The discovery and subsequent development of the drug made Bourcard quite wealthy; thus, he had the finances to commission multiple portraits from Lempicka. The portrait is an idealized image of the doctor, whose work was far from glamorous.
Oil on canvas - Private collection
c.1938
Suzanne Bathing
From 1934 to 1938, Lempicka was apparently suffering from depression, which made it difficult for her to work. Of the small number of paintings she produced during that period, most had religious themes and the majority were bust portraits of the Virgin Mary or of people in prayer. All of her works from the period tended toward conservatism, although the pictures were clearly produced in her distinctive style.

Suzanne Bathing marks Lempicka's return to painting sensual, nude women, although the theme is still emphatically religious: it is a story from the Old Testament. The story was a favorite of Renaissance and Baroque artists and its underlying emphasis is on voyeurism. In the story, two judges, well-respected elders, spy on the virtuous Susanna as she bathes. In contrast to some of her earlier image of women who revel in the awareness of their sexuality and the power it confers, subjects who make direct eye contact with the viewer, Lempicka's Susanna, this modern Suzanne, looks away and huddles forward into herself in a gesture of modesty. She clutches a portion of the white cloth resting near her as though she may at any moment pull it toward her to cover herself. Is this the moment in which she discovers she is being observed?

Interestingly, whereas her earlier works tended to depict women against the dramatic skyline of a modern, mechanized city, here Suzanne is shown against a pastoral background of trees. This painting signals the beginning of an era of more conservative works. In fact, her artistic output during this second half of her career is far less openly sensual.
Oil on canvas - Private collection
c.1947
Mexican Girl
By the end of the 1930s, Lempicka had turned for the most part to more conservative subjects, styles, portraits and genre images like this one featuring archetypal figures rather than real people. Such images, far less compelling than her earlier, openly sensual and lavish portraits, comprise the bulk of her later oeuvre. Gone are the wealthy and glamorous sitters arranged against modern backgrounds. Instead, works such as The Mexican Woman feature other segments of society like this woman, who is evidently poor given the holes in her clothing and the tattered straw hat.

The sitter's large straw hat lends her a sense of drama, but her expression is wry, suggesting unhappiness. The work maintains de Lempicka's typical treatment of flesh and the dramatic lighting, but the image is altogether more conservative than her earlier work, and lacks the sensuality that characterized her Art Deco style.
Oil on canvas - Musée des Beaux-Arts de Nantes - France
Similar Art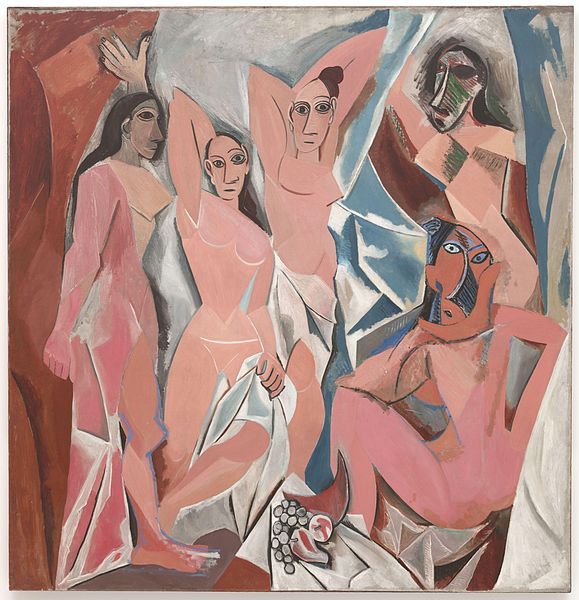 Les Demoiselles d'Avignon (1907)
Three Women (Le Grand Déjeuner) (1921)
Sleep (1866)
Related Artists
Related Movements & Topics