Le Corbusier
Swiss-French Modern Architect, Urban Planner, Designer, Sculptor, Painter, and Writer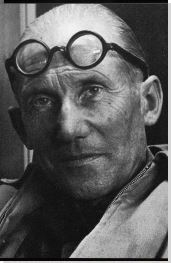 Born: October 6, 1887
La Chaux-de-Fonds, Switzerland
Died: August 27, 1965
Roquebrune-Cap-Martin, France
Space and light and order. Those are things that men need just as much as they need bread or a place to sleep.
Summary of Le Corbusier
Few architects have a schnauzer that they name "Pinceau" ("Paintbrush"). Fewer still use their deceased schnauzer's skin and hair as the binding for a copy of Don Quixote. And there are few architects who can compare with the stature of Le Corbusier. This highly polemical designer hailed from obscurity in the Swiss Jura Mountains to become (arguably) the most influential urban planner and architect of the 20th century. He was one of the key designers who formulated the ideas behind a truly modern, avant-garde architecture during the interwar period. Le Corbusier's ideas about immense, rationalized, zoned, and industrially-constructed cities both shocked and seduced a global audience, and while they never came to fruition as a cohesive vision, his disciples put many of their pieces into place around the world, both during and after his lifetime. Over fifty years after his death, Le Corbusier still manages to exercise influence and arouse hatred for his ideas and buildings. His complex ties to politics and the sociological dimensions of architecture - along with his voluminous records and archives - mean that he will continue to be the subject of debates for decades to come.
Accomplishments
Le Corbusier was and remains a highly polemical figure in the history of modern architecture. Widely praised as a visionary whose imaginative plans for urban agglomerations and spaces dramatically transformed our understanding of what a city should be and could look like, he is equally reviled for the soulless monotony that his strand of modernism encouraged and the wanton destruction of the urban fabric that he both championed and prompted among his followers in urban planning during the latter half of the 20th century.
Le Corbusier is one of the major originators of the International Style, along with such contemporaries as Ludwig Mies van der Rohe and Walter Gropius, with whom he once worked, among many others. His work was featured especially prominently in the landmark exhibition in 1932 at the Museum of Modern Art in New York - and subsequent book - that gave the movement its name.
Le Corbusier's role in the birth of modern architecture is magnified because of his ability to elucidate and disseminate his principles succinctly and forcefully. His Five Points of a New Architecture, which form the backbone of his architectural thought of the 1920s, constitute some of the most direct set of ideas in architectural theory, which he successfully demonstrated in his numerous contemporaneous villas of the interwar period.
Le Corbusier's early writings and buildings glorified modernism and modernity as the key to bringing society out of the cataclysm of World War I at the beginning of the 1920s, a time when many others shrank from the embrace of modern life. Indeed, his architecture and faith in technological progress and heavy industry helped create what many architectural historians would later call "the machine age."
Le Corbusier's political and ideological positions remain fraught with complexities and controversy - at times he could be labeled a capitalist, a communist, or a Fascist - and his copious inspirations and voluminous records and archival materials provide critics and scholars with a seemingly endless array of possible interpretations.
Biography of Le Corbusier
Charles Édouard-Jeanneret was born in the fall of 1887 in the small industrial town of La Chaux-de-Fonds, in the section of the Alps called the Jura Mountains, just across the border from France. The city was known for its renowned watchmaking industry. His father was a watch engraver and enameller, and his mother worked as a music teacher. They encouraged their son to study decorative arts in the hope that he would also become an engraver of watchcases. Jeanneret also frequently made trips with his father into the mountains around La-Chaux-de-Fonds, becoming intimately acquainted with nature and the environment.
Important Art by Le Corbusier
Influences and Connections
Influences on Artist
Influenced by Artist
Influences on Artist
Artists
Adolf Loos

Charles Leplattenier

Auguste Perret

Peter Behrens
Friends
Amédée Ozenfant

Charlotte Perriand

Pierre Jeanneret

Jean Prouve
Movements
Decorative Arts
Influenced by Artist
Artists
Oscar Niemeyer

Alison and Peter Smithson

Berthold Lubetkin

Michael Graves

Tadao Ando
Friends
Charlotte Perriand

Pierre Jeanneret

Jean Prouve

Lucio Costa
Movements
Modern Architecture
Useful Resources on Le Corbusier