Howard Hodgkin
English Painter and Printmaker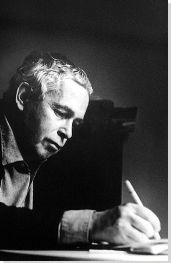 Born: August 6, 1932
Hammersmith, London, UK
Died: March 9, 2017
London, UK
[P]ainters [...] have to build up a reservoir of feeling which is real but which can be tapped on demand.
Summary of Howard Hodgkin
Howard Hodgkin was amongst the last great luminaries of a tradition of twentieth-century British abstraction that included figures such as Barbara Hepworth and Ben Nicholson. Many older artists associated with this tradition could be loosely attached to particular styles or movements, such as the St. Ives School of the mid-twentieth century. But Hodgkin was a more singular presence in the British art world, not least because his own contemporaries and friends included the British Pop artists: Patrick Caulfield, David Hockney, Peter Blake, and others. Hodgkin was thus a curious liminal figure, celebrated for an emotionally invested abstraction at a time when such an approach had largely been consigned to recent art history. At their best, Hodgkin's bold canvases and panel-based paintings occupy a thrilling intersection between pure arrangement of color and texture and subtly evocative figuration.
Accomplishments
In certain respects, Hodgkin's oeuvre might be compared to that of a North-American Abstract Expressionist such as Mark Rothko, particularly in its use of bold, rectangular panels of near-luminous color. But whereas Rothko's work has been celebrated for a sort of transcendent non-specificity, in which color and form as such become objects of wonder, Hodgkin's abstract compositions were more likely to be tethered to a representational motif: suggesting, if only for a second, a sunset, an interior, or a city-scene.
Hodgkin was amongst the most consummate of painterly painters of the twentieth century. Particularly towards the end of his career, he was able to apply a stroke of paint in such a way that each of the individual colors mixed into it also seemed to be presented in isolation, in fine granular strands. This was an effect aided by his use of wooden panels rather than canvases as painting surfaces, allowing the paint to stand proud of its background in such a way that it almost became a sculptural material.
One of Hodgkin's most distinctive formal effects was the incorporation of a painted frame into the picture-space. In iconic works such as Rain (1984-89), big, expressive, fluid brush-strokes mark out the four sides of the canvas, a gesture exemplifying the self-reflexive spirit of twentieth-century painting. By such means, the painting offers a subtle commentary on its own presentation and placement, becoming a self-contained object in the world rather than - or as well as - a portal into an imaginative space.
Biography of Howard Hodgkin
Howard Hodgkin was born into a middle-class family in London in 1932. His maternal grandfather, Gordon Hewart, was Lord Chief Justice between 1922 and 1940, and his cousins included the art critic Roger Fry, the artist Eliot Hodgkin, and the conductor John Eliot Gardiner. By the age of five he had already decided to become a painter, a fact he often publicly commented on later in life. His upbringing was disturbed by the Second World War, and between 1940 and 1943 he lived on Long Island in New York with his mother and older sister, avoiding the Blitz in Britain. This was a formative time for Hodgkin. He visited the Museum of Modern Art in New York, and took an interest in paintings by Picasso, Matisse, and Stuart Davis.
Important Art by Howard Hodgkin
Influences and Connections
Influences on Artist
Influenced by Artist
Influences on Artist
Artists
William Scott
Friends
Patrick Caulfield

John Hoyland
Movements
London Group

Intimism
Influenced by Artist
Friends
Patrick Caulfield
Useful Resources on Howard Hodgkin