Robert Capa
Hungarian Photographer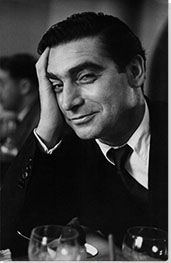 Born: October 22, 1913
Budapest, Hungary
Died: May 25, 1954
Thái Bình, Vietnam
If your pictures aren't good enough, you're not close enough.
Summary of Robert Capa
A war photographer that hated war, Capa used a small 35 MM camera to get close to the action and close to his subjects, thus he was able to show the devastating effects of violence on the lives of those in its midst. His approach to Photojournalism was rooted in the idea that photographs could tell stories, that single images could get to the essence of the subjects they captured, and thus his photographs of conflict were imbued with narrative and pathos. His iconic images of the Spanish Civil War and World War II are known today through their widespread reproduction on the printed page.
Through his work as a war correspondent, and the publication of his photographs in magazines and newspapers, Capa set the standard for future photographers and their collaboration with major news outlets.
Accomplishments
Capa made use of the 35MM Leica camera. Small enough to be held in one hand, it was lightweight, and its 35MM film was compact and easy to use, allowing Capa to shoot roll after roll in quick succession. This meant that Capa could immerse himself in conflict zones around the globe and bring photography ever closer to the action. Thanks to photography's seemingly endless reproducibility, Capa's images were featured in magazines and newspapers around the world.
Robert Capa had an early and abiding interest in journalism and its capacity for bringing current events to the attention of the public. He brought this interest to bear on his photography, often borrowing from journalism's tendency toward narrative accounts and storytelling, by focusing in on the plight of individuals. He believed that photojournalists should get as close as possible to their subjects in order to get to the heart of the story and re-humanize the often de-humanizing effects of war. As he later stated: "If your pictures aren't good enough, you're not close enough."
Capa's work as a photographer and war correspondent was emblematic of a period that saw the rise of photojournalism and the ever-increasing demand for photographs by the mass media. Indeed, the necessity of providing images to newspapers and magazines ultimately led Capa and other famous photographers, including Henri Cartier-Bresson and David "Chim" Seymour, to band together to advocate for their own work and its publication. The result was Magnum Photos, a collective photography agency that was (and still is) run by its members (primarily photojournalists) and supplies images to news outlets around the world. Photographing important events in human history, Magnum's members have set the standard for professional photographers and photojournalists by controlling how, when, and where their images are used.
Biography of Robert Capa
Robert Capa was born Endre Friedmann into a working-class Jewish family. His parents, Dezsö Friedmann and Julianna Berkovits, ran a dress salon in Pest, Hungary where his father worked as a tailor. His brother Kornel was born five years later.
Important Art by Robert Capa
Influences and Connections
Influences on Artist
Influenced by Artist
Influences on Artist
Artists
David Seymour

Pierre Gassmann

Simon Guttmann
Friends
Ernest Hemingway

Martha Gellhorn

Henry Luce

John Morris

Richard de Rochemont
Influenced by Artist
Artists
Eve Arnold

Werner Bischof

Burt Glinn

Ernest Haas
Friends
Ernest Hemingway

Martha Gellhorn

Henry Luce

John Morris

Richard de Rochemont
Useful Resources on Robert Capa