Artworks by Jean-Michel Basquiat
The below artworks are the most important by Jean-Michel Basquiat - that both overview the major creative periods, and highlight the greatest achievements by the artist.
SAMO Graffiti (1980)
Citing artistic differences, Al Diaz and Basquiat chose to sever their artistic collaboration, SAMO, with this three-word announcement. Carried out episodically at various cites as a piece of ephemeral graffiti art, the phrase surfaced repeatedly on gritty buildings throughout Lower Manhattan. At one time a sign of trespassing and vandalism, graffiti in the hands of Diaz and Basquiat became a tool of artistic "branding"; repeated here and there throughout the billboard-dotted city, "SAMO is Dead" slowly took on the status of a corporate mantra, such as, for instance, Coca Cola's "It's the Real Thing".
Untitled (Skull) (1981)
An example of Basquiat's early canvas-based work, Untitled (Skull) features a patchwork skull that seems the pictorial equivalent of Mary Shelley's Frankenstein - a sum of incongruent parts. Suspended before a New York City subway map-like background, the skull is at once a contemporary graffitist's riff on a long Western tradition of self portraiture and the "signature piece" of some anonymous, streetwise miscreant. Basquiat's recent past as a gritty curbside peddler, virtually homeless floater, and occasional nightclub interloper are all equally stamped into this troubled three-quarter profile, making for a world-weary icon of the displaced Puerto-Rican and Haitian immigrant Basquiat forever seemed to remain even while successfully navigating the newly gentrified streets that were 1980s SoHo.
From Our Sponsor. Article Continues Below
Untitled (1982)
Like a page pulled cleanly from a daily artist's journal, this untitled canvas features Basquiat's personal iconography, some reminiscent of that of Paul Klee. Boldy appropriating images commonly associated with African art - a skull, a bone, an arrow - Basquiat modernizes them with his Neo-Expressionist style of thickly applied paint, rapidly rendered subjects, and scrawled linear characters, all of which float loosely across the pictorial field, as though hallucinatory. A white skull juts from the center of the ebony composition, vividly recalling a revered painter's tradition of the memento mori - a reminder of the ephemeral nature of all life and the body's eventual, merciless degeneration. Basquiat demonstrates in one concise "study" how he is able to carry on an ancient practice of painting "still life", all the while suggesting, as does a great jazz musician, that the artist's work was relatively effortless, if not completely improvisatory.
Flexible (1982)
Flexible features two of Basquiat's most famous motifs: the griot and the venerable crown. A sole black figure, half cadaver, half living entity, stares "blindly" at the viewer, its arms creating a closed circuit, perhaps a reference to spiritualized energy. With few distinguishing characteristics, the subject takes on the visage of the Everyman. At the same time, this is not just any figure, but one of African ethnicity and proud heritage a clear reference to Basquiat's own identity (note the diagrammatic rendering of the figure's lungs and abdomen, reminiscent of the young Basquiat's fascination for Gray's Anatomy sketches). Given that the griot is traditionally a kind of wandering philosopher, street performer, and social commentator all in one, it is probable that Basquiat saw himself in this role within the New York art world, one that nurtured his artistic success but also swiftly exploited it for material profit.
Untitled (History of the Black People) (1983)
As though he were reconstructing an epic history, or precedent, for his own ancestors' arrival on the American continent, this expansive work of the early 1980s compresses together the relationship of Egypt to Africa, with references to more local centers of African-American music and greater southern culture, such as Memphis, Tennessee. At the center of the painting, Basquiat depicts a yellow Egyptian boat being guided down the Nile River by the god Osiris. Rife with visual and textual references to African history, the painting tackles a heady subject with a deceptively naïve style. Basquiat's late-period works feature multi-panel paintings, in the tradition of Renaissance religious tryptichs, and canvases with exposed stretcher bars. Often the surfaces of these pieces are virtually consumed by their own freight of dense writing, collage, and abstruse imagery.
From Our Sponsor. Article Continues Below
Arm and Hammer II (1985)
Typical of their collaboration, "Arm and Hammer II" demonstrates how Basquiat and Warhol would pass a work between them for their mutual intervention, like a game of chance happening, free association, and mutual inspiration. Warhol's characteristic employment of corporate logos and advertising copy as shorthand signs for the materialistic modern psyche is frequently overlaid by Basquiat's only partially successful attempt to deface them, or otherwise "humanize" them, freehand, as though he were vainly railing his fist at a largely invisible and insidious monster.
Ten Punching Bags (Last Supper) (1986-1987)
Ten Punching Bags (Last Supper) is a collaboration between Basquiat and Andy Warhol, once commissioned by Alexandre Iolas, the international art gallerist and collector. This piece was originally intended to be displayed in Milan directly across the street from Leonardo da Vinci's Last Supper. Opposite the Renaissance masterpiece, Ten Punching Bags was to function, somewhat playfully, as a "call to arms" for contemporary art against all forms of ideological oppression.
Related Artists and Major Works
Grand Maitre of the Outsider (1947)
Artist: Jean Dubuffet (Read Full Artist Overview, Biography, and Artworks pages)
This picture is typical of the Hautes Pates series that Dubuffet exhibited to huge controversy in 1946. A thick, monochromatic surface serves as the ground for the crudely depicted figure, which is a parody of portraiture. Although Dubuffet undoubtedly intended the series to offend and his graphic style and thick, coarse impasto certainly did offend conventional tastes, it is worth noting that the color palette is not as jarring as it might be. Dubuffet was at least cautiously mindful of the need for success.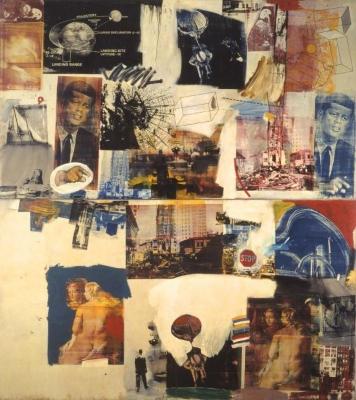 Skyway (1964)
Artist: Robert Rauschenberg (Read Full Artist Overview, Biography, and Artworks pages)
While Rauschenberg was no stranger to collaged found imagery, the silkscreen technique reinvigorated his artistic practice in the early 1960s. After Andy Warhol introduced him to the photo-silkscreen technique. Rauschenberg created a series of silkscreen paintings that allowed for an open-ended association of meanings through his appropriation and arrangement of mass media imagery. In Skyway, Rauschenberg wanted to communicate the frenetic pace of American culture encapsulated in the early half of the decade, particularly as represented on television and in magazines. He stated, "I was bombarded with television sets and magazines, by the excess of the world. I thought an honest work should incorporate all of those elements." He created the work in the year following the assassination of John F. Kennedy. Kennedy was a potent symbol for change, even though he was struck down only halfway through his first term as president. The image of Kennedy appears twice in the upper half of the painting surrounded by images that illustrate the ideals of American progress in the second half of the 20th century including an astronaut, the bald eagle, and a large, mechanical crane surrounded by a demolished building. The lower half of the canvas contains a repeated image of Venus at Her Toilet (1608) by Peter Paul Rubens. The mirror within the painting expands the image into the viewer's space, mirroring the world around them as well as the world around Rauschenberg when he created the work. While the appropriated images can be read as politically and socially laden, Rauschenberg claimed he aimed to encapsulate the contemporary climate rather than comment on it, using "simple images" to "neutralize the calamities that were going on in the outside world."
Leda and the Swan (1962)
Artist: Cy Twombly (Read Full Artist Overview, Biography, and Artworks pages)
Leda and the Swan (the title is written in the lower right corner), one of Twombly's most accomplished works, illustrates his career-long attraction to the stories, literature, and events of classical antiquity, an interest that expanded further after he moved to Rome in 1957. The title refers to the Roman myth in which Jupiter, transformed into a swan, seduces Leda, who would later give birth to Helen of Troy. Rather than depict the conventional and erotic imagery of a graceful nude languidly entangled with a swan, Twombly combines diverse media, with the violent and forceful swirls, scratches, and zig-zags flying out in all directions suggesting the presence of Jupiter and the fleshy pinks and ovoid forms suggesting Leda and the eggs that were produced from the union. Amidst these colliding, graffiti-like elements, Twombly included recognizable hearts, a phallus/swan neck, and a window-like rectangle. This "window" provides a stabilizing effect on this otherwise explosive painting, but also amplifies content in its witty paradox of being part of graffiti on a flat wall vs. a window that might offer passage through the flatness to the world of the painting (and the myth of the title) or in the opposite direction to the real world outside. The work as a whole reconciles themes of male/female, destructive/creative, and earthly/divine. As in much of his work, Twombly transformed an ancient myth by becoming Jupiter himself: ravaging the canvas and producing beauty. As Roberta Smith has commented, "the crux of his achievement was not so much to overturn [Abstract Expressionism]," ... but to connect Abstract Expressionism to other forms of culture."