Street and Graffiti Art
I've always wanted to make work that communicates to the masses, not the minority.
Some people might say it's all a big waste of time, no one cares about their opinion if their name isn't written in huge letters on the bridge in town.
Graffiti is a sporadic, illegal, mostly anonymous and fleeting form of intervention in the dominant culture. When read parallel to political events and, in this case, read in light of 'official' women's and lesbian feminist herstory, it becomes the most accessible medium of resistance, remarkably resistant to institutionalization and instrumentalization
I am saddened by the way graffiti is used as a way into the youth market ... Graffiti is an important tool for building a person's self-confidence ... Promoting bad products using graffiti writers - I hope we catch those writers, put them in the stocks and throw wet sponges at them. Shame on them
Because street art is universal in its reach, it should be viewed as a mass communication medium in a general sense. Yet despite its prevalence and importance, street art is often ignored and seldom researched as a mass communication. As one of numerous information sources, it should be viewed as one dimension of a multimedia, multiformat communication system. It gives expression to groups that otherwise could not comment upon or support current or perceived social problems. In the process it provides a popular record
Graffiti provide a means of expression, a means to be heard immediately, without authorization, without the need for clear definition or a pre-formed consensus
The name is the faith of graffiti
I was 16 years old when I first trespassed onto some railway tracks and wrote the initials of the graffiti crew (of which I was the only member) on a wall. Afterwards the most incredible thing happened - absolutely nothing. No dogs chased me, no thunderbolt from God shot down to punish me, and my mum didn't even notice I'd been gone. That was the night I realized you could get away with it. That was also the night I discovered that beyond the "No Entry" sign everything happens in higher definition. Adrenaline sharpens your eyesight, each little sound becomes significant, your sense of smell seems more acute, and tramps shit everywhere.
Many people are too quick to view street art through the lens of vandalism. They mistakenly believe that the artists are taking beautiful buildings and defacing them. And yet, most street artists work in neglected neighborhoods and place their work on 'forgotten' buildings. They look for the rundown building with paint chipped off, with weeds growing out of the sidewalk. Their motivation is to beautify these buildings an create something truly special. They believe that the art adds something to the city, creating an energy that enhances eroding buildings.
At its most apolitical, work done without permission in places that makes others bear witness to the affront still embodies an intuitive rebellion against the assumption that the rule of property take precedence over the inherent right of free use and self-expression.
What the decision of an artist to abandon the sanctified safe space of the art world for the open arena of the social polyglot has in common with the obstructions of activism, vandalism of graffiti, or visual play of contemporary street art is an inherent scrutiny, if not rejection, of the ways in which everything from ideas and feelings to property, space, and material objects are bought, sold, and controlled.
Graffiti as a mode of aesthetic intervention is not a style; it is an act.
Painting on walls was a way to show that I was boycotting the conventional art world; at the beginning, I thought like a rebel. I also find it exciting to paint in the street because it is forbidden. Painting on walls allows me to keep my freedom; as it is illegal, there is no censorship. it is also a challenge, since each time I paint on a wall there is the risk of seeing my work erased.
Summary of Street and Graffiti Art
The common idiom "to take to the streets" has been used for years to reflect a diplomatic arena for people to protest, riot, or rebel. Early graffiti writers of the 1960s and 70s co-opted this philosophy as they began to tag their names across the urban landscapes of New York City, Los Angeles, and Philadelphia. As graffiti bloomed outward across the U.S., Street Art evolved to encompass any visual art created in public locations, specifically unsanctioned artwork.

The underlying impetus behind Street Art grew out of the belief that art should function in opposition to, and sometimes even outside of, the hegemonic system of laws, property, and ownership; be accessible, rather than hidden away inside galleries, museums, and private collections; and be democratic and empowering, in that all people (regardless of race, age, gender, economic status, etc.) should be able to create art and have it be seen by others. Although some street artists do create installations or sculpture, they are more widely known for the use of unconventional art mediums such as spray paint, stencils, wheat paste posters, and stickers. Street Art has also been called independent public art, post-graffiti, and guerilla art.
Key Ideas & Accomplishments
A central aspect of Street Art is its ephemerality. Any unsanctioned public work runs the risk of being removed or painted over by authorities or by other artists. No one can own it or buy it. Viewers are seeing a one-of-a-kind work that is likely not to last. This temporariness creates an immediacy and electricity around the work.
Street Art can often be viewed as a tool for promoting an artist's personal agenda surrounding contemporary social concerns, with city facades acting in the same role as the old fashioned soapbox; a place to extol the artist's opinion on a myriad issues ranging from politics and environmentalism to consumerism and consumption.
Many street artists use the public canvas of buildings, bridges, lampposts, underpasses, ditches, sidewalks, walls, and benches to assure their individual messages are seen by a wide swath of the population, unfiltered by target demographics or being accessible only to art world denizens.
As advertising infiltrates, the communal consciousness on a constant daily basis, Street Art has oftentimes been coined a counter attack. Popular street artist Banksy has said, "To some people breaking into property and painting it might seem a little inconsiderate, but in reality the 30 square centimeters of your brain are trespassed upon every day by teams of marketing experts. Graffiti is a perfectly proportionate response to being sold unattainable goals by a society obsessed with status and infamy. Graffiti is the sight of an unregulated free market getting the kind of art it deserves."
Key Artists
Overview of Street and Graffiti Art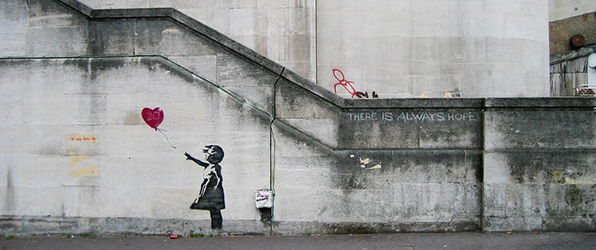 Street Art is supposed to be the ultimate in democratized art; seen by everyone, owned by no-one. But this hasn't stopped a Banksy becoming the movement's ultimate collectible; with celebrities including Justin Bieber, Serena Williams and Angelina Jolie, having acquired the elusive artist's work.
Important Art and Artists of Street and Graffiti Art
Useful Resources on Street and Graffiti Art