Neue Sachlichkeit (New Objectivity)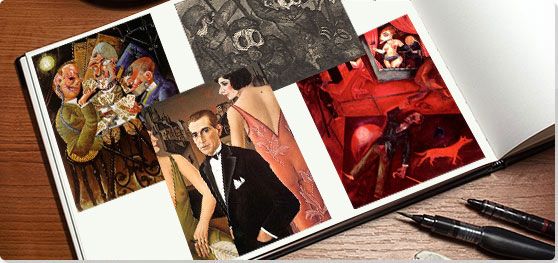 We must be a part of all the misery which is coming. We have to surrender our heart and our nerves ... It's the only course of action which might give purpose to our superfluous and selfish existence (as artists) that we give people a picture of their fate.
It's important to see things the way they are.
You know, if one paints someone's portrait, one should not know him if possible. No knowledge! I do not want to know him at all, I only want to see what is there, on the outside. The inner follows by itself. It is mirrored in the visible.
You have to see things the way they are. You have to be able to say yes to the human manifestations that exist and will always exist. That doesn't mean saying yes to war, but to a fate that approaches you under certain conditions and in which you have to prove yourself. Abnormal situations bring out all the depravity, the bestiality of human beings.. I portrayed states, states that the war brought about, and the results of war, as states.
Brutality! Clarity that hurts! There's enough music to fall asleep to! .. Paint as fast as you can! - capture time as it races by ..
I believe that the reason why I love painting so much is that it forces one to be objective. There is nothing I hate more than sentimentality.
All important things in art have always originated from the deepest feeling about the mystery of Being.
In photography one should surely proceed from essence of the object and attempt to represent it with photographic terms alone.
We still don't sufficiently appreciate the opportunity to capture the magic of material things. The structure of wood, stone, and metal can be shown with a perfection beyond the means of painting... To do justice to modern technology's rigid linear structure... only photography is capable of that.
The secret of a good photograph - which, like a work of art, can have esthetic qualities - is its realism ... Let us therefore leave art to artists and endeavor to create, with the means peculiar to photography and without borrowing from art, photographs which will last because of their photographic qualities.
Nothing seemed to me more appropriate than to project an image of our time with absolute fidelity to nature by means of photography.
Nothing is more hateful to me than photography sugar-coated with gimmicks, poses and false effects. Therefore, let me speak the truth in all honesty about our age and the people of our age.
If typecasting and classification were intro-duced during the Weimar period in order to negotiate an increasingly complex society, then ambiguity in even the most definitive Weimar period portraits serves as evidence of ongoing disorientation
Summary of Neue Sachlichkeit (New Objectivity)
Eschewing the idealism and utopianism that marked the first decade of the 20th century and disillusioned by a World War that wreaked havoc on bodies and society, the artists associated with Neue Sachlichkeit, or New Objectivity as it is translated in English, presented an unsentimental realism to address contemporary culture. Disgusted with the corruption apparent throughout the Weimar Republic but also entranced by new freedoms, this diverse group of artists did not necessarily share a style but rather a commitment to expose the objective truth underlying contemporary ills. Employing caricature, satire, Neoclassicism, and even Surrealism, artists such as Max Beckmann, George Grosz, Otto Dix, and August Sander portrayed leaders, bureaucrats, bohemians, laborers, and themselves unflinchingly, each complicit in the society they inhabited. The artists highlighted the social and political turmoil of life emphasized through war-profiteers, beggars, and prostitutes. They explored the rise of the metropolis with its freedoms and sexual liberation, but noted the increasing alienation from nature and rural life.

While their version of realism was initially regarded by some art historians as retrograde, Neue Sachlichkeit's variants would go on to later influence Magic Realism and German art of the 1960s as well as contemporary photography as propagated by Bernd and Hilla Becher.
Key Ideas & Accomplishments
The Neue Sachlichkeit artists embraced realism in defiance of trends towards abstraction but renounced the idiosyncratic subjectivities espoused by early German Expressionists. They instead combined their realism with a healthy dose of the biting protests of the Dada movement. For the most part, their realism was not a traditional mimeticism but a distorted and dark realism that aimed to expose the moral degradation they witnessed in German society.
While all of the artists were committed to depicting current affairs, their styles ranged from a satirical Verism to a nostalgic Classicism to an uncanny Magical Realism. Despite the stylistic differences, many of the artists preferred more static compositions rather than dynamic ones, rendered their subjects with great precision, and eradicated the traces of the painting process and all gestural elements.
Portraiture, and self-portraiture, was common among the Neue Sachlichkeit artists. Whichever style the artist practiced, there is usually a tension in the portrait between the individual being represented and the type, or roll, that person plays in society. In the effort to paint the truth of the person, Neue Sachlichkeit portraits do not shy away from unflattering details or unsettling psychological effects.
Neue Sachlichkeit photographers shared the painter's desire to portray the objective truth of reality, but for the most part they avoided the social and political commentary that underlies so much of the painting.
Key Artists
Overview of Neue Sachlichkeit (New Objectivity)
Before World War I, Expressionism, as practiced by the groups Der Blaue Reiter and Die Brücke, held sway in Germany. Inspired by the exoticism of non-Western art and the dynamism of modern, urban life, these artists abandoned the traditional conceptions of art and searched for a language that was highly intuitive and emotional. Artists such as Ernst Ludwig Kirchner and Emile Nolde focused on the individual's inner world, highlighting the subjective perspective of seeing and understanding the world. If the idealism of Expressionism reigned before World War I, Dadaism, founded in 1916 in Zurich and spreading to Berlin shortly thereafter, embodied the nihilism and anti-art sentiments felt by many artists during the war. The fierce critique of war and bourgeois culture led to the rise of the photomontages of Hannah Hoch and Raoul Hausmann after the war.
Important Art and Artists of Neue Sachlichkeit (New Objectivity)
Useful Resources on Neue Sachlichkeit (New Objectivity)