Les Nabis
Summary of Les Nabis
The Nabis (from the Hebrew and Arabic term for "prophets,") were a Symbolist, cult-like group founded by Paul Sérusier, who organized his friends into a secret society. Wanting to be in touch with a higher power, this group felt that the artist could serve as a "high priest" and "seer" with the power to reveal the invisible. The Nabis felt that as artists they were creators of a subjective art that was deeply rooted in the soul of the artist. While the works of the Nabis differed in subject matter from one another, they all ascribed to certain formal tenets - for example, the idea that a painting was a harmonious grouping of lines and colors. This one idea, however, produced many different solutions. The subjectivity and what might be called the artist's personal style was, in fact, accomplished through the choice of how to arrange these lines and colors. As an example of the Nabi approach, at the beginning of their meetings, they would recite the following "mantra" together: "sounds, colors, and words have a miraculously expressive power beyond all representation and even beyond the literal meaning of the words."
Key Ideas & Accomplishments
The Nabi group grew out of the work of Paul Gauguin, literary theory, and Symbolism - specifically, the idea that color and shape could represent experience - that, as the Nabi historian Charles Chassé has said, "a picture had meaning only when it possessed 'style.' That is to say when the artist had succeeded in changing the shape of the objects he was looking at and imposing on them contours or a color that expressed his own personality."
The Nabi artists considered themselves to be the initiates of a brotherhood devoted to exploring the pure sources of art, personal or spiritual. Searching for beauty beyond that found in nature, they seized upon the mysterious and mystical even if the subject related to ordinary, everyday life.
The Nabis expanded their aesthetic into the area of applied arts as well, including architectural painting, decorative screens, murals, posters, book illustrations, and designs for the theater. This interest in the decorative was both a part of the 19th century's retreat into aesthetics and beauty and of the ensuing century's taste for abstraction and the age of advertising.
Key Artists
Overview of Les Nabis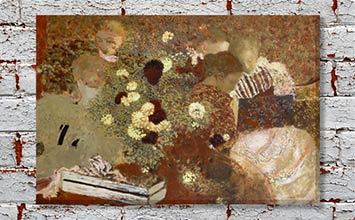 When in the summer of 1888, Sérusier first visited Pont-Aven, he at reluctantly (thinking Gauguin too avant-garde) agreed to meet Gauguin through the artist Émile Bernard. Together they visited a beautiful natural area called the Bois d'Amour where, under the direct guidance of Gauguin and his Synthetist technique, Sérusier painted the work that he brought back to Paris and named The Talisman (1888). He thereupon decided to preach this new style to his own group of friends. Around the same time, Sérusier was also influenced by the current ideas circulating amongst the Symbolists including Neoplatonic philosophy, which combined pagan and Christian thought, and other spiritual directions.
Important Art and Artists of Les Nabis
Useful Resources on Les Nabis