Christopher Wood
English Painter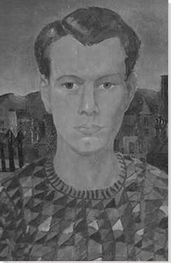 Born: April 7, 1901
Knowsley, Liverpool, England
Died: August 21, 1930
Salisbury, Wiltshire, England
Dearest mother, you ask me what I am going to do: I have decided to try and be the greatest painter that has ever lived
I want to paint everything which touches the human being.
I am absolutely on the verge of the real thing after what I saw & learnt at Banks Head [Ben and Winifred Nicholson's house].
I am not surprised that no one likes [Alfred] Wallis, no one liked Van Gogh for a long time, did they?
I seem to live on the edge of the world. But what a world it is, I love this place [St Ives] and could stay here for ever if I had those around me for whom I care.
Opium is the only resource of quietness which takes my mind out of that awful turmoil of ideas and colours that go on in my busy head.
Summary of Christopher Wood
The tragically short but majestic career of Christopher Wood produced an exquisite selection of lyrical, enigmatic, and luminous canvases. Tellingly, as a young man traveling through Europe in the early 1920s, Wood read and marveled over the collected letters of Vincent Van Gogh. Like Van Gogh, Wood experienced a level of over sensitivity and emotional inner turmoil that ultimately led to suicide. Before his sad death, Wood was a charming and flamboyant personality. He was one of few Englishmen who gained access to fashionable Parisian art circles; he met Pablo Picasso and Sergei Diaghilev, and became great friends with Jean Cocteau. Despite these lofty connections it was not until Wood returned to England, met the hard-working Ben and Winifred Nicholson, encountered the naïve pictures of Alfred Wallis, and lived by the unpredictable sea, that he felt home and developed his own distinct and powerful style of painting.
Accomplishments
Biography of Christopher Wood
Christopher (also known as Kit) Wood was born John Christopher Wood on April 7, 1901 in Knowsley, near Liverpool. He was born to parents Clare and Lucius Wood; his father was a medical doctor who worked as a general practitioner.
Important Art by Christopher Wood
Influences and Connections
Influences on Artist
Influenced by Artist
Influences on Artist
Artists
Theo van Gogh
Friends
Alphonse Kahn

José Antonio Gandarillas Huici
Influenced by Artist
Artists
Joan Gilchrist

Suzanne Cooper

John James

Ian Hamilton Finlay
Friends
Lucy Wertheim

Jim Ede
Movements
Neo-Romanticism
Useful Resources on Christopher Wood