Baroness Elsa von Freytag-Loringhoven
German-American Sculptor, Photographer, Poet, and Performance Artist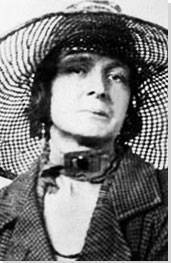 Born: July 12, 1874
Swinemunde, Germany (now Świnoujście, Poland)
Died: December 14, 1927
Paris, France
Every artist is crazy with respect to ordinary life.
[I had] pushed through to a spiritual sex: art - that nobody protects as readily as a charming love body of flesh.
We were people of a circle of supposed highcultivated life conduct by intellectual morality - higher than society in its hypocritical meshes.
Everything emotional in America becomes a mere show and make-believe. Americans are trained to invest money, are said to take even desperate chances on that, yet never do they invest [in] beauty nor take desperate chances on that. With money they try to buy beauty - after it has died - famishing - with grimace. Beauty is ever dead in America.
All who want me would like to eat me up, but I am too expansive and am open to all sides, desire this here and that there.
Summary of Baroness Elsa von Freytag-Loringhoven
Elsa von Freytag-Loringhoven, the Baroness as she was known, became a living legend in the bohemian enclave of New York City's Greenwich Village in the years before and after World War I. A provocateur and essential catalyst for New York's burgeoning Dada movement, the Baroness obliterated the boundaries of conventional norms of womanhood and femininity and upended notions of what was considered art.

Along with the infamous French artist Marcel Duchamp, she pioneered the use of the readymade, and she stretched and manipulated the English language to create avant-garde poetry. Her penchant for cross-dressing and incorporating found objects into her wardrobe made going out in public a daily Dada performance. The Baroness was a radical proto-feminist who critiqued patriarchal norms but was largely overshadowed by her male colleagues. Her daringness was largely ascribed to female eccentricity, and she became a footnote in the annals of New York Dada. It has only been recently that her contributions to the avant-garde have been recognized for their innovativeness.
Accomplishments
Steeped in avant-garde principles and strategies, Freytag-Loringhoven's work questions the very nature of what society considers art. The Baroness' use of the "readymade", a found object presented as a work of art, demands that the viewer consider the divide between high and low culture, utilitarian, everyday objects and fine art, and the role of the artist not as original creator but as appropriator. Her readymades and assemblages disrupt standard notions of beauty. Furthermore, the ephemeral nature of so much of the Baroness' work deeply embodies Dada's lacerating critique of the commodification of art objects, perhaps more so than Duchamp's "readymades," which were embraced by the very institutions they meant to undermind.
The Baroness took the idea of the "New Woman," the image of the independent modern woman popularized at the end of the 19th century, to new heights with her rabid insistence on intellectual, artistic, and sexual autonomy. Her eccentric dress and unapologetic use of her body, both as a model and a performance artist, set her apart from her male Dada colleagues.
Biography of Baroness Elsa von Freytag-Loringhoven
Born Elsa Hildegard Ploetz to a middle-class family in 1874, Elsa was the elder of two siblings. She was not born a "Baroness," as she would later come to be known, but acquired the name von Freytag-Loringhoven when she married. She characterized her younger sister, Charlotte Louise, as the relatively more "sensible" person, unlike her mother Ida-Marie Ploetz, with whom she more readily identified. Freytag-Loringhoven described her mother as having a "sweetness and intensity - passionate temperament - only softer as I - kept subdued - regulated by custom-convention ." Ida-Marie died of uterine cancer in February of 1893, when Freytag-Loringhoven was just nineteen. Ida-Marie had suffered for years with mental illness and had spent two years prior at a sanatorium in Stettin, Germany. Shortly after her mother's death, which Freytag-Loringhoven blamed on her father, Freytag-Loringhoven had a violent encounter with her father, who had a history of abusive treatment of his daughter. "My father... behaved so unspeakably, pitifully ridiculous that I felt an overpowering nausea," Freytag-Loringhoven wrote of the attack. Her father's remarriage three months after her mother's death and his continued ill treatment of her, led Freytag-Loringhoven to run away to Berlin to live with a favored aunt.
Important Art by Baroness Elsa von Freytag-Loringhoven
Influences and Connections
Influences on Artist
Influenced by Artist
Influences on Artist
Friends
Felix Paul Greve

August Endell
Influenced by Artist
Friends
Djuna Barnes
Useful Resources on Baroness Elsa von Freytag-Loringhoven