Anne Truitt Artworks
American Sculptor and Painter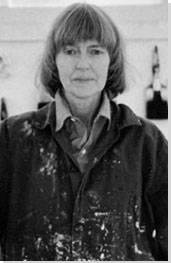 Born: March 16, 1921
Baltimore, Maryland
Died: December 23, 2004
Washington, D.C.
Progression of Art
1961
First
Three slender, peaked white planks point upwards to the sky, joined together at the back by two horizontal bands and standing on a thin plinth. At first glance, the work resembles a section of suburban garden fence, but on closer examination the three posts reveal subtle variations from one another in height, width and point shape, giving them a fragile, almost human quality. The central pillar is taller than the two on either side, and the upper horizontal beam resembles outstretched arms holding them together into a tight group, perhaps a reference to the experience of Truitt and her younger twin sisters during their childhood.

As referenced in the work's title, this sculpture was the first Truitt made in a new, pared down abstract style. After a revelatory trip to New York City in 1961, Truitt made a dramatic change in her art practice. She recalled, "I saw Ad Reinhardt's black canvases...then I...saw the paintings of Barnett Newman. I looked at them, and from that point on I was home free. I had never realised you could do it in art. Have enough space. Enough color."

These early sculptures made allusions to her own experiences in the world, resembling the picket fences, tomb stones and clapboard houses in the coastal town of Easton where she grew up. This marriage between minimal geometry and personal experience came to characterise all of Truitt's work even as her sculptures became increasingly abstract, lending her practice an individuality that would prove hugely influential.
Acrylic on wood - Baltimore Museum of Art
1964
Sea Garden
An angular form, resembling a rocky outcrop in a barren landscape, spreads across the floor in earthy shades of green, beige, and navy. Truitt carefully choreographed the relationship between the sculpture's color and form to suggest balance, stillness, and the subtlest suggestion of movement, akin to the lull of lapping water.

Truitt made this sculpture after moving to Japan with her family. Although they only stayed for three years to follow her husband's work, Truitt found the experience unsettling, admitting she never felt grounded or at home amidst the unfamiliar surroundings. This disjointed feeling of unease was reflected in the drawings and sculptures she made during this time, which juxtapose sharp, jagged angles and irregular shapes. In the publication Anne Truitt in Japan art historian Anna Lovatt wrote, "[T]he temporal disjunctions of the Japanese works - the unexpected jolts and ruptures that confront anyone who circumvents them - speak at once to Tokyo's startling juxtapositions of old and new and the jarring sense of anachronism that Edward Said has identified with the condition of 'exile,' a word the artist herself used to describe her experiences of Japan."

During her time in Japan Truitt made a departure from wood, choosing instead to work with aluminium in which she discovered a lightness and flexibility that allowed for greater experimentation. Three years later, on returning to America, Truitt destroyed much of the work she made during this three year sojourn and returned to working with wood, yet as Lovatt points out, her largely negative experiences in Japan were part of a "process of discovery" which allowed her to experiment and fail, or as Truitt herself put it, "If I had not gone to Japan, I would not know anything. I would not know what is what."
Marine paint on aluminum - Private Collection
1968
A Wall for Apricots
This tall, elegant tower contains three bands of vivid color stacked on top of one another. The work is deceptively simple, with closer inspection revealing a delicate balance between colors and shapes that invokes order, harmony, and stillness. The rich, ochre yellow brings warmth into the adjoining green, while the white on top suggests the blinding light of summer sun. Truitt's column stands almost 6 feet tall, indicative of its human scale.

Truitt made A Wall for Apricots upon her return to the U.S. from Japan, and she has often spoken of the relief she felt on returning to Washington, to the familiar "latitude and longitude" of her home country. Truitt's color range expanded and became more vivid, which writer Ken Johnston described in the New York Times as "exquisitely nuanced, whether tending to eye strainingly dark combinations...to pale Impressionist pastels or to Pop-like candy bright hues." Johnston points out the multiple references Truitt collapses together into her columnar sculptures, including ancient steles or tombstones and science fiction monoliths. Her upright work also resembles the stance of the human body, yet she creates a sense of weightlessness with a recessed plinth, making it appearas if the work is hovering just above the floor. The sensitive, human quality of her sculptures set her apart from many of her Minimalist contemporaries and proved hugely influential on Post-minimalist artists such as Roni Horn, who combines poetic subject matter with geometric forms.
Acrylic on wood - Baltimore Museum of Art
1974
Way VII
This expansive canvas is a sea of umber red, while vertical bands suggest slim slivers of light shining through. Their varying widths and intensities suggest depth and space beyond the monochrome surface of the painting. Truitt is best known for her sculptures, prompting writer Lance Esplund to describe her as "a painter working in three dimensions," yet she also made countless drawings on paper and a number of paintings on canvas, exploring the same geometric abstraction and emotive color used in her sculptures.

In the early 1960s, she was profoundly influenced by American abstract painters including the Color Field paintings of Ad Reinhardt and Barnett Newman. Here one can see many formal similarities with Newman's famous "zip" paintings, with both artists exploring the ways a monochrome canvas can be intersected with thin vertical bands of color. Additionally, Truitt shared many ideas with Newman, including a fascination with the simplicity of ancient, geometric forms, which they felt had a greater connection to the raw human spirit, as well as an awareness of the verticality of the human body, and its inherent relationship to a work of art. But in contrast with Newman, Truitt was more concerned with the emotional, expressive properties embedded in color, not just the spiritual implications that most interested Newman, and importantly for Truitt, color and line held deeply resonant associations with her own memories and past experiences, particularly the unique light, land, and seascapes of her childhood.

Throughout the 1960s and '70s Truitt became a leading figure in the Washington Color School, whose work was defined by flat, solid areas of vibrant color, and influenced a new generation of artists, including Barbara Januszkiewicz and Katherine Tzu-Lan Mann.
Acrylic on canvas
1978
Breeze
Truitt painted a slim, columnar shape with delicate bands of white, pale blue, and a sliver of green, suggesting the light and air of the ocean and surrounding grasslands. The title of this work also alludes to landscape, hinting at gentle movement and energy. Many of Truitt's sculptures at this time were set on recessed bases so they seem to levitate off the floor, suggesting weightless color, creating a tension with the solidity of the sculpture's form.

Although the work has a Minimalist quality, Truitt was often at pains to point out the real world associations in her work, saying that her work was "totally referential. I've struggled all my life to get maximum meaning in the simplest possible form." Landscape was a recurring reference for Truitt, often hinted at through oblique relationships between light, color, shape, form, and poetic titles. Writer John Dorsey points out, "[I]f one could unwrap the color and put it flat on the wall, the verticals and horizontals of landscape would become even more obvious." Truitt grew up in the coastal town of Easton and her sculptures often made references to this place. In her published journal Daybook (1982) she wrote of her childhood home, "[T]he doors were kept open all through the house to catch a breeze."
Acrylic on wood
2003
Parva LXV
A warm red square sits on an elevated base like a floating block of pure color. In contrast with Truitt's earlier slender columns, which often suggested a breezy, airy quality, this sculpture has weight and density, suggesting an enduring sense of permanence. Truitt made this sculpture when she was 82, just a year before she died, and its solidity reveals her tenacity, strength, and determination to continue making art.

The shape of this work resembles a painting hung on the wall, yet it floats in space as a free-standing object, forming a solid block of what writer Ken Johnston called "pure, dematerialised color." The shape and scale of Truitt's sculptures often made reference to the human body, and here the red recalls the warmth and life of blood as the driving force that keeps us going, as well as suggesting the bloodlines that continue through family, which was a hugely important part of Truitt's life. She placed great significance on color as a potent carrier of emotion, memory, and experience, and here she distills her life experiences into a single monochromatic unity, encapsulating her ideas with a graceful and concise simplicity.
Acrylic on wood - col
Related Artists
Related Movements & Topics