Anne Truitt
American Sculptor and Painter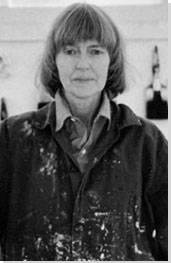 Born: March 16, 1921
Baltimore, Maryland
Died: December 23, 2004
Washington, D.C.
As I work to understand my life, its scale seems to diminish, as a tree I gaze up into flattens when I walk up a mountain and look down on it. Humility is really more natural than pride, which seems to me always to involve a lie.
Summary of Anne Truitt
In the wake of Abstract Expressionism during the Cold War, Anne Truitt created complex, subtly nuanced sculptures that belie their simplicity. Known for her hand-painted columnar sculptures, Truitt explored the realms of her emotional and psychological life with the most minimal of means. Interested in how we walk through and inhabit the physical world, Truitt's sculpture induces an embodied, and not simply an optical, response from the viewer.

While Truitt gained acclaim in the 1960s as one of the earliest Minimalists and was briefly championed by the art critic Clement Greenberg, she remained distant from the New York art scene and spent decades balancing her artistic practice with raising a family. Feeling apart from current artistic trends, Truitt's art and her process would be influential for younger artists interested in the poetics of form and material such as Roni Horn and Rachel Whiteread.
Accomplishments
Truitt's sculptures are resolutely abstract and seemingly non-narrative, but each is steeped in Truitt's own biography: her memories growing up, her time in Japan, and her home in Washington, D.C. The subtle juxtapositions of color and form create emotional resonances with her own memories of certain events and times.
Often cast as a Minimalist, Truitt, much like the painter Agnes Martin, had more affinities with the earlier movement of Abstract Expressionism than with her contemporaries. Her art was suffused with emotion, and she wished to engage the viewer on a bodily level in order to elicit the viewer's emotional response.
While Truitt's sculptures stylistically resemble work being done by Minimalist artists like Donald Judd and Carl Andre as well as Washington Color School artists such as Kenneth Noland and Gene Davis, Truitt's artistic intentions were often diametrically opposed to theirs. While many of the Minimalists had their works fabricated by others, Truitt constructed and painted all of her own sculptures. Her personal involvement as well as the personal meanings that imbue her work put her at odds with the more cerebral, conceptual, and anonymous art of the Minimalists. Additionally, her interest in the viewer's physical relation with the work of art contrasted with the Washington Color School's interest in pure opticality.
Biography of Anne Truitt
Born Anne Dean in Baltimore, Anne Truitt grew up in the coastal town of Easton on the shores of Maryland. As a happy, sprightly child, Truitt and her two younger twin sisters flourished in an affluent household under her mother's maxim: "Children should be brought up like cabbages - with lots of sun and space and let alone to grow." Roaming around the local streets with a sense of wonder and discovery, Truitt later remembered, "[A]nd so it was with the little town of Easton...an orderly scattering of houses, mostly white clapboard, so small that even on my short legs I was able to encompass the town's dimensions."
Important Art by Anne Truitt
Influences and Connections
Influences on Artist
Influenced by Artist
Influences on Artist
Friends
Mary Pinchot Meyer
Influenced by Artist
Artists
Roni Horn

Karl Haendel
Friends
Mary Pinchot Meyer
Useful Resources on Anne Truitt