Artworks by Kurt Schwitters
The below artworks are the most important by Kurt Schwitters - that both overview the major creative periods, and highlight the greatest achievements by the artist.
Revolving (1919)
This work demonstrates a significant shift in Schwitters' early artistic practice from primarily conservative figurative painting to abstract collage. After World War I, Schwitters began to collect broken and discarded materials he found on the streets and arrange them into works of art. Born from the rubble left by the war, these works emphasize the fact that art can be made from destruction; that urban detritus could be made into something beautiful. In Revolving, found items are organized to form lines and shapes to which he adds bits of yellow and blue paint for shading. He creates a geometrically harmonious work by finding a careful balance between the physical roughness of the found materials and the smooth shapes they form. The concept that attaching small objects (not to mention - garbage) to the surface of the canvas could be considered art was radical. Yet Schwitters was convinced that the act of taking broken fragments and unifying them into a whole demonstrated art's potential to remake and reimagine a fractured world. Additionally, it enabled him to reject conventional illusionism, the rendering of objects as they appear, something he associated with trickery and even hypocrisy in light of the crumbling socio-economic situation in Germany following World War I.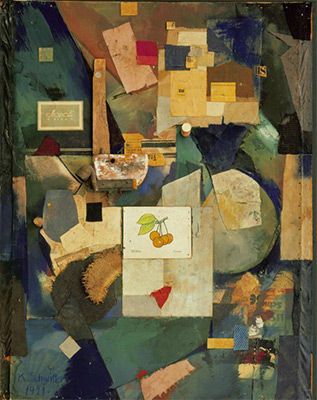 Merz Picture 32 A. The Cherry Picture (1921)
In this work Schwitters continues his exploration of abstract collage, creating an intricate and complex work that incorporates many different materials and pieces. Merz Picture 32 A. The Cherry Picture is remarkable for its abstract design and its abandonment of any sense of illusionistic hierarchy. An interplay of colors (light and dark areas) as well as added materials such as wood and scraps of paper, suggest depth and there is a total abandonment of traditional one-point perspective. Especially notable is the use of elements featuring text, such as product labels and newspaper clippings. These examples of commercial culture provoked the viewer to consider the relationship between art and everyday life.

The focal point of the image is a white flashcard featuring a printed cluster of cherries and the German and French words for "cherry" upon which he has scribbled an ungrammatical phrase "Ich liebe dir!" ("I love she!"). He essentially takes a standard educational tool and destroys its utility with blatantly incorrect language. Like other Dada artists, Schwitters manipulated words and images in order to highlight the irrationality and arbitrariness of conventional systems, in this case, language.
From Our Sponsor. Article Continues Below
Merz 11: Typoreklame (1924)
Merz 11 offers an example of Schwitters work within the print media, groundbreaking both contextually and stylistically. The content of the Merz Magazine, launched by Schwitters in 1923, was varied and eclectic, featuring a range of artistic forms, including poetry, prose, art and advertising, and representing a variety of avant-garde artistic movements including De Stijl, Constructivism, and Dada. In this way the Merz journal united different avant-garde networks while serving as a platform to promote Schwitters' own diverse work.

Formally, the journal had a very different look. With its bold red and black lines, irregularly positioned negative space, simplified sans-serif type, and asymmetrical layout, the cover of Merz 11 resembles the striking geometric style of Constructivism practiced at the Bauhaus. Noted in other books and periodicals published at the time in both Europe and Russia, this aesthetic exemplifies the most innovative, daring and up-to-date graphic design trend. Unique to Schwitters' composition, however, is the unpredictable, irregular, and lively use of space on the pages. This would have been quite startling to the contemporary viewer. The dynamic arrangement of text and the space left between on the page highlights the artist's awareness of typography's creative possibilities and his desire to elevate the status of graphic design to art.
Maraak, Variation I (Merzbild) (1930)
This work, featuring mono-color painted rectangles laid out side by side in a way that emphasizes the flatness of the canvas, demonstrates Schwitters' grasp of a more abstract style in the late 1920s, one indicative of his growing interest in De Stijl. It is the irregular arrangement of these shapes and the lively and expressive brushwork used to describe them that distinguishes the work from de Stijl's strictly linear and expressionless compositions. The artist's formal evolution is additionally noted in the way the artist alters his found materials, painting over their surfaces in an effort to deemphasize their origins as elements from the outside world.

To maintain some sense of a known reality, and perhaps even a sense of whimsy, he includes an easily recognizable object here: the enameled tin butterfly. There is indication that Schwitters originally intended to include other everyday objects as well (a broken piece of china and two wooden balls that would project directly into the viewer's space) in order to ground the work in the viewer's world. Maraak encapsulates Schwitters' attempt to negotiate between the viewer's world and that presented within the constrictive space of the work itself, commenting on their overlapping yet ever distinct essence.
Merzbau (Merz Construction) (1923-37)
Schwitters' most ambitious work is a (no longer existent) multimedia construction that he eventually named the Merzbau. This project, located in the artist's Hanover studio, began as a single "column" comprised of cardboard scraps, newspaper clippings, and varied detritus. Schwitters continued to add objects to this "column" which gradually changed and transformed Schwitters' entire living space into a series of grottoes and caves. While it is difficult to ascertain the exact appearance of what became this multi-room installation, as it was destroyed during the Second World War, written records and three photographs from 1933 document a sprawling accumulation of uncontained and varied material. Apparently other artists, including Hannah Hoch, Raoul Hausmann, and Sophie Taeuber-Arp, contributed their own artwork to the installation that, alongside Schwitters' additions, transformed the original structure into a complex and virtually inaccessible morass of material and matter.

In effect, Schwitters' Merzbau was a continually changing, immersive environment meant to be experienced by the viewer (become visitor) as she walked through it; an all-encompassing work of art that defied categorization. Schwitters' created another Merzbau in Norway immediately following the war and one last one in England shortly before he passed away. Despite the fact that no physical evidence of these projects remain, Schwitters' Merzbau continues to influence artists seeking to blur the boundaries between art and life as well as those who seek art whose definition lies in its experience.
From Our Sponsor. Article Continues Below
Untitled (The Clown) (c. 1945-7)
Fashioned from plaster and found objects, this diminutive assemblage is characteristic of the mixed media sculptures Schwitters produced toward the end of his life, while exiled in England. Despite its unassuming stature and materials, this sculpture embodies the enduring tenderness and whimsy unique to the artist's oeuvre. For example, he attaches a hat-shaped mass to the irregularly shaped conical mass forming the base in order to add the playful characteristic of the pointed clown's hat it comes to resemble. The manner in which the top section teeters above the bottom adds a sense of spontaneity overall, adding a note of levity to the whole ensemble. Schwitters accordingly uses limited found materials to boldly question the conventional notion of sculpture as monumental and lofty, manipulating these materials into an abstract concept that provokes with both light-heartedness and elegance.
Related Artists and Major Works
Painted Bronze (ale cans) (1960)
Artist: Jasper Johns (Read Full Artist Overview, Biography, and Artworks pages)
In this bronze sculpture, Johns intentionally blurs the line between the actual object and its artistic recreation, wherein the handcrafted appearance of the Ballantine Ale cans is only apparent after close inspection. He fashioned the sculpture in response to Abstract Expressionist Willem de Kooning's boast about art dealer Leo Castelli, "you could give [him] two beer cans and he could sell them." Johns accepted the challenge implicit in De Kooning's statement, casting in bronze two cans of his beer of choice, Ballantine Ale, which Leo Castelli promptly sold. The original beer cans were a deep brass-colored metal, which was ideal for casting in bronze to achieve an effective trompe l'oeil effect. However, in contrast to the authentic appearance of the cast cans, he allowed his brushstrokes to remain visible in the painted labels, creating an imperfection visible only upon careful observation.

Johns cast each can and the base separately and imprinted his thumb in the base as the autographic mark of the artist's hand, ensuring that the work is handmade. Johns cast one can with an open top and painted the Ballantine insignia and the word Florida on its top. The other can is unopened, unmarked, and solidly impenetrable. Some critics read the contrast between the cans as a metaphor for the relationship between Johns and Rauschenberg - an illustration of the differences and the growing space between them. In this reading, the open can serves as a signifier for the gregarious and popular Rauschenberg who began spending much of his time in his Florida studio in 1959, while the closed one stands for Johns and his quiet, impenetrable public facade. Other critics read a narrative of everyday life into the difference between the two cans - that everyone lives their lives between the after, or what has already happened embodied by the opened can, and the before, or what has yet to transpire in the closed can. Despite some clues, like the thumbprint, Johns left the final interpretation of the sculpture open to the viewer's discretion. His foray into representing mass-produced goods within the realm of fine art paved the way for Pop art.
Monogram (1955-59)
Artist: Robert Rauschenberg (Read Full Artist Overview, Biography, and Artworks pages)
One of Rauschenberg's most famous works, Monogram, pushed the art world's buttons by further merging painting and sculpture as the combine moved from the wall to the pedestal. While he began with traditional materials - an abstract painting executed in oil on stretched canvas - he abandoned tradition by adding an assemblage of found objects on top of the painting to create a canonical, three-dimensional combine painting. Rauschenberg often acquired materials for his artwork on his meanderings about New York City, allowing chance encounters with found objects to dictate his artistic output, and Monogram was no exception. In one of his wanderings in the early 1950s, Rauschenberg found and purchased a stuffed angora goat from an office supply store and later encircled it with a tire he encountered in street trash. He applied paint to the goat's snout in gestural brushstrokes that quoted Abstract Expressionism. On top of the canvas, Rauschenberg surrounded the goat with a pasture of more detritus strewn about its hooves - including a tennis ball, a wooden plank, and several found and reproduced images.

Similar to his earlier combine, Bed (1955), Monogram is a work that engages the viewer on multiple levels, as they look at, down, and around the interwoven elements of the work all vying for the viewer's attention at once. However, despite many varied interpretations, Rauschenberg refused to hint at any predetermined meaning of the different symbols within the work, instead allowing viewers to create their own associations between the objects and images. Despite Rauschenberg's insistence against specific meanings of the work, often critics interpret the tire-ringed goat as a symbol of the artist's sexuality, as well as his role within the art world, trampling over tradition with his own artistic monogram.
Fountain (1917)
Artist: Marcel Duchamp (Read Full Artist Overview, Biography, and Artworks pages)
The most notorious of the readymades, Fountain was submitted to the 1917 Society of Independent Artists under the pseudonym R. Mutt. The initial R stood for Richard, French slang for "moneybags" whereas Mutt referred to JL Mott Ironworks, the New York-based company, which manufactured the porcelain urinal. After the work had been rejected by the Society on the grounds that it was immoral, critics who championed it disputed this claim, arguing that an object was invested with new significance when selected by an artist for display. Testing the limits of what constitutes a work of art, Fountain staked new grounds. What started off as an elaborate prank designed to poke fun at American avant-garde art, proved to be one of most influential artworks of the 20th century.