August Sander Artworks
German Photographer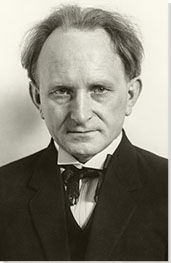 Born: November 17, 1876
Herdorf, Germany
Died: April 20, 1964
Cologne, Germany
Progression of Art
1914
Young Farmers
Forming part of a series on rural people residing in the low mountain region of Westerwald, Young Farmers (Jungbauern) was taken by Sander in 1914, shortly before he joined the medical corps at the outbreak of the first World War. Arguably his most analyzed image, it was first published in Sander's Face of Our Time collection in 1929, and again, posthumously, in his magnum-opus People of the Twentieth Century.

In the image, three suited young men are seen walking along a rural path, probably on their way to a dance. The men look directly at Sander, yet their bodies are turned away from his camera. This suggests that Sander caught his subjects unexpectedly, or in mid-stride. But that proposition seems a little incongruous when one considers the length of exposure time required of the large format, glass plate camera that Sander used. However, the fact that the subjects posed for the camera - probably aping poses seen in men's apparel and tobacco advertisements - does nothing to distract from the fact that the men's attire defied the archetypal provincial peasant portrait. Indeed, when taking into consideration the time the photograph was taken, and the barren rural landscape in which the young men are pictured, the Marxist art critic John Berger suggested that Sander's image perfectly captured a new generation of country type. Young farmers were now within easy reach of 'aspirational advertising campaigns' and 'travelling salesmen' thus allowing them to 'emulate the higher quality attire of the bourgeois urban class'.
Photograph, gelatin silver print on paper - Tate and National Galleries of Scotland. Lent by Anthony d'Offay 2010
c. 1925-7
Matter
The volume People of the Twentieth Century featured more than 500 images. Young Farmers belonged to the first, introductory, category ('The Farmer'), while Matter featured in the last, closing, category ('The Last People'). 'The Last People' is focused on those who occupied the margins of society: namely the elderly, the infirm, the disabled and the mentally impaired. This is one of two portraits, both bearing the title 'Matter', of deceased subjects. In this serene image an elderly woman is shown in profile on her deathbed. The image might allude in some way to the theme of the cycle of life. However, Sander's unambiguous, matter-of-fact, approach to his work suggests that its meaning might be rather more prosaic with Sander simply forcing his audience to confront head-on the inevitability of death. However, when considered in relation to his bigger sociological project, through which he was commenting upon the societal role of the individual in 20th century Germany, the title 'Matter' would seem to suggest that once we lose our value to society we become no more than a collection of particles ('matter') from which no further societal value can be subsumed.
Photograph, gelatin silver print on paper - Tate and National Galleries of Scotland. Lent by Anthony d'Offay 2010
c. 1926
The Painter's Wife (Helene Abelen)
In 1926, the artist Peter Abelen, having become acquainted with Sander through their shared association with the Cologne Progressive Artists Group, approached the photographer with the view of making a portrait of his wife, Helene (Abelen). Though the portrait is titled The Painter's Wife Helene's pose is defiantly androgynous. Her slicked-back hair is pulled tightly across her head and Helene grips a cigarette between her teeth. She wears a fitted white shirt, a narrow dark tie and black belt, and baggy white trousers with casual white footwear. She is almost luminous when set against the muted tones of the interior walls; on which, presumably, the works of her painter husband are hung. Helene's gaze is active - confrontational one might say - since she acknowledges the camera (and photographer) by looking beyond it (him, and us).

The Painter's Wife alludes to the changing position of women in 1920s German society. In this image in particular we see the idea of the 'new woman' that gained traction during the liberating Weimar years (1919-1933). The 'new woman' was freer than previous generations of German women, with growing willingness and freedom to abandon the domestic space in favor of a place in the public labor force. Concurrently, 'old' ideas about femininity and dress codes were challenged with modern women increasingly adopting trousers as a more practical way of dressing. Seen in this context, Sander's image captures in time and place an important historical juncture in the societal position of women under the liberal Weimar administration.
Photograph, gelatin silver print on paper - Tate and National Galleries of Scotland. Lent by Anthony d'Offay 2010
c. 1928
Bricklayer
In 1929 Sander published Faces of Our Time, a book of 60 portraits one of which was Bricklayer. Given his mission to represent 20th century German society as an ensemble, one finds a certain uniformity in Sander's classically composed portraits. As with the Young Farmers, for instance, the unnamed bricklayer engages directly with Sander's camera, though here his whole body is facing us. We get the impression, too, that Sander's portraits might be somewhat intrusive in that the subject/s in question have been interrupted while going about their normal daily business. These observations do not suggest, however, that Sander's portraits of 'types' lacked authenticity. In Sander's worldview the character of the subject/s - or 'sitter/s' - would emerge if the camera was employed to the ends of achieving what he called an "absolute physical and psychological truth" and this truth asked for the cooperation of the subject. It is true that Sander wanted to promote the dignity of his subjects by celebrating their unique contribution to German society as a whole, but that objective simply could not be achieved at the expense of authenticity: "We can tell from appearance the work someone does or does not do; we can read in his face whether he is happy or troubled, for life unavoidably leaves its trace there" he stated. In the case of the Bricklayer we are confronted no less by a young man full of prideful working-class defiance.
Photograph, gelatin silver print on paper - Tate and National Galleries of Scotland. Lent by Anthony d'Offay 2010
c. 1926-32
Circus Workers
Sander took a series of photographs at Barum's American Caravan Menagerie as part of his Circus Workers series. This popular circus troupe visited the Rhineland cities of Dortmund, Remscheid, and Cologne between 1926-29. In this image a couple of mixed heritage (we might take them to be married if we observe the fine detail that both are wearing rings on their wedding finger) sit together at a table with flask and cups (though they seem to prefer to drink directly from glass bottles). Typically for a Sander portrait the relaxed subjects look directly into the photographer's lens. The woman smiles broadly from under her hat, whilst the man, his muscular arm resting on the portable table, looks rather less convivial. Though it is unclear if the subjects are performers, their attachment to the circus is confirmed by the tarpaulin tent in front of which they are taking temporary relief from their duties. The Art Historian Katherine Tubb observed that "Circus Workers is the only depiction of interracial relations in Sander's work and that its original title was in fact Indian Man and German Woman" (Tubb argued that there was no way of knowing if the racial designations were accurate). It is not then clear if Sander was making a conscious statement about race relations. What is clear is that his objective approach to his art meant that his bohemian sitters were neither exoticized nor eroticized. Rather, Sander shows sensitivity for his subjects by revealing them in such a mundane situation. It was Sander's empathy with outsiders and non-conformists that saw his work fall foul of the Nazis censors.
Photograph, gelatin silver print on paper - Tate and National Galleries of Scotland. Lent by Anthony d'Offay 2010
1929
Boxers
Boxers is a portrait borne of humanism and good-humour. It was taken in 1929 during the Weimar years when boxing was amongst the most popular sports. It shows, on our left, Paul Röderstein, a cruiser-weight district champion, standing beside his grinning, somewhat mismatched, sparring opponent, Hein Heese. Sanders does not name his subjects however since it is enough, for a 'dry' project focused on producing a typology of social class, to know only that they are sportsmen: boxers. Commenting of Sander's portraits in her seminal book 'On Photography', Susan Sontag confirmed indeed that Sander "chose individuals for their representative characters, and that [Sander had] assumed, correctly, that the camera cannot help but reveal faces as social masks". However, Sander's portrait of boxers, emptied as it is of any kind of sporting aggression, reveals the gentle peculiarities of the human condition and offers evidence that there was, or could be, an added informality and personability behind his portraits.
Photograph, gelatin silver print on paper - Tate and National Galleries of Scotland. Lent by Anthony d'Offay 2010