August Sander
German Photographer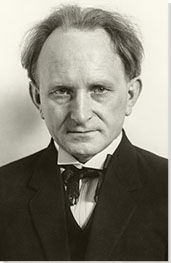 Born: November 17, 1876
Herdorf, Germany
Died: April 20, 1964
Cologne, Germany
I hate nothing more than sugary photographs with tricks, poses and effects. So allow me to be honest and tell the truth about our age and its people".
We know that people are formed by the light and air, by their inherited traits, and their actions. We can tell from appearance the work someone does or does not do; we can read in his face whether he is happy or troubled.
Nothing seemed to me more appropriate than to project an image of our time with absolute fidelity to nature by means of photography... Let me speak the truth in all honesty about our age and the people of our age.
In photography there should be no shadows that cannot be illuminated
I never made a person look bad. They do that themselves. The portrait is your mirror. It's you.
No language on earth speaks as comprehensively as photography, always providing that we follow the chemical and optic and physical path to demonstrable truth, and understand physiognomy.
Pure photography allows us to create portraits which render their subjects with absolute truth, truth both physical and psychological. That is the principle which provided my starting point, I had said to myself that if we can create portraits of subjects that are true, we thereby in effect create a mirror of the times in which those subjects live.
By sight and observation and thought, with the help of the camera, and the addition of the date of the year, we can hold fast the history of the world.
Summary of August Sander
August Sander is acclaimed for a life-long undertaking known as People of the Twentieth Century. Though it was realized as one single volume only posthumously (through the efforts of his son) his career-defining mission gave rise to the greatest portrait collection of the 20th century. Sander's goal was to produce a comprehensive photo-sociological document of the cross-section - from land workers to factory workers; to artistic and professional elites; to the frail and the elderly - of German society as it unravelled during his own lifetime. Despite the emergence of the new, faster and more mobile, 35MM Leica camera, Sander remained steadfast in his commitment to the heavy large-format camera that used glass negatives and demanded long exposure times. For him the greater detail offered by the latter format far outweighed the benefits of the former. Sander represented all his sitters, whom he identified, not by name, but by occupation or type, with a respectful and unadorned neutrality, and always within their familiar surroundings.
Accomplishments
Ranked as one of the greatest socio-historical documentarians, Sander's oeuvre is typically defined by its homogeneity and the sheer scale of its ambition. Rejecting all forms of expressionism and romanticism, Sander's portraiture is associated with the rise of the New Objectivity (Neue Sachlichkeit) movement that gained momentum in German artistic circles during the inter-war years. However, that observation, though quite correct, rather belies the fresh artistic and humanist quality Sander brought to photographic portraiture that had been defined hitherto in its relationship to painting, and by the way it 'described' its subject with the help of flattering backdrops and secondary objects (or 'props').
Sander opposed the traditional (some would say 'bourgeois') style of studio portraiture that tried to imitate painting. He favored the glossy paper format used in technical photographs because it offered him the greatest image detail, and even though that preference necessitated the use of cumbersome large plate cameras, Sander remained committed to taking portrait photography out of the studio into the real world. Shooting always from a single perspective - face-to-face as it were - he considered the relationship between location and sitter to be the most essential ingredient for communicating both the status and essence of his or her personality.
Sander saw himself very much as a patriot: an agent of, and for, the German people. Very nearly his whole career was devoted to documenting 20th century Germany through photographic portraits of the individuals who would make up an egalitarian montage of the whole of German society. Sander was not however interested in capturing the mystique of his subjects (as was the goal of someone like Edward Steichen, for example). Nor could his approach to his subjects be described as intuitive. Rather, Sander's planned compositions worked always towards the aim of creating an artefact possessed of lasting national posterity. He was able to achieve his goal by using his camera to honor the propriety of the unique individuals that comprised his beloved nation.
Biography of August Sander
One of several siblings, August Sander was born on the 17th November 1876, in the German village of Herdorf, to Justine and August Sander. Before the family set up their own modest farm, August Sr. earned his living as a carpenter working in the mining industry. August Jr. seemed destined to follow in his father's footsteps when, as expected, he took up an apprenticeship at the San Fernando Iron Ore mine in 1889. However, while working at the mine, he was tasked with assisting a technical photographer. The experience proved to be a turning point for the young Sander who became captivated by this new medium for making pictures. Two years later, and with a financial gift from a kindly uncle, an enthused Sander purchased a camera (his first) and some basic dark room equipment.
Important Art by August Sander
Influences and Connections
Influences on Artist
Influenced by Artist
Influences on Artist
Artists
Oscar G. Rijlander
Friends
Marta Hegeman

Anton Räderscheidt

Alfred Döblin

Franz W. Seiwert
Movements
Art Photography

Pictorial Photography
Influenced by Artist
Artists
Rineke Dijkstra
Friends
Franz W. Seiwert

Marta Hegemann
Useful Resources on August Sander
Books
The books and articles below constitute a bibliography of the sources used in the writing of this page. These also suggest some accessible resources for further research, especially ones that can be found and purchased via the internet.