Gerhard Richter Artworks
German Painter
Born: February 9, 1932
Dresden, Germany
Progression of Art
1963
Mund(Mouth)(Brigitte Bardot's Lips)
Mund is one of Richter's first paintings completed from a photograph. The painting is sexually suggestive, depicting Brigitte Bardot's open mouth adorned with red lipstick. Blurred flesh tones hint at Richter's painting process, beginning with a realist rendering and incorporating rollers, squeegees, and dry brush techniques to mask the surface. The work suggests the artist viewing reality from a detached perspective, as he resists any moment of clear focus on the overall image.
Oil on canvas - Private collection
1968
Farbschlieren (Color Streaks)
In this example of one of his early grey paintings, Richter allows structure and color to compose the "picture." The painting is void of figuration and recognizable imagery, revealing Richter's indifference toward any "model" as serving as his subject matter. Richter employs thick brushstrokes and monochromatic color, thus sweeping across the canvas in a fluid, entirely fused motion. This powerful gesture suggests a consideration of how abstract forms may well serve as a painter's subject just as effectively, for their visual or optical interest, as any photographic or "realistic" scene derived from nature, or the "everyday world" around us.
Oil on canvas
1973
1024 Farben(1024 Colors)
Richter employs a systematic approach to the canvas in his color-chart-based painting 1024 Farben (1024 Colors). Superficially reminiscent of the neo-Dadaist, 1950s "Hard Edge" abstraction of Ellsworth Kelly, Richter chooses here to systematically paint squares of colors based on the predetermined structure of the color wheel. The only intervention of the artist in an otherwise mechanical process seems to be his control of the scale of the canvas itself, the artist's having arranged the color combinations via reference to an apparently logical, predetermined schema.
Enamel on canvas - Daros Collection, Zurich, Switzerland
1976
Abstraktes Bild(Abstract Painting)
In 1976, Richter first employed the term "Abstract Painting" as a formal title for many of his works, such as this example. Cool tones of purple and blue create a hazy, shallow atmospheric perspective. The composition is structured with geometric shapes and lines that might at first appear as fractured icebergs emerging from the painted surface, only to settle down, as it were, into pure abstraction. Richter did not want to offer a definitive explanation for his abstract work, stating only that he was "letting a thing come, rather than creating it." Standing in relation to such work, a viewer begins to question whether what he/she perceives is fact or fiction, real or artificial, as though slowly being trained in a new school of visual philosophy.
Oil on canvas
1982
Clouds
Clouds is an example of how Richter frequently alternates between realist and abstract styles in various series of work, as well as on a single canvas. In this instance, even the title bears an ambiguous relation to the entire composition. In the lower region of the canvas, for instance, Richter suggests that the viewer is having a perceptual experience of looking through a window; nevertheless, the bold tracks, scrapes, smudges, and layer of paint above playfully cancel that optical illusion. Thus Richter is frequently fascinated by how a viewer's desire to extract "meaning" from a given work of art often proves utterly futile. He suggests that we might instead relish a simple experience of visual pleasure, or the discovery of "beauty" by way of studying abstract forms for their own sake.
Oil on canvas (two panels) - Museum of Modern Art
1988
Erschossener 1 (Man Shot Down 1)
For most of his career, Richter avoided political motifs in his work. A notable exception is the series October 18, 1977, in which he depicts radical Baader-Meinhof terrorists who inexplicably died in jail (it remains unclear to this day whether these young radicals committed suicide or were murdered by the police). In Erschossener 1 (Man Shot Down 1), Richter has used a photographic reference to create a blurred, monochromatic painting of a dead inmate. The morbid scene might be said to exemplify the vanity behind the terrorists' actions; at the same time, the persistent obscurity of the image replicates the eternal mystery behind the inmates' deaths, as well as the impossibility of securely capturing truth in any one canvas.
Oil on canvas - The Museum of Modern Art
1994
Abstraktes Bild (Abstract Picture)
In a series of completely abstract works of the early 1990s, Richter challenges the eye of the viewer to detect anything in the field of vision other than the pure elements of his art: color, gesture, the layering of pasty materials, and the artist's impersonal raking of these concoctions in various ways that allow chance combinations to emerge from the surface. Richter suggests only a shallow space akin to that of a mirror. The viewer is finally coaxed to set aside all searches for "content" that might originate from outside these narrow parameters and find satisfaction in the object's beauty in and of itself, as though one were relishing a fine textile. One thus appreciates the numerous colors and transitions that occur in this painting, many having been created outside the complete control of the artist much as nature often creates wondrous optical pleasures partly by design, and partly by accident.
Oil on canvas - Tate, London and National Galleries of Scotland, Edinburgh
2000
Moritz (2000)
Ostensibly a painting of his young son, Moritz exemplifies Richter's affinity for striking a tense balance between abstraction and figuration. This painting is a hybrid, seemingly fluctuating between two contrasting, unfinished areas, one section realistically rendered (in part harking back to Richter's Social Realist education), the other fading off into ethereal "white noise." Moritz is reminiscent of Andy Warhol's combination of appropriated imagery and painted silkscreen techniques; a hazy glow seemingly emanates from the young boy, thus providing a powerful contrast to the material reality of the painted surface.
Oil on canvas - De Pont Museum voor hedendaagse kunst, Tilburg, The Netherlands
Similar Art
Departure (1932-1935)
Full Fathom Five (1947)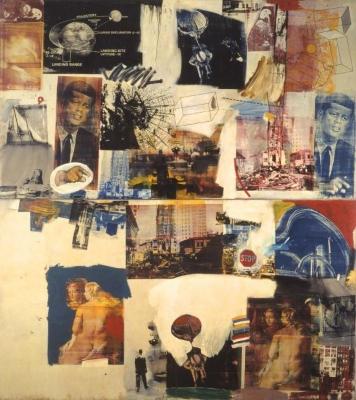 Skyway (1964)
Related Artists
Related Movements & Topics