Artworks by Isabel Oliver
The below artworks are the most important by Isabel Oliver - that both overview the major creative periods, and highlight the greatest achievements by the artist.
Happy Reunion (1970-73)
Happy Reunion focuses on a group of eleven women sitting in a living room, who laugh and converse with each other. Behind them, a transparent wall reveals surreal scenes taking place in the outside world. The same scene appears in the window to the right of the canvas. While the women are painted in muted tones, the exterior scenes are depicted in vivid and bright colors, featuring a giraffe on fire with flames burning out from its back and neck; a lake, green hills, yellow sand, and white abstract forms resembling horses. In the left corner of the foreground, a red-cloaked skeletal form appears with flowing blond hair and three hands, two skeletal and one made of flesh holding an old-fashioned hourglass that shows that time has run out.

Happy Reunion is a central image of Oliver's iconic series The Woman (1970-73), which examines different aspects of femininity in Franco's Spain. Here, the happy women in the home are presented in stark contrast to the surreal and unsettling scenes of violence and despair in the world outside. Depicted as oblivious to the dangers of the "real world" the women sit in happy ignorance ensconced in their domestic sphere, even as an unsettling figure encroaches on them. By depicting how some middle-class women shielded themselves from reality, Oliver visually draws the viewer's attention to the fake appearance of normalcy that women were expected to maintain.

The Woman series addresses such popular issues as physical appearance (beauty), childhood, and domesticity by manipulating common media generated images. Oliver used her art to make powerful feminist and political statements about the ways Spanish society repressed women during the turbulent years of General Franco's dictatorship in which this series is set.
Self-portrait of the Artist (1970s)
Oliver positions her self-portrait in contrast her work Happy Reunion taken from a popular magazine. Both images of artist and middle-class women are in the same black and white tones, suggesting they were produced for the same mass media. Yet, the distance between the two images suggests a temporal difference, between present (receding into the past) and the potential future, which the artist represents.
From Our Sponsor. Article Continues Below
Beauty Products (1970-73)
In Beauty Products, a woman with short dark hair and gray-toned skin, dressed in a pale pink long sleeve jumpsuit stands with one arm raised above her head in an arcing gesture while the other, bent at the elbow, is extended straight out from the shoulder. In her hands she holds a pink colored scarf which flows in an elaborate swirling gesture behind her. Set against a white and yellow vertical striped background, she towers above a ground filled with brightly colored beauty products, such as face powders, perfumes, soaps, and bottles of nail polish.

Many Pop artists re-purposed household products in their work to comment on commercialized society, while in Oliver's work beauty products become a vehicle for visualizing the pressure such commercial products impose on women. In Beauty Products, a woman seems to rush forward, perhaps in an effort to stay on top of the latest styles, brands, and beauty trends that appear available in a never-ending supply. Referencing the oppressive pressure placed on women to achieve the societal notions of beauty and perfection, this woman seems harried and overwhelmed in her attempt to achieve this impossible task. This work demonstrates how Pop art effects could be applied to critique any number of issues in popular culture, some even from a feminist point of view. Describing the motivations behind this work, Oliver has stated she wanted to draw attention to, "...women's struggle against discrimination in their lives and in all spheres of society."
The Family (1970-73)
The Family, another work from The Woman series, explores how women are defined by family life. Oliver painted a black and white snapshot of a family: from left to right, a father, a young daughter, and a young toddler-age son held in his mother's arms. All are nude, yet they are posed or their hands are strategically placed to cover their breasts and genitalia. The family portrait is obstructed by a brightly colored game board placed over the entire image. A large cross with an "x" drawn in the center divides the canvas into four quadrants. In each of the four corners is a two-ringed circle with a white center; green in the top left, yellow the top right, light blue the bottom right, and red the bottom left.

The game board, which is overlaid on the nuclear family, is the popular Spanish board game Parchís, in which the players compete in leading the pawns (game pieces) out of the nest. On one level, the board game serves as a metaphor for the game of life that a woman plays in her societally restricted familial role, following the rules along the prescribed path to its end. Looked at another way, the board game represents the common family activity of playing an entertaining game together. However, a social game of gender roles is played out beneath the surface of the board game. This family sits neither concerned by their prescribed roles, nor conveying a picture of contentment. So beneath the surface of family life: the domestic bliss that the woman especially, as mother and wife, was expected to put forth and try to maintain, is a competitive social game. A reality contradicted by media images that support the notion of female domestic bliss.
Portraits, still lifes, and landscapes (Retratos, bodegones y paisajes) The Recuperation (La Recuperación) (1972)
It is very possible that Oliver contributed to this Equipo Crónica painting, as it was created after she had joined the group. It seems to relate to her interest in the image of woman. This work critically appropriates from the Golden Age of Spanish painting the style and iconography of baroque still lifes by Sanchez Cotón, or to Goya's satirically painted old hags. It sets them in dialogue with modern everyday objects such as a soda siphon and wine glass, rendered in an anonymous, realist style. This series references these early forms of consumption and modernization in Spain as commentary on the economic and industrial development of the seventies, when the majority of people moved from rural areas to live in the city.
Related Artists and Major Works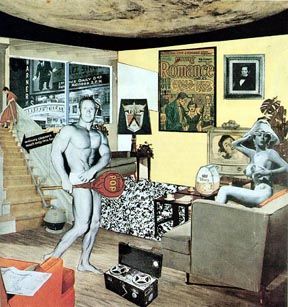 Just What Is It That Makes Today's Homes So Different, So Appealing? (1956)
Movement: Pop Art (Read Movement Overview, History, and Artworks pages)
Artist: Richard Hamilton (Read Full Artist Overview, Biography, and Artworks pages)
Hamilton's collage was a seminal piece for the evolution of Pop art and is often cited as the very first work of Pop art. Created for the exhibition This is Tomorrow at London's Whitechapel Gallery in 1956, Hamilton's image was used both in the catalogue for the exhibition and on posters advertising it. The collage presents viewers with an updated Adam and Eve (a body-builder and a burlesque dancer) surrounded by all the conveniences modern life provided, including a vacuum cleaner, canned ham, and a television. Constructed using a variety of cutouts from magazine advertisements, Hamilton created a domestic interior scene that both lauded consumerism and critiqued the decadence that was emblematic of the American post-war economic boom years.
President Elect (1960-61)
Movement: Pop Art (Read Movement Overview, History, and Artworks pages)
Artist: James Rosenquist (Read Full Artist Overview, Biography, and Artworks pages)
Like many Pop artists, Rosenquist was fascinated by the popularization of political and cultural figures in mass media. In his painting President Elect, the artist depicts John F. Kennedy's face amidst an amalgamation of consumer items, including a yellow Chevrolet and a piece of cake. Rosenquist created a collage with the three elements cut from their original mass media context, and then photo-realistically recreated them on a monumental scale. As Rosenquist explains, "The face was from Kennedy's campaign poster. I was very interested at that time in people who advertised themselves. Why did they put up an advertisement of themselves? So that was his face. And his promise was half a Chevrolet and a piece of stale cake." The large-scale work exemplifies Rosenquist's technique of combining discrete images through techniques of blending, interlocking, and juxtaposition, as well as his skill at including political and social commentary using popular imagery.