Chris Ofili Artworks
British Painter and Sculptor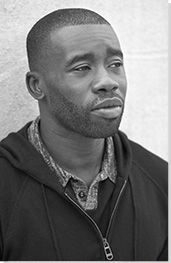 Born: 10 October 1968
Manchester, England
Progression of Art
1996
The Holy Virgin Mary
This life-size painting shows an abstracted black Virgin Mary with a vibrant yellow background. One breast is exposed, as is traditional in classical depictions of the Virgin Mary and, less traditionally, is embellished with elephant dung. All around her flutter butterflies made from buttocks and vaginas cut from pornographic magazines.

The painting is Ofili's attempt to deal with his childhood questions about race and virgin mothers, in particular which women are permitted to be holy, to be pure, and to be considered 'good mothers'. The black Madonna is often seen in Catholic iconography in Africa and the Caribbean, although Ofili's depiction is an intentionally provocative rendering of the subject. He said: "When I go to the National Gallery and see paintings of the Virgin Mary, I see how sexually charged they are. Mine is simply a hip-hop version."

The piece was well received in England, and then in Germany when it was exhibited in Berlin, but caused a public fury when exhibited in New York. Then-mayor Giuliani famously threated to remove funding from the MoCA after losing a lawsuit to shut down the YBA Sensation exhibition where the painting was featured. A 72-year-old pensioner called Dennis Heiner also defaced the painting with white paint because he was offended by its "blasphemy". He pretended to be ill to distract the security guard, and then squirted the paint behind the shield protecting the work.

Combining pornography, elephant dung, and an image central to Catholicism was intended to shock and challenge the gallery-going public, even if Ofili could not have foreseen the violent protest of the work by conservative Christian America. However, the work is also a rigorous investigation into religion, race, representation, and desire: The Holy Virgin Mary speaks to hybrid cultures in Africa and the Caribbean, which mix Catholicism and traditional spirituality; challenges the way that whiteness is associated with purity in art history (the white virgin's breast is never sexual); and situates the Holy Virgin as a real woman with a real and messy body - she rests on elephant dung to bring her closer to earth.
Paper collage, oil paint, glitter, polyester resin, map pins and elephant dung on linen - Museum of Modern Art
1996
Afrodizzia
Afrodizzia is a colorful abstract composition embellished and propped up with elephant dung reinforced with polyester resin. Multiple heads from Blaxploitation movies are collaged into the vivid colors, glitter, and multi-layered paint effects alongside well-known black figures, which then have Afros comically pasted around their faces. The title is a play on the word 'aphrodisiac', which references a substance ingested to increase the libido, and again complicates relationships between blackness and sexual desire.

Blaxploitation cinema emerged out of Black Power and civil rights movements in the 70s and it remains a controversial genre, which both challenges and reinforces racial stereotypes. Despite its difficulties - in particular treatment of black women, and reinforcing 'gangster' stereotypes - Blaxploitation was an angry celebration of Black America and this complexity is reborn as a contemporary festival of Black cultures in Afrodizzia.

The work honors the renaissance of Black creativity that Ofili said hip-hop helped create. He listed his heroes as Notorious B.I.G., Snoop Dogg, L'il Kim and Wu-Tang Clan. "It was like revisiting the idea of Black power in the seventies, but through a more celebratory lens - not fighting for power but celebrating a newfound power. A lot of Black art that came before was set up to critique the system. I thought that was boring. I wanted to be sincere and outrageous and friendly and rude and experimental and conventional." The work is an original and singular instance of art about Black experience - representational elements are subsumed by joyful abstraction, and African-ness is shown as a euphoric, as opposed to mournful, state of being.

American art critic Jerry Saltz wrote: "A good Ofili brings to mind Funkadelic album covers, William Blake, Zimbabwe rock painting, Sigmar Polke, Brazilian bead work, Op Art, carnival posters, Celestial Seasonings packages, Haitian voodoo figures, Australian Aborigine 'dot paintings,' and Post-Impressionistic Pointillism."
Oil paint, paper collage, glitter, polyester resin, map pins and elephant dung on linen - Saatchi Collection
1998
No Woman No Cry
In this moving painting, Ofili depicts the weeping profile of Doreen Lawrence, whose son Stephen Lawrence was murdered by a racist gang in London in 1993. There was a massive outcry about the police's failings to properly investigate the case, particularly in black communities in London and the public inquiry that followed found the Metropolitan police force to be institutionally racist. In each of the tears shed by the grieving mother is a collaged image of her son's face, while the words 'R.I.P. Stephen Lawrence' are just discernible beneath the layers of paint.

This narrative work uncompromisingly depicts grief and pain, not only of Doreen and Stephen Lawrence, but all victims of racist violence. Ofili said: "This kid had been killed by white racists. The police had fucked up the investigation, and the image that stuck in my mind was not just his mother but sorrow - deep sorrow for someone who will never come back. I remember finishing the painting and covering it up, because it was just too strong."

Again Ofili references Black music with the title borrowed from a Bob Marley song and the painting provides a powerful example of Ofili's physical and metaphorical layering: he builds up materials on the canvas as he layers meanings.

No Woman No Cry became a rallying point for anti-racist activism, and continues to be exhibited at major UK galleries in the context of remembrance and ongoing social change. It is a vital piece of art in the tapestry of UK political and social history, which often ignores the pain of black people in its memorials.
Oil paint, acrylic paint, graphite, polyester resin, printed paper, glitter, map pins and elephant dung on canvas - Tate Britain
1997
Pimpin' aint easy
This work is unlike anything you might expect to see in a gallery! The vast canvas is filed with an enormous black penis, with grinning cartoon minstrel face and an Afro. Bizarre crab-like creatures made of collaged and mismatching heads and legs surround it. Three balls of elephant dung sit at the bottom of the work.

In the early 1900s, minstrel shows were extremely popular in America, in which white performers would wear blackface including exaggerated huge lips and pitch-black skin to caricature black people. Elements of this practice still exist in more contemporary society, as in gollywogs and 'coon' cartoons. One of the most pervasive racist stereotypes is that of the sexually virile, well-endowed black man. This stereotype contributed to false rape accusations and lynching historically and is still perpetuated today as a reason to fear young black men.

The title Pimpin' aint easy is taken from a Big Daddy Kane Gansta Rap track, and the painting inflates both contemporary 'pimp' and historical 'minstrel' stereotype to a ridiculous degree - rendering the stereotypes harmless through humor and excess.

Art critic Adrian Seale said in The Guardian, the piece was "too erudite, too funny, too seductive for any kind of single-minded reading".

Ofili said: "That is a hilarious painting for me. I mean, can you imagine making that? I had to sit there and look at that and go: 'I've done this. Nobody else is making this up! I made this.' So I'm looking at it and thinking, this is an unusual one to reckon with. Because it's really funny to me now, but what happens when I show it outside the studio? Joke's over, Chris. It's not funny anymore."
Oil, polyester resin, paper collage, glitter, map pins, and elephant dung on linen - Tate Britain
1999-2002
The Upper Room
The Upper Room installation of 13 paintings is an explosive rendering of the sacred and secular in the context of human and non-human worlds. Each painting features a rhesus monkey, the primate that most closely resembles humans. 12 canvases are arranged equally on either side of a larger one, suggesting Christ and his apostles, as they are historically depicted in paintings of the Last Supper. The title also references this Bible story; the Upper Room is where Jesus' last supper before crucifixion was held, alongside 12 apostles.

The paintings were exhibited at the Tate in a quiet, dark, chapel-like room designed by friend and architect David Adjaye. Ofili wanted the venue to feel like a space of worship and the paintings were illuminated so they would refract colored light, as if stained-glass windows.

Like much of the artist's work, The Upper Room remixes art historical religious iconography to raise contemporary concerns, in this case the strong division between nature (the monkeys) and culture (the Bible, historical paintings, the gallery).

Replacing Jesus and his disciples with psychedelic monkeys has been considered taboo by some, but Ofili has stated that the installation is not intended to be offensive. Cheeky, loud, and intelligent, rhesus monkeys are highly respected by certain religions. A biologist writing about the first showing of The Upper Room pointed out that rhesus monkeys show more compassion for each other than we do for our fellow humans and this installation of paintings is remarkable in its capacity for simultaneous shock, awe, and reverence.
Installation of oil paintings comprising resin, glitter, mapping pins and elephant dung - Tate Britain
2006
Iscariot Blues
Compared to the brightness, optimism and vivid color of Ofili's earlier works, the Blue Rider series provides a marked departure. In tribute to Wassily Kandinsky's and Franz Marc's Der Blaue Reiter movement, this series of dark canvases abandon the cheerful style of Ofili's 1990s works. Iscariot Blues shows two figures playing musical instruments while a third hangs from a gibbet under the cover of darkness. It is uncomfortable to look at, as the hanged figure's head snaps back from the pressure of the rope. It is also difficult to decipher; the tones and colors so dark it is hard to discern the figures.

The work is drawn from the Trinidadian folklore of the island he has made his home where, at carnival time, people dress up as blue devils and terrorize onlookers with blood, snakes and frogs. Tradition dictates that these blue 'devils' have permission to behave in a menacing and intrusive manner that would normally be prohibited by society. In this series, Ofili associates these 'blue devils' with the 'boys in blue', the British police, explicitly challenging police violence in the UK. The images in the painting are rendered in such darkness they are barely visible, suggesting conduct that occurs in a state of near invisibility.

This image in particular expresses the anger and humiliation inspired by 'stop and search' (or 'stop and frisk' in the USA) tactics, which are overwhelmingly used by police without provocation on black and brown youth.

Matthew Ryder QC, a barrister who has experienced the indignity of stop and search, explained: "This piece captures something much harder to express - the peculiar way that such confrontations between black men and the police are simultaneously intensely crude and unusually subtle. They are crude because of the pervasive sense of menace and the blunt threat of violence. The dark intensity of Blue Devils reflects that beautifully: just as in real life, as we stare at the interaction, it takes your eyes a moment to adjust and take it all in."

Police violence against black people, especially black men, is an international scourge currently, in both the UK and the USA, and is difficult to challenge because of the power of police forces and the fact that the general public often holds the police in high esteem. This series is a dark, affecting, soulful depiction of police violence, and one of the very few representations of this kind of racist violence.
Oil paint and charcoal on canvas - Tate Britain
Related Artists
Related Movements & Topics