Bruce Nauman Artworks
American Performance and Video Artist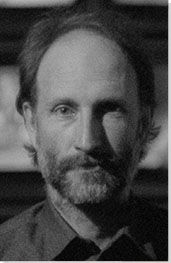 Born: December 6, 1941
Fort Wayne, Indiana
Progression of Art
1967
The True Artist Helps the World by Revealing Mystic Truths (Window or Wall Sign)
Created in the studio Nauman established in an abandoned grocery store in San Francisco and modeled after the neon advertisement signs nearby, this seminal work acts as an advertisement of a different kind. Its colorful, circular text proclaims the words of the title: "The True Artist Helps the World by Revealing Mystic Truths." It is characteristic of Nauman's early neon works, and typical of the tone of dry satire in much of his work. Speaking of high art in the materials of low culture and advertising, it sets up a clash that prompts us to question old assumptions about the purpose of art and artists. Might artists be ordinary salesmen, just like so many others?
Neon tubing with clear glass tubing suspension supports - Philadelphia Museum of Art
1981
South American Triangle
In this first of several "suspended chair" political sculptures, the chair that is commonly complicit in torture (i.e. an electric chair or interrogation chair) becomes the disoriented torture victim. As Nauman has said, "I thought of using a chair that would somehow become the figure: torturing a chair and hanging it up or strapping it down." Like similar hanging sculptures of Nauman's, it was intended to mount a critique of totalitarian regimes that then held power in South America and South Africa. It also refers to the space outside of the studio, as well as the fundamental structure of life: an atom with electrons encircling it, or the nucleus and membrane of cell, composed of raw and unforgiving materials.
Steel and iron - Hirshhorn Museum and Sculpture Garden, Washington, D.C.
1984
One Hundred Live and Die
Consisting of four columns containing 100 words relating life and death with different actions, emotions, and colors, this simultaneously poetic and vulgar barrage of lights and hues epitomizes the human experience. According to a complex algorithm, one phrase after another flashes on and off individually, followed by each column lit up, and culminating in the illumination of the entire piece, creating a visual symphony that characterizes Nauman's love of word play combined with social commentary, as well as his interest in color relationships.
Neon tubing mounted on four metal monoliths - Fukake Publishing Co., Ltd., Naoshima Contemporary Art Museum, Kagawa, Japan
1987
Clown Torture
Video was absent from Nauman's work from 1973 until 1985, and this was one of the most significant pieces he made upon his return to the medium. Installed in an enclosed room, it consists of videotapes projected directly onto the two sidewalls and two pairs of stacked monitors on pedestals. Five sequences - Clown Taking a Shit; Pete and Repeat; No, No, No, No; Clown with Goldfish Bowl; and Clown with Water Bucket - play over each other repeatedly. This visual and auditory attack on the viewer is both disarming and nearly unbearable, and features some of Nauman's primary themes: surveillance, physical stress, interrogation, repetition, and word games. Nauman takes clowning to an entirely different level, highlighting the hidden horror in children's play.
Installation: two 20-in. color monitors, two 25-in color monitors, four speakers, two video projectors, four videotapes (color, sound) - Lannan Foundation, Los Angeles
1989
Untitled (Two Wolves, Two Deer)
In 1988, after a hiatus of nearly twenty years, Nauman returned to casting found objects. He created a number of polyurethane foam animal models using taxidermy molds found in a New Mexico shop and used these as the basis for a series of works that resurrected an earlier theme - political violence and interrogation - and an earlier formal motif - the carousel of suspended sculptures. Untitled (Two Wolves, Two Deer) is one of the works that followed this initial series. Here he dismembers the models and rearranges their anatomy into monstrous form, creating a scene reminiscent of a slaughterhouse. In a related series, he used the models to create strange pyramids of animals, like sacrificial offerings.
Foam, wax, wire - Private collection, New York
1989
Rinde Head/Andrew Head (Plug to Nose) on Wax Base
Hollow wax head casts from two of Nauman's three models - Andrew, Rinde and Julie - meet here as a continuation of the artist's examination of the head and face in multiple media and the relationship between identity and facial expression, frozen in wax. The "plug" refers to the nose plug worn by live models to enable breathing while a cast is made. The strange posture of the models seems to reflect Nauman's interest in the difficulty of communication, alluding, perhaps, to old-fashioned expressions which rely on reference to the body, like "from hand to mouth."
Wax - Froehlich Collection, Stuttgart, Germany
2001
Mapping the Studio I (Fat Chance John Cage)
Some of Nauman's earliest work focused on him performing mundane, repetitive tasks in his studio. This recent piece marks a kind of return to the studio - though this time the artist is absent. He set up a series of infrared cameras to capture the activity at night as his cat walks about, mice scurry away, and moths buzz through the air. Then he edited the material down to six hours per projector. Nauman has always been skeptical of the notion of the artist as a creative genius, and this piece exposes the truth once again, depicting the studio not as a special place brought to life by the artist, but rather as a humdrum environment in which much occurs that passes by unnoticed by the artist. It is rather as if we were peering into the dark recesses of Nauman's creative mind and discovering that creativity is a torturously slow process in which there is as much waiting as working.
Multi-screen video projection - Lannan Foundation, New Mexico
Similar Art
Five Words in Orange Neon (1965)
Site (1964)
Target with Four Faces (1955)
Related Artists
Related Movements & Topics