Artworks by Amedeo Modigliani
The below artworks are the most important by Amedeo Modigliani - that both overview the major creative periods, and highlight the greatest achievements by the artist.
The Jewess (1908)
The Jewess was the first painting Modigliani sold after settling in Paris in 1906. It was purchased by his friend and patron, Paul Alexandre, who was so taken with the work that he had Modigliani paint it into the background of three additional commissioned portraits. Although wearing a composed expression, the stark whiteness of the sitter's face contrasts harshly with her dark apparel, giving the composition and inner tension and suggesting strong emotions lying beneath the surface. The painting's melancholic overtones have invited comparison with the work of Picasso's Blue Period. The painting is also one of the few Jewish-themed works by Modigliani, who was of Sephardic Jewish descent and publically embraced his Jewish identity.
Head (c. 1910-12)
Although inspired by Brancusi's marble work, Modigliani's sculptures were often made from softer, less expensive limestone, as in this work. Head's graceful contours and abstracted features suggest Brancusi's influence, while the elongated proportions - specifically, the swan-like neck - is reminiscent of ancient Egyptian busts, among the non-Western art forms that influenced Modigliani's work. The subject's elongated neck and nose, and slit-like eyes also closely resemble the artist's handling of these features in his portraits and nudes, suggesting the close connection between his work in sculpture and two-dimensional media.
From Our Sponsor. Article Continues Below
Portrait of Pablo Picasso (1915)
Althought insecure about his own work, Modigliani had mixed feelings about Picasso. Modigliani was envious of his rival's success, but drawn to his charismatic personality and artistic talent. These competing feelings emerge in this portrait: this ambivalence is suggested in the two-toned face, while the overall gestural, uneven application of paint hints at inner conflict. Yet, the round face and facial features resemble Southeast Asian depictions of Buddha, showing Modigliani's respect for Picasso's wisdom and experience. This is literally spelled out on the lower right side of the painting with the French word savoir ("to know").
Jacques and Berthe Lipchitz (1916)
This double portrait of Jacques Lipchitz and his wife, Berthe, exemplifies Modigliani's talent for eliciting the inner life of his subjects. Although his stylized method of painting presents two mask-like faces, they reveal subtle clues about the personality of each sitter. Berthe has an open, kindly face, conveyed by the brightness of the paint and downward tilting eyes. Jacques, with his small, compressed features sloping inward, appears calculating and suspicious. Wanting to pay his friend Modigliani as much as possible for his work, Jacques Lipchitz insisted on further changes after its completion; as a result, the painting took nearly two weeks to finish.
Standing Blonde Nude with Dropped Chemise (1917)
Modigliani's nudes are often frank depictions of sensuality that frequently reference the traditional handling of this theme, but without the mythological context of their artistic precursors. The present work, for example, suggests Sandro Botticelli's Birth of Venus - a painting with which Modigliani was undoubtedly familiar from his studies in Florence - through such features as the subject's long blonde hair, tilted head, and the figure's contrapposto. The classic composition, however, is skillfully subverted and heavily modernized. While Botticelli's subject artfully covers her genitals with her flowing locks and smiles placidly, Modigliani's sitter draws attention to this area with her dropped chemise and confronts the viewer with a slight smirk. Such features of the Modigliani painting likely contributed to the uproar generated by the artist's now legendary exhibition at Berthe Weill's gallery in 1917.
From Our Sponsor. Article Continues Below
Portrait of Jeanne Hebuterne (1918)
When Modigliani entered into a relationship with the nineteen-year-old Jeanne Hebuterne, his close friends hoped that the serious young woman would inspire Modigliani to curb his excesses. Hebuterne, however, loved the artist with a blind adoration that made no demands. Although there were no fundamental changes in his behavior, Modigliani's portraits of his young lover suggest the artist's newfound sense of peace and serenity. Less stylized than those in the artist's earlier works, the sitter's features, especially the sly, sideways gaze, suggest a psychological clarity that communicates Hebuterne's inner character.
Related Artists and Major Works
Madame Cézanne in a Red Dress (1888-1890)
Artist: Paul Cézanne (Read Full Artist Overview, Biography, and Artworks pages)
This is an example of the many portraits Cézanne painted of his mistress and eventual wife, Hortense Fiquet. Cézanne does not romanticize her form: the sitter's figure is rigidly imposing, almost soldier-like, her face bluntly plain and asymmetrical with only one ear visible. It seems that the sitter exists purely for compositional purposes, her dress in itself serving as an excuse for the artist to experiment with various tones of red, like a convenient palette. The stark geometrical accents dissect the canvas in both horizontal and vertical directions, thus creating the impression of a carefully arranged, monumental still life, as opposed to a portrait of a lifelong companion or "loved one."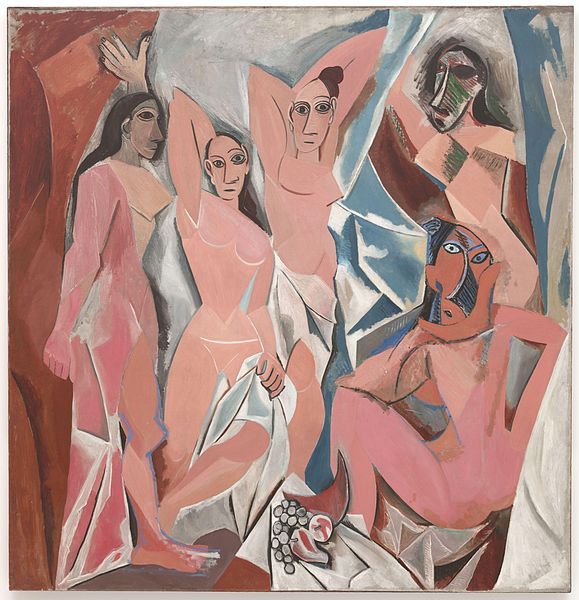 Les Demoiselles d'Avignon (1907)
Artist: Pablo Picasso (Read Full Artist Overview, Biography, and Artworks pages)
This painting was shocking even to Picasso's closest artist friends both for its content and its execution. The subject matter of nude women was not in itself unusual, but the fact that Picasso painted the women as prostitutes in aggressively sexual postures was novel. Picasso's studies of Iberian and tribal art is most evident in the faces of three of the women, which are rendered as mask-like, suggesting that their sexuality is not just aggressive, but also primitive. Picasso also went further with his spatial experiments by abandoning the Renaissance illusion of three-dimensionality, instead presenting a radically flattened picture plane that is broken up into geometric shards, something Picasso borrowed in part from Paul Cézanne's brushwork. For instance, the leg of the woman on the left is painted as if seen from several points of view simultaneously; it is difficult to distinguish the leg from the negative space around it making it appear as if the two are both in the foreground.

The painting was widely thought to be immoral when it was finally exhibited in public in 1916. Braque is one of the few artists who studied it intently in 1907, leading directly to his Cubist collaborations with Picasso. Because Les Demoiselles predicted some of the characteristics of Cubism, the work is considered proto or pre Cubism.
Sleeping Muse I (1909-10)
Artist: Constantin Brâncuși (Read Full Artist Overview, Biography, and Artworks pages)
Portraits, heads, and busts were frequent subjects for Brâncuși, and he received several commissions for such work. With Sleeping Muse I, modeled on the Baroness Renee-Irana Frachon, Brâncuși developed a distinctive form of the portrait bust, representing only its sitter's disembodied head. This work was Brâncuși's first handling of the sleeping head, a thematic cycle that occupied the artist for roughly twenty years. The smoothness of the piece, achieved by the artist's practice of polishing the surface of his sculptures until they achieved a high gleam, contrasts with the carved definition of the sitter's facial features.