Roberto Matta Artworks
Chilean Painter
Born: November 11, 1911
Santiago, Chile
Died: November 23, 2002
Civitavecchia, Italy
Progression of Art
1938
Cruxificion
Cruxificion marks not only Matta's first foray into oil painting, but also the start of what he called his Psychological Morphologies. While it has been suggested that the main forms in this painting represent Jesus and Mary, what is most striking about this work is its abstraction. The painting was created using the Surrealist practice of automatism. Matta utilized this technique as a means to depict a constantly transforming, multi-dimensional time and space. He believed that this allowed for a vision of reality that existed beyond the limits of normal human perception.
Oil on canvas - Private Collection
1942
The Earth is a Man
Matta produced The Earth is a Man after being greatly affected by the dramatic landscape during a trip through Mexico in 1941. The painting depicts the earth as a volatile and constantly evolving space. The composition is dominated by what appears to be either an exploding sun or erupting volcano in the left center of the piece. For Matta, this symbolized a personal outpouring of emotions and ideas. Volcanoes also appeared in several other works from this period, such as Invasion of the Night (1941) and Ecouter vivre (1941). Interestingly, The Earth is a Man shares its name with an epic poem Matta composed in 1936 to commemorate Frederico Garcia Lorca's violent death.
Oil on canvas - Private Collection, Chicago
1946
Being With (Etre Avec)
As one of Matta's "Social Morphology" paintings, Being With (Etre Avec) represents a direct response to the horrors of the Second World War. Matta's deep-seated dismay finds expression in the menacing mechanical contraptions and the contorted, violently violated humanoid forms that populate the painting. The figures here are reminiscent of both totemic art and Alberto Giacometti's sculptures. Furthermore, the influence of the contemporary Mexican muralists can be seen in this work's increased scale, at 87 x 180 inches, and Matta's explicit engagement with social issues.
Oil on canvas - The Metropolitan Museum of Art, New York
1958
Etre Cible Nous Monde
Exemplery of Matta's work from the mid1950s, Etre Cible Nous Monde shows a cosmic landscape dominated by a fantastical machine highly reminiscent of Duchamp's The Large Glass .. (1915-1923). The imagery and title of the painting (loosely translated as, "Our Earth is a Target") hint at the paranoia and fear associated the atomic age, exacerbated by the Cold War and the Space Race. These fears were intensified by Russia's launch of the Sputnik satellite in 1957.
Oil on canvas - Private Collection, Geneva
1971
The First Goal of the Chilean People
Matta was dedicated to the notion of fostering an artistic and social renaissance in Latin America, particularly in his native Chile. He painted the massive, cartoon-like wall mural, The First Goal of the Chilean People, in honor of the 1970 political victory of Socialist president Salvador Allende. When military dictator Augusto Pinochet took power in 1973, he had the work covered in sixteen coats of paint. It was thought that the mural was lost forever until local officials uncovered it in 2005 and took three years to restore it.
Wall mural - La Granja City Hall, La Granja, Chile
2002
La Source du Calme (The Source of Calm)
La Source du Calme (The Source of Calm) was Matta's final composition before his death. Like much of his later work, this print exhibits brighter colors, softer forms, simplified figures and an overtly spiritual mindset. This turn to more mystical and mythological themes echoes similar sentiments expressed by authors of the Latin American literary renaissance, like Gabriel Garcia Marquez. Significantly, it also represents a return to the themes of past Latin American authors, such as Garcia Lorca, with whom Matta was closely involved.
Carborundum etching on hand-made paper - RoGallery, Long Island City, NY
Similar Art
The Persistence of Memory (1931)
The Bride Stripped Bare by Her Bachelors, Even, or The Large Glass (1915-1923)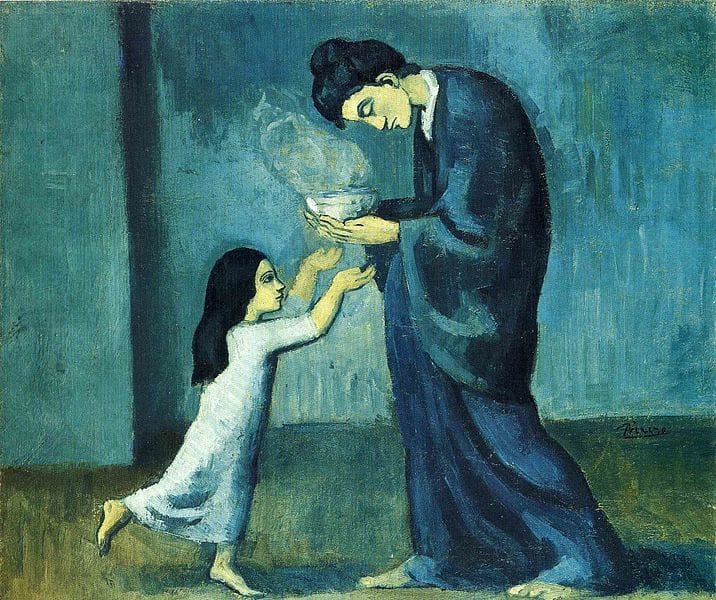 The Soup (1902-03)
Related Artists
Related Movements & Topics