Artworks by Henri Matisse
The below artworks are the most important by Henri Matisse - that both overview the major creative periods, and highlight the greatest achievements by the artist.
Luxe, Calme, et Volupte (1904-05)
The title of this painting is taken from the refrain of Charles Baudelaire's poem, Invitation to a Voyage (1857), in which a man invites his lover to travel with him to paradise. The landscape is likely based on the view from Paul Signac's house in Saint-Tropez, where Matisse was vacationing. Most of the women are nude (in the manner of a traditional classical idyll), but one woman - thought to represent the painter's wife - wears contemporary dress. This is Matisse's only major painting in the Neo-Impressionist mode, and its technique was inspired by the Pointillism of Paul Signac and Georges Seurat. He differs from the approach of those painters, however, in the way in which he outlines figures to give them emphasis.
The Woman with a Hat (1905)
Matisse attacked conventional portraiture with this image of his wife. Amelie's pose and dress are typical for the day, but Matisse roughly applied brilliant color across her face, hat, dress, and even the background. This shocked his contemporaries when he sent the picture to the 1905 Salon d'Automne. Leo Stein called it, "the nastiest smear of paint I had ever seen," yet he and Gertrude bought it for the importance they knew it would have to modern painting.
From Our Sponsor. Article Continues Below
Joy of Life (Le Bonheur de Vivre) (1905-06)
During his Fauve years Matisse often painted landscapes in the south of France during the summer and worked up ideas developed there into larger compositions upon his return to Paris. Joy of Live, the second of his important imaginary compositions, is typical of these. He used a landscape he had painted in Collioure to provide the setting for the idyll, but it is also influenced by ideas drawn from Watteau, Poussin, Japanese woodcuts, Persian miniatures, and 19th-century Orientalist images of harems. The scene is made up of independent motifs arranged to form a complete composition. The massive painting and its shocking colors received mixed reviews at the Salon des Indépendants. Critics noted its new style -- broad fields of color and linear figures, a clear rejection of Paul Signac's celebrated Pointillism.
Blue Nude (Souvenir de Biskra) (1907)
Matisse was working on a sculpture, Reclining Nude I, when he accidentally damaged the piece. Before repairing it, he painted it in blue against a background of palm fronds. The nude is hard and angular, both a tribute to Cézanne and to the sculpture Matisse saw in Algeria. She is also a deliberate response to nudes seen in the Paris Salon - ugly and hard rather than soft and pretty. This was the last Matisse painting bought by Leo and Gertrude Stein.
The Back I (1908-09)
Although Matisse is known above all as a painter, sculpture was also important to him, and he was particularly inspired by Auguste Rodin, whom he visited in his studio in 1900. The Back I is the first of a series of four large relief sculptures that Matisse worked on between 1909 and 1931, all of which are significantly innovative. Conventionally, the background of a relief sculpture is regarded as a virtual plane, a kind of imaginary space that the viewer fills in with his own notions. But in The Back series, Matisse suggested that the backdrop was fashioned from the same heavy material as the figure itself. Throughout the series, the figure is progressively simplified and further identified with the background. The motif was possibly first inspired by a figure in a painting by Cézanne that Matisse owned.
From Our Sponsor. Article Continues Below
The Moroccans (1915-16)
Matisse planned this picture as early as 1913, and it recalls visits made to Morocco around this time. A figure sits on the right with a back to us, fruit lies in the left foreground, and a mosque rises in the background beyond a terrace. Matisse said that he occasionally used black in his pictures in order to simplify the composition, though here it undoubtedly also recalls the stark shadows produced by the strong sunshine in the region. Like Bathers by a River (1917), The Moroccans was significantly influenced by Picasso's Cubism, and some have even compared it to Picasso's Three Musicians (1921). Although it employs the same brilliant color as much of Matisse's work, its use of abstract motifs and rigid diagrammatic composition is unusual, and has attracted considerable speculation. Rather than use the scene as an opportunity for decoration, it is as if Matisse has tried to find the means to chart and map it.
Bathers by a River (1917)
Matisse regarded this picture as one of the most important in his career, and it is certainly one of his most puzzling. He worked on it at intervals over eight years, and it passed through a variety of transformations. The painting evolved out of a commission from Matisse's Russian patron, Sergei Shchuckin, for two decorative panels on the subjects of dance and music, and, initially, the scheme for the picture resembled the idyllic scenes he had previously depicted in paintings such as Joy of Life (1905-06). However, his transformations gradually turned it into more of a confrontation with Cubism, and it is for this reason that the picture has been the subject of intense scrutiny. Although Matisse rejected Cubism, he certainly felt challenged by it, and this picture - along with many he painted from 1913 to 1917 - seems to be influenced by the style, since it is very unlike his previous, more decorative work. It is far more concerned with faithful representation of the structure of the human figure, and its position in space. The painting might be compared to The Backs series (1909-31), which also preoccupied Matisse the years he was working on Bathers, since both address the problem of depicting a three-dimensional figure against a flat background.
The Dance II (1932)
Albert Barnes, a doctor and art lover, commissioned Matisse in 1931 to paint a mural for the main hall of his gallery housing works by Vincent van Gogh, Paul Cézanne, and others. Matisse created a maquette for the mural out of cut paper, which he could rearrange as he determined the composition. However, the finished work was too small for the space due to being given incorrect measurements. Rather than add a decorative border, Matisse decided to recompose the entire piece, resulting in a dynamic composition, in which bodies seem to leap across abstracted space of pink and blue fields.
Blue Nude II (1952)
Matisse completed a series of four blue nudes in 1952, each in his favorite pose of entwined legs and raised arm. Matisse had been making cut-outs for eleven years, but had not yet seriously attempted to portray the human figure. In preparation for these works, Matisse filled a notebook with studies. He then created a figure that is abstracted and simplified, a symbol for the nude, before incorporating the nude into his large-scale murals.
Related Artists and Major Works
Table, Napkin, and Fruit (A Corner of the Table) (1895-1900)
Artist: Paul Cézanne (Read Full Artist Overview, Biography, and Artworks pages)
After studying Dutch and French Old Master still life painting at the Louvre and other Parisian galleries, Cézanne formulated his own semi-sculptural approach to still lifes. Typically strewn across an upturned tabletop, Cézanne's pears, peaches, and other pictorial elements seem at once to rest on a solid, wooden plank and yet float across the surface of the canvas like a new kind of calligraphy. As if to press home that point, Cézanne typically includes chairs, wooden screens, water pitchers, and wine bottles to suggest that the gaze of the viewer rise vertically up the canvas, rather than plunge deep within any implied corner of a real kitchen.
Vision After the Sermon (Jacob's Fight with the Angel) (1888)
Artist: Paul Gauguin (Read Full Artist Overview, Biography, and Artworks pages)
Vision after the Sermon represents a significant departure from the subject matter of Impressionism, namely the city or rural landscape, which was still quite prevalent in Europe and the United States during the last two decades of the 19th century. Instead of choosing to paint pastoral landscape or urban entertainments, Gauguin depicted a rural Biblical scene of praying women envisioning Jacob wrestling with an angel. The decision to paint a religious subject was reminiscent of the Renaissance tradition, yet Gauguin rendered his subject in a decidedly modern style derived in part from Japanese prints, his own experiments in ceramics, stained-glass window methods, and other popular and "high art" traditions, finally emphasizing bold outlines and flat areas of color.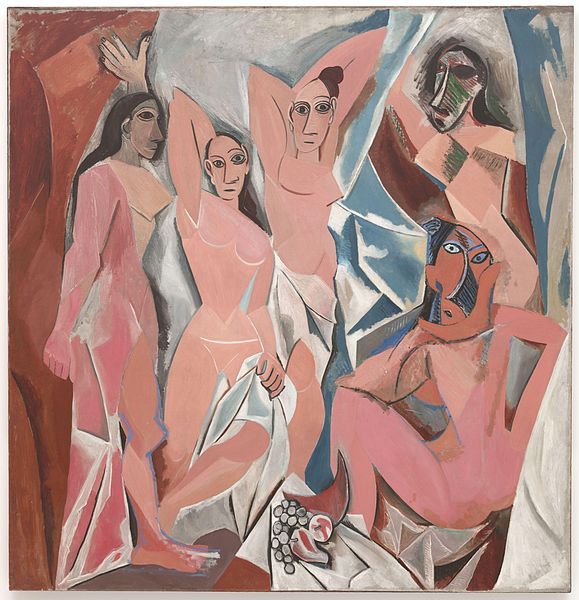 Les Demoiselles d'Avignon (1907)
Artist: Pablo Picasso (Read Full Artist Overview, Biography, and Artworks pages)
This painting was shocking even to Picasso's closest artist friends both for its content and its execution. The subject matter of nude women was not in itself unusual, but the fact that Picasso painted the women as prostitutes in aggressively sexual postures was novel. Picasso's studies of Iberian and tribal art is most evident in the faces of three of the women, which are rendered as mask-like, suggesting that their sexuality is not just aggressive, but also primitive. Picasso also went further with his spatial experiments by abandoning the Renaissance illusion of three-dimensionality, instead presenting a radically flattened picture plane that is broken up into geometric shards, something Picasso borrowed in part from Paul Cézanne's brushwork. For instance, the leg of the woman on the left is painted as if seen from several points of view simultaneously; it is difficult to distinguish the leg from the negative space around it making it appear as if the two are both in the foreground.

The painting was widely thought to be immoral when it was finally exhibited in public in 1916. Braque is one of the few artists who studied it intently in 1907, leading directly to his Cubist collaborations with Picasso. Because Les Demoiselles predicted some of the characteristics of Cubism, the work is considered proto or pre Cubism.