Norman Lewis
American Painter
Born: July 23, 1909
Harlem, New York
Died: August 27, 1979
Harlem, New York
...the goal of the artist must be aesthetic development, and in a universal sense, to make in his own way some contribution to culture.
...one of the discouraging things in my own self-education, was the fact that painting pictures didn't bring about any [social] change.
When I am at work, I usually remove my state of mind from the Negro environment I live in. I paint what's inside, and like to think of it as a very personal, very individual environment. Being Negro, of course, is part of what I feel, but in expressing all of what I am artistically I find myself in a visionary world, to which 125th Street [Harlem] would prove limited and less than universal by comparison.
...political and social aspects should not be the primary concern, aesthetic ideas should have preference.
I have been concerned not only with my own creative and technical development but with the limitations which come under the names 'African Idiom,' 'Negro Idiom,' or 'Social Painting.'
I wanted to be above criticism, so that my work didn't have to be discussed in terms of the fact that I'm black.
I used to paint Negroes being dispossessed; discrimination, and slowly I became aware of the fact that this didn't move anybody, it didn't make things better.
Summary of Norman Lewis
Norman Lewis, a leading African-American painter, was an important member of the Abstract Expressionism movement, who also used representational strategies to focus on black urban life and his community's struggles. Lewis's work is characterized by the duality of abstraction and representation, using both geometric and natural forms, in the depiction of both the city and natural world, and expressing both righteous anger and joyous celebration. His paintings are singled out for their linear, calligraphic lines, along with his bright, expressive palette and atmospheric effects. Unlike other Abstract Expressionists, his technique and content never wholly gave over to the subjective. Often overlooked in art history studies, there has been a renaissance of interest in Lewis's oeuvre since the 1990s.
Accomplishments
Lewis ceased painting Social Realist works in the early 1940s because he found the style was not effective to counter racism. He saw abstraction as a strategy to distance himself from racial artistic language, as well as the stereotypes of his time. Abstraction proved an important means to both artistic freedom and personal discovery.
One marker of Lewis's work is his frequent use of the color black, which appears to predate that of his friend and fellow artist Ad Reinhardt. However, for an artist who was concerned with race and racism in America, painting during the turbulent 1950s and 1960s, it's hard not to see social commentary in his choice of palette.
Lewis garnered important gallery representation and was involved with several key events of the Abstract Expressionist movement, this despite the racism of the art world and American segregation of the 1940s and 1950s.
Biography of Norman Lewis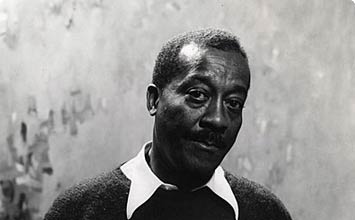 Norman Lewis was born in Harlem, which at the time of his birth was a predominantly Italian and Jewish neighborhood, with few African American families, an imbalance which made him keenly aware of racial inequality at a very young age. Lewis recognized that he wanted to be an artist when just nine years old. In high school, he studied drawing and commercial design. At age 20, Lewis was employed as a seaman on a freighter and spent several years traveling about South America and the Caribbean. Upon leaving this position, he returned home to New York where he began to work, study, and, later, exhibit as an artist.
Important Art by Norman Lewis
Influences and Connections
Influences on Artist
Influenced by Artist
Influences on Artist
Artists
Augusta Savage
Influenced by Artist
Artists
Herbert Gentry

Charles White

Elizabeth Catlett
Friends
Charles Alston
Useful Resources on Norman Lewis