Yayoi Kusama Artworks
Japanese-American Painter, Sculptor, Photographer, Installation, Performance, and Conceptual Artist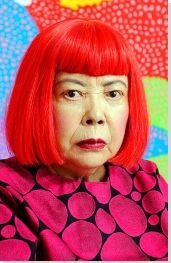 Progression of Art
1953
The Woman
When Kusama moved to the United States, the first works she exhibited were her watercolors. These first works on paper showed the artist breaking free from the traditional Japanese artistic practices she was taught as a child and embracing Western artistic influences, especially in regards to abstraction. The Woman is one of these earlier abstract works. The watercolor depicts a singular biomorphic form with subtle dots in the center floating in a seemingly black abyss. The form is reminiscent of female genitalia with red spikes surrounding it. The overall effect of the work is aggressive and bizarre, showing signs of Kusama's struggles with mental illness and anxiety towards sex.

From a very young age, Kusama experienced hallucinations in which a single pattern would engulf everything in her field of vision. As Kusama explains, "one day I was looking at the red flower patterns of the tablecloth on a table, and when I looked up I saw the same pattern covering the ceiling, the windows and the walls, and finally all over the room, my body, and the universe. I felt as if I had begun to self-obliterate, to revolve in the infinity of endless time and the absoluteness of space, and be reduced to nothingness." These themes of self-obliteration and representation of the infinite would become an obsession for Kusama as she attempted to represent what she believed to be her alternate reality. Her use of dots became the manifestation of this effort and has become the defining motif in her work.
Tempera and acrylic on paper - The Blanton Museum (Texas)
1959
No. F
Kusama's Infinity Net series marks the beginning of a radical shift in her work from the singular abstract, biomorphic forms she painted during her youth to the more obsessive, repetitive works that would define her career. They also showcase the way she used art to process her mental illness. We can see through her own words, a sense of what these paintings accomplished for the artist: "With just one polka dot, nothing can be achieved. In the universe, there is the sun, the moon, the earth, and hundreds of millions of stars. All of us live in the unfathomable mystery and infinitude of the universe. Pursuing philosophy of the universe through art under such circumstances has led me to what I call stereotypical repetition."

No. F is one of Kusama's first works from the celebrated series. From a distance the subtle painting looks delicate and monochromatic, but when viewed up close, the complexities of the canvas's surface become apparent. The bluish-grey underlay is almost completely obscured by small, white semi-circles, which consume the entire canvas and only allow the gray underlay to be visible in the form of tiny dots. The organic arched shapes all curve in the same direction, creating an undulating net that would continue on indefinitely if not for the edge of the canvas. As Kusama explains, "without beginning, end, or center. The entire canvas would be occupied by [a] monochromatic net. This endless repetition caused a kind of dizzy, empty, hypnotic feeling." This hypnotic feeling is furthermore translated to the viewer, as they are invited into the artist's mind. The thick build-up of the top layer of white paint also adds texture to the work, while the repetitive crescent shapes create an optically mesmerizing pattern that is neither random nor systematic, but instead reminiscent of things found in the natural world, such as atoms and cells. Although the obsessive and time-consuming Nets were painstaking to create, they proved therapeutic for the artist.

Begun in the late 1950s, the series coincided with Kusama's move from her oppressive homeland to New York, where she found the artistic freedom she needed to expand her art practice. Created when Abstract Expressionism was still the popular contemporary art form and Minimalism was still in its infancy, the Infinity Nets were avant-garde for their time. As a result, the Nets are both expressive and minimal, bridging the two opposing movements. For Kusama personally, her Infinity Nets have become central to her practice, and continue to influence her work.
Oil on canvas - Museum of Modern Art, New York
1962
Accumulation No.1
Accumulation No.1 is the first in Kusama's iconic Accumulations series, in which she transforms found furniture into sexualized objects. The work consists of a single abandoned armchair painted white and completely covered with soft, stuffed phallic protrusions, while fringe encircles the base of the sculpture. No longer limited by the pictorial plane of the two-dimensional canvas as with Infinity Nets, the stuffed sculpture continues Kusama's repetition compulsion in three-dimensional form.

The menacing piece is both aggressive and humorous, and also works to confront Kusama's sexual phobias. As Asia scholar, Alexandra Munroe explains, "her ambition for supremacy over men and over sexuality is relentlessly expressed in her repetitive and aggregate use of the phallus form, which can be interpreted as an aggressive will and fantasy to defy oppressive male power by possessing it symbolically herself." In doing so Kusama also abandons the typically passive role of the female.

More than just making a statement against patriarchal authority, these "compulsion furniture" pieces, as she called them, were deeply personal for Kusama as they were her way of coping with her own innate sexual anxieties. "The armchair thickly covered in phalluses was my psychosomatic work done when I had a fear of sexual vision." These anxiety-ridden pieces would become included in a new form of art which art critic and historian, Lucy R. Lippard, called 'Eccentric Abstraction'. "The makers of what I am calling...eccentric abstraction, refuse to eschew imagination and the extension of sensuous experience while they also refuse to sacrifice the solid formal basis demanded of the best in current non-objective art." As a result, Kusama's psychosexual works became a significant precursor to post-Minimalist art.
Sewn stuffed fabric, paint, and chair fringe - Museum of Modern Art, New York
1962
Sex Obsession Food Obsession Macaroni Infinity Nets & Kusama
In this piece, we see the artist splayed naked on one of her famous soft sculpture furniture pieces laden with phallic accumulations and surrounded with macaroni pasta which forms her familiar, patterns of repetition. By inserting herself into the piece, literally on top of an object that represents a manifestation of her sexual aversion, Kusama attempts to subvert her own discomfort and - in effect - to conquer it. It becomes a visual juxtaposition of her direct confrontation of a lifelong sexual aversion with the recognition of her nude self as an unmistakable, even if unwilling, object of sexual desire.

This brave presentation of herself in physical dialogue with her fears positions Kusama as a participant in the burgeoning Feminist art movement of the time and also foreshadows her work in the late 1960s in which she would use her body and the body of others in public performances. Although she is slim and stylish and positioned amongst a groovy psychedelic scene with strong, provocative visual impact, the rendering of her signature polka dots across her skin reminds the viewer that she is most comfortable when allowed to be seen as an intrinsic part of the artwork, and merely one polka dot in the universe of many.
Kusama reclining on Accumulation No.2, Infinity Net painting with macaroni carpet in the background
1966
Narcissus Garden
Narcissus Garden was Kusama's first successful experimentation with Performance art. Although officially not invited to represent Japan at the 33rd Venice Biennale nor given permission to participate by Biennale officials, Kusama nevertheless placed 1,500 plastic silver globes on the lawn near the Italian Pavilion. The twelve-inch in diameter mirrored balls were tightly arranged, creating an infinite reflective field that distorted images of reality on the surface of the balls. As in the original Greek myth in which Narcissus's admiration for his own reflection eventually causes him to drown, the viewer is forced to confront their own vanity when looking at their distorted reflection on the surface of the balls.

Kusama also placed two signs at the installation that read: "NARCISSUS GARDEN, KUSAMA" and "YOUR NARCISSIUM FOR SALE". During the opening week of the Biennale the artist acted like a street peddler selling the balls for two dollars, while also distributing flyers with Herbert Read's flattering remarks about her work. While she hawked her wares, Kusama wore a gold kimono blatantly drawing attention to her "otherness" as foreigner, and highlighting the desire for fame that Kusama would seek throughout her life. And while angry Biennale officials immediately put a stop to her panhandling, the installation remained for the duration of the Biennale. As art historian Danielle Shang explains, the work has been "interpreted by many as both Kusama's self-promotion and her protest of the commercialization of art" creating a sense of duality, which is present in all of Kusama's work. Since its creation fifty years ago, Narcissus Garden has been commissioned and re-installed in various settings, however now the balls float on water further referencing the Greek myth.
Plastic silver balls, gold kimono, signs - 33rd Venice Biennale, Venice, Italy
1968
Anatomic Explosion on Wall Street
Starting in 1967 until her return to Japan, Kusama made fewer art objects and instead began experimenting with the performance art of the moment, "happenings". Her first Anatomic Explosion took place on October 15th, 1968 opposite the New York Stock Exchange. The work featured nude performers dancing to the rhythm of bongo drums while Kusama, who called herself 'Priestess', painted blue dots on their naked bodies and presided over the event. The performance was in opposition of the Vietnam War and was prefaced by a press release that stated, "The money made with this stock is enabling the war to continue. We protest this cruel, greedy instrument of the war establishment." After 15 minutes the police came, putting an end to the spectacle.

To coincide with the happening, Kusama also sent An Open Letter to My Hero, Richard M. Nixon in which she wrote, "Our earth is like one little polka dot, among millions of other celestial bodies, one orb full of hatred and strife amid the peaceful, silent spheres. Let's you and I change all that and make this world a new Garden of Eden.... You can't eradicate violence by using more violence." Growing up in militaristic Japan during the trauma of World War II led Kusama to vehemently oppose war and social injustice. Her absurdly theatrical happenings, which were always overtly political, were an expression of this opposition. For Kusama, nudity represented peace and love and was used to counter the horrors and tragedies of war. And while her happenings were inherently about political and social protest, they were also another outlet for self-promotion. Kusama fully embraced Warhol's idea of the artist as celebrity, claiming, "publicity is critical to my work because it offers the best way of communicating with a large number of people... avant-garde artists should use mass communication as traditional painters use paints and brushes."
Bongo drums, blue paint, four naked dancers - Yayoi Kusama Studio
1994
Pumpkin
Pumpkin is one of Kusama's first forays into outdoor sculpture. Made specifically for the Benesse Art Site on Naoshima Island in Japan, the giant, yellow pumpkin sculpture is painted with rows of black dots fanning out from large to small around the gourd. The pumpkin's bulbous, organic form and grand scale gives the work a cartoonish appearance, highlighting how strange the natural world appears in modern culture. Created when she was living in Japan, the work also reflects a shift in Kusama's artistic practice from her earlier aggressive and politically charged works to the more kitsch works that consume her art later in life. This shift can be attributed to the transition in Japanese culture from rigid and militaristic to a full on embrace of the ridiculous and tacky, as seen in the Hello Kitty cuteness of Kawaii culture.

Kusama has also described the pumpkin motif as an alter ego, once again emphasizing how her work and identity are intrinsically intertwined. The lifelong obsession with the fruit derives from her youth and her family's nursery. "The first time I ever saw a pumpkin was when I was in elementary school and went with my grandfather to visit a big seed-harvesting ground... It immediately began speaking to me in a most animated manner. It seems that pumpkins do not inspire much respect, but I was enchanted by their charming and winsome form." Kusama has spent her whole life disassembling her identity and liberating the self through her various artistic practices, and the polka-dotted pumpkin is yet another expression of this endeavor.
Acrylic on ceramic - Benesse Art Site, Naoshima Island
2002 - present
Obliteration Room
Obliteration Room starts out as a blank canvas. Set up to resemble the interior of a domestic environment, the walls, ceiling, floor, furniture and little knick knacks are all painted sterile white. Visitors to the room are handed a sheet of round stickers of various shape and size determined by Kusama, and invited to affix them to any surface in the room. Eventually the pristine room along with the furniture is obliterated by an explosion of colorful dots.

As Munroe explains, "Kusama's art is fundamentally about obsession and the need, born of anxiety, to repeat certain acts in an attempt to free herself from that obsession. Since childhood, her art-making has been a private, atavistic ritual, a necessary inducement to repetition that leads to catharsis." In response to the trauma Kusama experienced as a child, the first iteration of the room was created specifically for children and to be an idealization of childhood. In the space, children are encouraged to violate the "look, but don't touch" policy of art museums, which for Kusama represents parental restrictions. The act of placing the dot stickers on a work of art allows the children to indirectly disobey their parents. The interactive installation was the first time Kusama moved away from creating a passive environment to creating an environment in which its realization required participation from visitors.
Furniture, white paint, colored dot stickers - First staged at the Queensland Art Gallery, South Brisbane, Australia
2016
Infinity Mirrored Room- The Souls of Millions of Light Years Away
Kusama began her Infinity Mirror Room series in the 1960s, and so far has created twenty distinct rooms. They are the culmination of her repetitive paintings, soft sculptures, and installations into an immersive environment. Infinity Mirrored Room- The Souls of Millions of Light Years Away is her most recent iteration. Each Infinity Mirror Room consists of a dark chamber-like space completely lined in mirrors. In the past, Kusama has filled these rooms with pumpkins, phalluses, and lanterns. This particular room consists of small LED lights hung from the ceiling and flickering in a rhythmic pattern creating pulsing electronic polka dots. The lights reflect off the mirrors in the intimate room creating the illusion of endless space. Only one visitor at a time can experience the installation with that singular visitor becoming integral to the work, as his or her body activates the environment once in the room.

The quiet, meditative space is a reflection on life and the inevitability of death- subjects that have fascinated Kusama since she was a child. She explains that her work "does battle at the boundary between life and death, questioning what we are and what it means to live and die." By encouraging visitors to contemplate their existence Kusama's ethereal work emphasizes the interconnectedness we have to each other and the universe. "By using light, their reflection, and so on, I wanted to show the cosmic image beyond the world where we live." Now in her ninth decade and accepting of her own mortality, the work represents more harmonious aspirations by the artist for inner and outer peace, and is seen as a progression from her early work, which sought to fight and disrupt rather than reconcile.
Mirrors, Plexiglas LED lights - Collection of the artist, The Broad Foundation, Los Angeles
Similar Art
Up to and Including Her Limits (1973-1976)
Cut Piece (1964)
Cassiopeia 1 (1960)
Sky above Clouds, IV (1965)
Related Artists
Related Movements & Topics