Yayoi Kusama
Japanese-American Painter, Sculptor, Photographer, Installation, Performance, and Conceptual Artist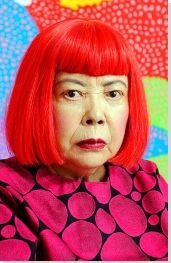 My artwork is an expression of my life, particularly of my mental disease.
I am just another dot in the world.
My art originates from hallucinations only I can see. I translate the hallucinations and obsessional images that plague me into sculptures and paintings. All my works in pastels are the products of obsessional neurosis and are therefore inextricably connected to my disease.
I fight pain, anxiety, and fear every day, and the only method I have found that relieves my illness is to keep creating art. I followed the thread of art and somehow discovered a path that would allow me to live.
I wanted to start a revolution, using art to build the sort of society I myself envisioned.
I don't consider myself an artist; I am pursuing art in order to correct the disability which began in my childhood.
I did not have any purpose. I felt that art and life were useless. I painted boredom, which is more important in life than the effect of sunlight, which [is what] the Impressionists painted.
I want to become more famous, even more famous.
One day, I suddenly looked up to find that each and every violet had its own individual, human-like facial expression, and to my astonishment they were all talking to me. Suddenly things would be flashing and glittering all around me. So many different images leaped into my eyes that I was left dazzled and dumbfounded.
If it were not for art, I would have killed myself a long time ago.
Summary of Yayoi Kusama
Yayoi Kusama's life is a poignant testament to the healing power of art as well as a study in human resilience. Plagued by mental illness as a child, and thoroughly abused by a callous mother, the young artist persevered by using her hallucinations and personal obsessions as fodder for prolific artistic output in various disciplines. This has informed a lifelong commitment to creativity at all costs despite the artist's birth into a traditional, female-effacing Japanese culture and her career's coming of age in the male dominated New York art scene. Today, Kusama reigns as one of the most unique and famous contemporary female artists, operating from her self-imposed home in a mental hospital.
Accomplishments
When Kusama began to see hallucinations as a child, her way of coping with the bizarre phenomena was to paint what she saw. She says that art became her way to express her mental disease. This most notably is seen in her Infinity Net paintings based on repetitive patterns and her installations in which she creates elaborate environments overrun with polka dots or tiny points of light.
In much the same fashion as Kusama uses art to process hallucinations, she also uses her work to confront personal phobias, especially a fear of sex stemming from a witnessing of her father's womanizing. This reveals itself through her "compulsion" soft sculptures and furniture pieces covered in myriad phallic forms.
Her familiarity with fighting for her life, and her compassion for others involved in causes against injustice, led Kusama to briefly associate with many subcultural movements of her time such as the hippie culture of the 1960s and the feminist movement.
For Kusama, artmaking became an essential survival mechanism. It was her sole tool for making sense of a world in which she dwelt on the periphery of normative experience, and as a result became the very thing that allowed her to assimilate successfully into society.
Biography of Yayoi Kusama
Born in 1929 in Matsumoto, Japan, Kusama grew up as the youngest of four children in an affluent family. However, her childhood was less than idyllic. Her parents were the product of a loveless, arranged marriage. Her absent father, emasculated by the fact that he had to take his wife's surname as a condition of marrying into the wealthy family, spent most of his time away from home womanizing, leaving his angry wife to physically abuse and emotionally torment her youngest child. She would often send her daughter to spy on her father's sexual exploits, the mental trauma of which caused Kusama to have a permanent aversion to sex and the male body.
Important Art by Yayoi Kusama
Influences and Connections
Influences on Artist

Influenced by Artist

Influences on Artist
Artists
Vasily Kamensky

Useful Resources on Yayoi Kusama