R.B. Kitaj
American Painter and Printmaker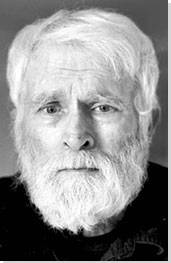 Born: October 29, 1932
Cleveland, Ohio
Died: October 21, 2007
Los Angeles, California
I carry themes in my mind for years before I will try to compose them. I've got themes that will last me now 'til I die.
Summary of R.B. Kitaj
The idea that art and intellectualism should harmonize was, and remains indeed, a contentious issue within the artistic community. As an unapologetic intellectualist, and an artist who in his later career published a two volume manifesto, R. B. Kitaj tended to inflame opinions on that debate. During the 1950s and early 1960s, the period when his analytical figurativism began to coagulate, the fashion (seemingly) was for the anti-intellectual outlooks advocated by the Abstract Expressionists and the Pop artists. Kitaj was however learning his trade in Europe where he was drawn stylistically towards the most eminent figurative artists, namely David Hockney, Lucian Freud, and Francis Bacon.

Later, in the mid-1970s, Kitaj, who had been recognized for his drawing and draughtsmanship, became influenced by decorative art and the works of Edgar Degas which led Kitaj to experiment with oils and pastels. By the early 1980s he was living and working in London, producing his First Diasporist Manifesto - in which he proclaimed that the genesis (and genius) of Jewish culture and creativity is born from the 'diasporist' space the geographically dispersed Jewish people inhabit. During his later period his painting also took on a new mournful dimension as he used his brush to grieve his late wife.
Accomplishments
Despite an early feeling for spontaneity, surrealist automatism and the drip technique as practiced by the New York School, Kitaj was to cultivate a resolute commitment to art and intellectualism. He did not then subscribe to the Greenbergian philosophy of pure abstraction; nor indeed to the purists principle of 'art-for-art's-sake'. Rather, he espoused the idea of a radical social art that would allow for "good pictures" and "great pictures" to enrich "modest lives".
A cornerstone of the Social Realist project was its pledge to represent the lives of the ordinary and/or oppressed subjects unambiguously. Kitaj's approach was to make his social commentary both gestural and highly personal. His figurative approach did not respect the normal rules of pictorial verisimilitude while his work's allusions and citations to historical and cultural events typically aligned with his self-referential Jewish identity.
In 1976, Kitaj curated the 'Human Clay' exhibition at London's Hayward Gallery in which he revived interest in figurative art. The exhibition was noteworthy not least for a catalogue that featured an influential essay by Kitaj in which he coined the term 'School of London'. That definition referred to a cadre of London-based artists - amongst them Lucian Freud, Francis Bacon, David Hockey, Frank Auerbach, and Leon Kossoff, and Kitaj himself - who, counter to the fashion amongst avant-gardists for minimalism and conceptualism, helped reinvigorate the critical fortunes of figurativism.
Kitaj's worldview was encapsulated in two volumes: The First Diasporist Manifestos published in 1989 and The Second Diasporist Manifestos, A New Kind of Long Poem in 615 Free Verses published in 2007 (the year of his death). The manifestos, the first of which appropriated the Commandments of Jewish Law, featured illustrations and text that might be best thought of as streams of consciousness through which Kitaj sought to "unpack the cultural secrets" of the Jewish people and to offer his thoughts on "HOW TO DO A JEWISH ART" (sic). He went about this task by producing a series of images and proposals on contemporary art and art criticism and, in the second volume, offered further observations and suggestions for all artists working in exile. For advocates of Kitaj, his manifestos were important because together they presented a blueprint that allowed for, in the artist's own words, "a commonality (for painting) in dispersion which has mainly been seen before only in fixed places''.
Biography of R.B. Kitaj
Robert Brooks was born to a Hungarian father and Russian-Jewish mother in Cleveland, Ohio in 1932. Kitaj's biological father, Sigmund Benway, and his mother, Jeanne Brooks, separated shortly after their son's birth. Robert's mother brought her son up on her own during his formative years, earning her living as a steel mill worker and as a teacher, before marrying the Austrian research chemist Walter Kitaj (pronounced "key-tie") - who, like Brooks was an émigré and a secular Jew - in 1941. Kitaj's interest in art was kindled at the Cleveland Museum of Art where he took art classes in addition to his high school education. On leaving high school in 1949, Kitaj 'ran away to sea' joining the crew of the SS Corona, a Norwegian freighter. He worked as a merchant seaman for some five years; his travels taking him as far afield as Cuba, Latin America, and Europe.
Important Art by R.B. Kitaj
Influences and Connections
Influences on Artist
Influenced by Artist
Influences on Artist
Artists
Chris Prater

Sandra Fisher

Aby Warburg
Friends
Brian Sewell

Andrew Graham-Dixon

Philip Roth

Edgar Wind
Influenced by Artist
Artists
Leon Kossoff

Chris Prater
Friends
Philip Roth

Richard Morphet

MJ Long
Useful Resources on R.B. Kitaj