Angelica Kauffman
Swiss Painter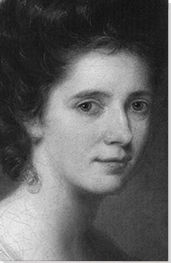 Born: 1741
Chur, Switzerland
my love for my fatherland will not die in my heart
My portrait or rather the painting that I made for the gallery in Florence was received kindly. A couple of days ago I had letters that placed me in a very good light and compared me to a serious man, none other than Michel Angiolo Buonarroti - I would I could stand alongside him in my works and not only in effigy but he is too terrifying
But the sadness in my soul at the loss of my so dearly beloved father and my beloved sister has scarcely diminished if at all...it is a wound in my heart that will never heal as long as I live
Summary of Angelica Kauffman
A remarkable pioneer, Angelica Kauffman made art similar to other talented women artists but did so not from the fringes, but from the very center of the recognised British art establishment. She was cultured, widely travelled, and multi-lingual from childhood. As a great friend to both Joshua Reynolds and Johann Wolfgang Goethe she was well connected, highly respected and much loved by some of the most influential artists of her day. As such, she was one of only two women to officially sign the founding document for the establishment of the Royal Academy in London. She managed to wholly avoid destructive ridicule and sexual innuendo that often followed women trying to make their way as artists at this time.

Despite being rebellious and individual by nature, always preferring the imaginative rather than imitative approach to art, Kauffman remained clever and careful to always take convention into consideration as the way to maintain a good reputation and secure the smooth progression of her career. Although predominantly a traditional Neoclassical painter, throughout her career there is a tendency to reflect and to maintain the steady production of self-portraits alongside portraits of notable figures and large historical canvases. She was married to the Venetian artist, Antonio Zucchi, and in death was honored by her friend - the iconic sculptor Antonio Canova - who organised her funeral and carved her tomb.
Accomplishments
Kauffman was a child prodigy. Taught by her artist father from an early age - a great influence throughout her life - she painted a highly accomplished portrait of herself at age thirteen. This was one of the ways that women ensured a good reputation in a male dominated world - by showing that their talent was born early - and some of her notable female portraitist forbears, including Sofonisba Anguissola and Anna Waser, did the same.
In both the self-portrait that Kauffman made as a young girl, and in another painting made at age fifty, she reveals that she was a talented musician as well as an artist and felt torn between the two vocations throughout her life. In the childhood portrait she holds up sheet music and in the later allegorical painting positions herself between the figures of art and music. She successfully makes visible a psychological tension and therefore looks forward to the grappling of selfhood through art (a pursuit by many in the 20th century).
In a number of works, Kauffman presented her own self-portrait in many guises, inserted as a character in a history painting and as a working artist. She also shows herself holding her portfolio in relaxed pose traditionally established to show the amateur female artist at work. Most professional painters stirred away from any such association with the amateur as this could devalue their work. Kauffman however, always humble and modest, seems to have the confidence to display her elevated talent whilst maintaining strong identification with the everyday woman.
For history painters - history being the most elite and lucrative category in painting and not common for a woman - it was recognised as tradition that muses and personifications of ideas were often depicted as female. The artists, however, were typically male. As opposed to norms, Kauffman always included the figure welding the brush or pencil to be a woman, thus making the profound early statement that women are not only models for inspiration, but also the makers of art.
Biography of Angelica Kauffman
As an unrivaled painter and queen of self-promotion, Angelica Kauffman's fame was also her downfall. Although the art-loving public were crazy about her work, rumor and slander dogged her personal life leading her to burn most of her personal papers before her death.
Important Art by Angelica Kauffman
Influences and Connections
Influences on Artist
Influenced by Artist
Influences on Artist
Artists
Johann Joseph Kauffman

Rosalba Carriera

Michel Angiolo Buonarroti
Friends
Johann Wolfgang von Goethe

George Keate
Movements
sentimentalism
Influenced by Artist
Artists
Anne Thackeray Richie

W. W. Ryland
Friends
Johann Wolfgang von Goethe

George Keate
Useful Resources on Angelica Kauffman