Victor Horta
Belgian Architect and Designer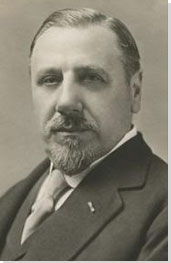 Born: January 6, 1861
Ghent, Belgium
Died: September 8, 1947
Brussels, Belgium
I'm telling you, the materials are the same, you know as well as I do. Anyways, while in the past they were used in an empirical manner, a way which did not allow them to work to the limits of their safety due to the fear of the unforeseen, on the other hand, our era, thanks to the experiences and mathematical formulas that it has deduced, is capable of unknown and daring constructions.
Summary of Victor Horta
Many creative minds have been said to be undisciplined in their youth. Belgian architect Victor Horta's biographers have even gone further, describing him as "lazy" and a "dunce" as a teenager. Apparently, Horta's father eventually had enough, and as punishment, at age 16 Horta was sent to work on a construction site. There, as he later recalled, he had an epiphany, and saw the rest of his life laid out before him. Indeed, Horta would go on to become one of his country's most accomplished and innovative architects, and one of the first following Belgian independence to achieve international renown, as one of the founders of Art Nouveau in the 1890s. Horta turned to Art Deco as his professional fortunes declined in the aftermath of World War I, and though he was later to receive numerous honors late in life, he had faded largely into obscurity by the time of his death, and several of his key works have been lost. In the last fifty years Horta's reputation has dramatically recovered and he is now recognized for being one of the world's key designers at the dawn of the 20th century.
Accomplishments
Horta is famous for his pioneering work in Art Nouveau and the translation of the style from the decorative arts into architecture in the early 1890s. Horta's inventiveness with Art Nouveau helped to make it something of a national style in Belgium by 1900 before its swift demise in advance of World War I.
Horta's work in Art Nouveau is marked by a keen understanding of the capabilities of industrial advances with iron and glass as structure and infill. Horta's buildings disclose an honest handling of their materials' properties, particularly the ability of iron to be twisted and bent into hairpin forms that extend seamlessly into the accompanying décor, inside and out, making the buildings "total works of art."
Horta was an adaptable architect who transitioned from Art Nouveau to other styles such as Art Deco as public tastes dictated. Though Horta was respected during his lifetime for his brilliance with Art Nouveau, he himself predicted the style's own demise and that many of his works would be demolished eventually.
Biography of Victor Horta
Victor Horta was born in Ghent on 6 January 1861 into a large family. His father, Pierre Horta, was a luxury shoemaker, who, according to Victor, "ran his studio with such an air of superiority that for him it became an art." Victor was attracted to music at a young age, learning to play the violin. It appeared to be one of the very few things he was passionate about; nonetheless, at age 12 he was first attracted to architecture when he helped his uncle on a building site.
Important Art by Victor Horta
Influences and Connections
Influences on Artist
Influenced by Artist
Influences on Artist
Artists
Alphonse Balat

Godefroy Devreese

Eugene Viollet-le-Duc
Friends
Paul Hankar

Max Hallet

Leon Furnemont

Emile Tassel

Edmond van Eetvelde
Movements
La Libre Esthetique

Les XX
Influenced by Artist
Artists
Gustave Bovy Serrurier

Marcel Wolfers

Philippe Wolfers

Jean Delhaye
Friends
Charles Atlas

Pierre Braecke
Useful Resources on Victor Horta