Artworks by Hans Hofmann
The below artworks are the most important by Hans Hofmann - that both overview the major creative periods, and highlight the greatest achievements by the artist.
The Wind (c. 1944)
Pictures such as The Wind have been at the center of a long controversy over whether Hofmann inspired Jackson Pollock's use of the drip technique. Some have claimed that Pollock saw pictures like this when he visited Hofmann's studio in 1942, and that this inspired his first use of poured paint in 1943.It was first thought that this work was produced in 1942, but now, professionals believe, that The Wind was produced around 1944, and that it was Pollock and Hofmann's twin interest in the work of André Masson, among others, that led both men to experiment with dripped paint at the same time.
Self-Portrait with Brushes (1942)
Hofmann created many self-portrait drawings and paintings, usually depicting himself at work. Self-Portrait with Brushes is typical of his approach, yet it stands out in the way it combines styles to create an expressive character sketch. Using bold outlines to exaggerate his own features - creating a broad triangular nose and tousled hair - Hofmann projects a playful persona in a blue on yellow palette set within the interior space of his studio.
From Our Sponsor. Article Continues Below
Ecstasy (1947)
In 1947, Hofmann abandoned painting on board and began to use canvas. He also began to explore a wider variety of styles, and Ecstasy reflects his experiments, showing his continued loyalty to European masters such as Joan Miro and Hans Arp at a time when many of Hofmann's American colleagues were trying to overcome European influences.
The Conjurer (1959)
Moving from geometric into fluid forms and a more intense color range, The Conjurer demonstrates the diversity of Hofmann's mature style. He uses density of color and constellations of shapes to evoke psychological and spatial relationships, rather than objective reality.
The Garden (1956)
Revisiting one of his earliest inspirations, Pointillism, Hofmann here uses thick dabs of paint to create the mosaic of polychromatic textures that structures the composition. The flowers depicted were those grown by his first wife, Miz, and the sumptuous blooms that emerge and recede in the picture create a dynamism that makes the color swirl.
From Our Sponsor. Article Continues Below
To Miz - Pax Vobiscum (1964)
Hofmann's first wife, Miz, was a constant support and companion to him for almost 60 years, and after her death he painted this vibrant canvas as a memorial. He used the relationship of bright colors to create shapes expressing his feelings of loss.
Related Artists and Major Works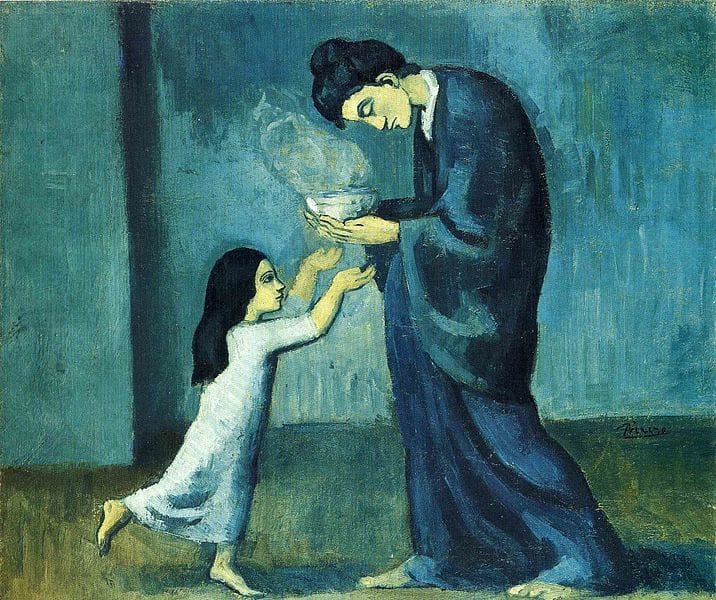 The Soup (1902-03)
Artist: Pablo Picasso (Read Full Artist Overview, Biography, and Artworks pages)
La Soupe is characteristic of the somber melancholy of Picasso's Blue Period, and it was produced at the same time as a series of other pictures devoted to themes of destitution, old age, and blindness. The picture conveys something of Picasso's concern with the miserable conditions he witnessed while coming of age in Spain, and it is no doubt influenced by the religious painting he grew up with, and perhaps specifically by El Greco. But the picture is also typical of the wider Symbolist movement of the period. In later years Picasso dismissed his Blue Period works as "nothing but sentiment"; critics have often agreed with him, even though many of these pictures are iconic, and of course, now unbelievably expensive.
Bathers by a River (1917)
Artist: Henri Matisse (Read Full Artist Overview, Biography, and Artworks pages)
Matisse regarded this picture as one of the most important in his career, and it is certainly one of his most puzzling. He worked on it at intervals over eight years, and it passed through a variety of transformations. The painting evolved out of a commission from Matisse's Russian patron, Sergei Shchuckin, for two decorative panels on the subjects of dance and music, and, initially, the scheme for the picture resembled the idyllic scenes he had previously depicted in paintings such as Joy of Life (1905-06). However, his transformations gradually turned it into more of a confrontation with Cubism, and it is for this reason that the picture has been the subject of intense scrutiny. Although Matisse rejected Cubism, he certainly felt challenged by it, and this picture - along with many he painted from 1913 to 1917 - seems to be influenced by the style, since it is very unlike his previous, more decorative work. It is far more concerned with faithful representation of the structure of the human figure, and its position in space. The painting might be compared to The Backs series (1909-31), which also preoccupied Matisse the years he was working on Bathers, since both address the problem of depicting a three-dimensional figure against a flat background.
Balustre et Crane (1938)
Artist: Georges Braque (Read Full Artist Overview, Biography, and Artworks pages)
Balustre et Crane predicts a series of still lifes Braque created called Vanitas, in which objects symbolize agony or mental misery. He painted skulls repeatedly following his return from war and during the onset of World War II. In these paintings, Balustre et Crane in particular, Braque uses a bright array of colors to represent emotional reactions to the political discomfort he felt about the war.