Hans Hofmann Artworks
German-American Painter and Theoretician
Born: March 21, 1880
Weissenberg, Bavaria
Died: February 17, 1966
New York City, NY
Progression of Art
c. 1944
The Wind
Pictures such as The Wind have been at the center of a long controversy over whether Hofmann inspired Jackson Pollock's use of the drip technique. Some have claimed that Pollock saw pictures like this when he visited Hofmann's studio in 1942, and that this inspired his first use of poured paint in 1943.It was first thought that this work was produced in 1942, but now, professionals believe, that The Wind was produced around 1944, and that it was Pollock and Hofmann's twin interest in the work of André Masson, among others, that led both men to experiment with dripped paint at the same time.
Oil, duco, gouache and India ink on poster board - Collection University of California, Berkeley Art Museum
1942
Self-Portrait with Brushes
Hofmann created many self-portrait drawings and paintings, usually depicting himself at work. Self-Portrait with Brushes is typical of his approach, yet it stands out in the way it combines styles to create an expressive character sketch. Using bold outlines to exaggerate his own features - creating a broad triangular nose and tousled hair - Hofmann projects a playful persona in a blue on yellow palette set within the interior space of his studio.
Casein on plywood - Andre Emmerich Gallery, New York
1947
Ecstasy
In 1947, Hofmann abandoned painting on board and began to use canvas. He also began to explore a wider variety of styles, and Ecstasy reflects his experiments, showing his continued loyalty to European masters such as Joan Miro and Hans Arp at a time when many of Hofmann's American colleagues were trying to overcome European influences.
Oil on canvas - University of California, Berkeley Art Museum
1959
The Conjurer
Moving from geometric into fluid forms and a more intense color range, The Conjurer demonstrates the diversity of Hofmann's mature style. He uses density of color and constellations of shapes to evoke psychological and spatial relationships, rather than objective reality.
Oil on canvas - Collection of Stadtische Galerie im Lenbachhaus, Munich
1956
The Garden
Revisiting one of his earliest inspirations, Pointillism, Hofmann here uses thick dabs of paint to create the mosaic of polychromatic textures that structures the composition. The flowers depicted were those grown by his first wife, Miz, and the sumptuous blooms that emerge and recede in the picture create a dynamism that makes the color swirl.
Oil on Plywood - University of California, Berkeley Art Museum
1964
To Miz - Pax Vobiscum
Hofmann's first wife, Miz, was a constant support and companion to him for almost 60 years, and after her death he painted this vibrant canvas as a memorial. He used the relationship of bright colors to create shapes expressing his feelings of loss.
Oil on canvas - Collection Modern Art Museum of Forth Worth, Museum purchase
Similar Art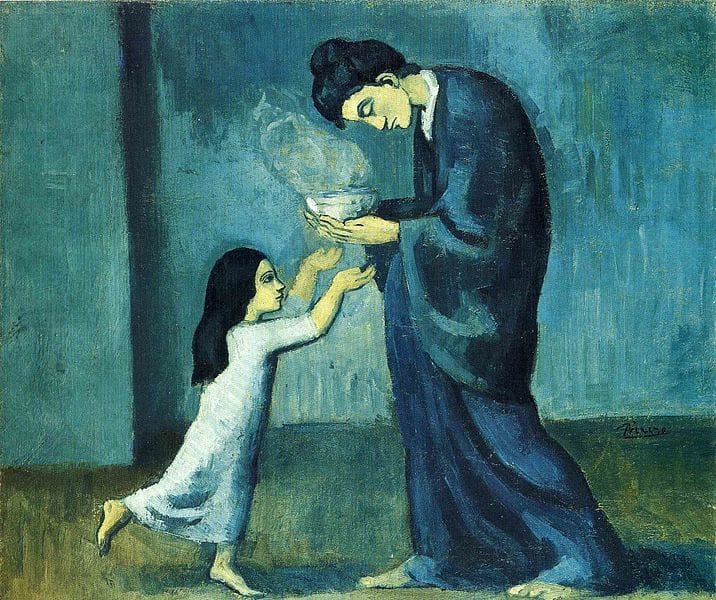 The Soup (1902-03)
Bathers by a River (1917)
Balustre et Crane (1938)
Related Artists
Related Movements & Topics