Howard Hodgkin Artworks
English Painter and Printmaker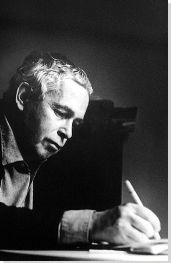 Born: August 6, 1932
Hammersmith, London, UK
Died: March 9, 2017
London, UK
Progression of Art
1965-69
Indian Subject (Blue)
This work is a typical example of the semi-abstract, loosely representational style that Hodgkin developed in the 1960s, in which the picture-surface is smooth and flat, constructed from areas of rectilinear, brilliantly colorful paint. A distinction between ground below and sky above is implied by a break between the various outlined shapes suggested in the lower half of the painting - a palm, a pink oval, a yellow circle, a blue triangle - and the flowing area at the top, consisting of reds, pinks and yellows. The work suggests Hodgkin's attempts to visually imbibe the dazzling colors of the Indian subcontinent, which contrasted so strongly with the muted palette he associated with England. It was an ambience he sought to capture frequently for the rest of his career.

This is the first painting that Hodgkin made using a wooden panel support, an important milestone in the development of his distinctive technique and style. The panel support was significant because it later permitted him to make more gestural applications of the paintbrush. Where a canvas is more responsive to the artist's touch, absorbing some of the paint applied to it, the rigidity of a panel allows the paint to remain pronounced from the support, and for it to retain a clearer impression of the brush that applied it. The title, Indian Subject (Blue), indicates that the picture was painted in India, which Hodgkin had first visited in 1964, just a year before starting this work. He noted that the painting represented a scene at Kishangarh in the state of Rajasthan, showing that despite his abstract manner, the inspiration for this painting and others sprang from an immediate and vivid sensory experience. His intention, as such, was that the picture should convey to the viewer something of a personal emotional world rather than a pure, inhuman abstraction.
Oil on wood - private collection
1975
Grantchester Road
Like all of Hodgkin's mature work, this painting lies somewhere between representation and abstraction. The title, and certain details of the painting itself, suggest that we are looking into a domestic interior. In the middle of the picture are a chimney breast and perhaps a small fireplace, though both motifs are incorporated into a partly non-representational arrangement of colorful shapes. Hodgkin also used strong patterning to create surface-effects bearing no resemblance to any subject-matter. The spots which dominate this composition - black on orange at the edges, red on blue and orange on the chimney breast - are distinctive of his style of painting during the first mature stage of his career.

In an interview with Timothy Hyman, Hodgkin once described his working process as "a kind of desperate improvisation", and this is evident in the resounding mixture of color and pattern in Grantchester Road. Starting from a memory of a place or social interaction, Hodgkin added layer upon layer of paint to his work to try to generate a satisfactory visual expression of that memory. Art historian Frances Spalding has described Hodgkin as "[m]ore concerned with the emotional than the visual reality of the scene[.] Hodgkin deliberately avoids the illustrational and works with shapes that are impersonal [...] forging with these an immediately recognizable personal language".

The bold arcs of black and pink paint floating at the surface of this work were evidently late additions, not intended to obscure what lay beneath, but rather to enhance the whole picture. Indeed, this additive process - the layering of different patterns and shapes on top of each other - is a distinguishing feature of Hodgkin's practice. It gave his work a very personal appearance, and Grantchester Road is a marked and highly successful instance of Hodgkin's "desperate improvising".
Oil on wood - Pallant House Gallery, Chichester
1984-89
Rain
This work, in the style that is perhaps most readily associated with Hodgkin, demonstrates the impressive fluency that he had achieved as a painter by the 1980s. The brushwork in Rain is broader, his use of color is more focused and cohesive, than in earlier works, and he seems less concerned with suggesting a representational setting, though he continues to generate a subtle sense of depth. As with many of his later works, the painted frame - created with loosely handled applications of a loaded brush - is a prominent feature. We seem to peer through this frame into a central space containing a receding landscape, or perhaps a more abstract space, consisting of a patchwork of single brushstrokes laid on top of one another. Having previously created pictures on a domestic scale, the size of Rain - nearly two meters wide - partly reflects the institutional recognition and creative freedom that Hodgkin was enjoying at the time. The curator Nicholas Serota wrote at the time of Hodgkin's death that "[a]s his confidence grew his paintings became bigger, and he painted with so much more confidence, almost with abandon."

Hodgkin had an abiding interest in the manner by which a painting was framed. The effect of the painted frame here is to engage the viewer with a particular and characteristically modernist kind of intimacy. Breaking down the Renaissance theory of the picture as a window into an imaginative space, the incorporation of the frame into the picture suggests the picture's object-like quality: as a thing which hangs on a wall, and can be directly and sensually engaged with. Indeed, because there was often no extraneous frame separating his pictures from the walls on which they hung, Hodgkin paid close attention to the color of gallery-walls when involved with retrospective exhibitions of his work. On various occasions, he hung work against walls of duck-egg blue, dove-grey, green, gold and ultramarine. This concern with wall-color reflects the importance of the new conceptual and technical paradigm that Hodgkin was expressing with self-framed works such as Rain.
Oil on composite panel - Tate Gallery, London
1992
Put Out More Flags
Though at first sight this work closely resembles one of Hodgkin's oil paintings, it is in fact a print, made using an ingenious process of layering that cunningly imitates the finish of his paintings. The first layer of the print, consisting of the horizontal black and vertical green stripes, was created from a copper plate using a lift-ground etching technique. Unlike conventional aquatint printing, this involves painting the plate with a water-soluble medium, directly applying the design to be transferred to the final print. The next layer, the gritted black and purple form in the center of the print, was created from three aluminum plates covered in carborundum, a hard silicate that achieves a textural finish. Finally, a vivid surface-layer of yellow, blue and orange tempera was created by Hodgkin's collaborator of this period, Jack Shirreff.

This work shows the sophisticated printmaking procedure that Hodgkin had developed by the later stage of his career. Though printmaking is necessarily repetitive and mechanical, his practice involved both technical skill and handicraft, as is evident in the final layers of hand-applied tempera. This hand-finished aspect resulted in slight variations between each print in the edition; unlike other print-series, no two prints in Hodgkin's editions are identical. He first conceived the idea of hand-finishing his prints in 1977, but achieved a consummate level of technical precision over the following years and decades. Works such as Put Out More Flags might indicate the important and original contribution that Hodgkin made to twentieth-century printmaking in Britain.
Etching and aquatint with carborundum and hand-coloring in tempera - College Park Corporation, New York
2000-03
Come into the Garden, Maud
This late work shows Hodgkin's growing preference for quickly conceived and completed works. As early as 1975, he was revealing the picture support in his work, by choosing not to cover the entire panel surface in paint. With Come into the Garden, Maud, this strategic disclosure of the frame takes on central significance. Rather than apply paint thickly and in consecutive layers, as he had done with his early work, Hodgkin uses the wooden support as a ground upon which to arrange a constellation of pointillist markings. Though remarkably different from his early work, Come into the Garden, Maude is still unmistakably a painting by Howard Hodgkin, featuring elaborate patterning and bold application of paint.

Hodgkin frequently gave his paintings allusive titles, intended to suggest a memory of a place, a person, or a moment. He was notoriously reluctant to explain his paintings, however, and it is often unclear what they refer to, in spite of these teasing references. "Come into the Garden, Maude" is a line from Alfred, Lord Tennyson's poem Maude, A Monodrama (1857), though the relevance of this to the painting is ambiguous; indeed, in stylistic terms, the piece primarily seems like a homage to the Post-Impressionist styles of late-nineteenth-century France. Hodgkin preferred to convey a mood to his audience, rather than explain what he meant in precise terms. His close friend, the novelist Julian Barnes, once wrote that "[h]is pictures often have titles which seem to imply a narrative. And yet here is the paradox: there is rarely a narrative visible in, or extractable from, his pictures. Sometimes he is teasing us." This pleasurable game of suggesting meaning while withholding it is nowhere more apparent than Come into the Garden, Maude.
Oil on wood - Tate Gallery, London
2015-16
Now
This highly gestural painting was completed in the final year of Hodgkin's working life. It shows the brevity of technique that he had achieved during the last years of his career, using an absolute minimum of visual activity while still delivering a complex finish to his work. This painting offers a playful exposition of the idea of incompleteness: at first, it even seems that the painting may be unfinished, as so much of the panel remains untreated. The blank board isolates and conceptually transforms the paint-surface at its center, turning it from mere paint into a visual document of the activity of painting as such. We seem to witness the artist's act of laying on paint, partly because the imprint of his coarse brush is readily visible in the paint surface - we can see exactly where he laid it - and partly because the process of painting seems to be halted mid-flow. As the work's title suggests, it offers us a frozen moment within the process of painting.

As with much of Hodgkin's earlier work, however, the work also seems to allude to subject-matter beyond the picture-surface. A recurring impression in Hodgkin's work, for example, is of a dazzling sunset, and the vivid red and yellow in Now may hint at a distinction between ground and sky. The way in which the two colors overlap in the middle of the work, with the red being allowed to bleed through the yellow, is at once a masterful suggestion of the skyline on a scorching hot day, and a demonstration of the great subtly of execution that Hodgkin retained even into his eighties. Reflecting on the influences on the artist's work, curator Nicholas Serota wrote that "[h]is gift was the way that he married the traditions of 19th-century Impressionism and Post-Impression with the color of his beloved India." This comment effectively evokes the wide variety of creative sources that are brought to bear in works such as Now.
Oil on wood - Private collection
Related Artists
Related Movements & Topics