Helen Frankenthaler Artworks
American Painter
Born: December 12, 1928
New York, New York
Died: December 27, 2011
Darien, Connecticut
Progression of Art
1952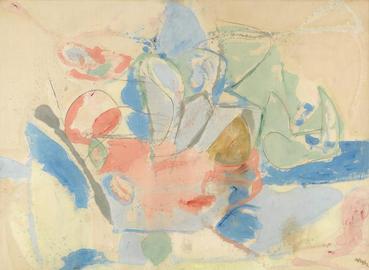 Mountains and Sea
This canvas is the artist's landmark piece in which she first pioneered her soak-stain process. Despite its large size (7 x 10 feet), it is a work of quiet intimacy. Painted on the artist's return from Nova Scotia, Mountains and Sea retains the artist's impressions of the Cape Breton environs; as she famously described, the region's landscapes "were in my arms as I did it ... I was trying to get at something - I didn't know what until it was manifest." Here, color takes on a new, primary role, with washes of pink, blue, and green defining the hills, rocks, and water, the forms of which are sketchily outlined in charcoal. Following their encounter with Mountains and Sea and other works by Frankenthaler produced by means of the soak-stain technique, Morris Louis and Kenneth Noland promptly embraced the method and, together with Frankenthaler, launched the "next big thing" in American art: Color Field Painting.
Oil on canvas - Collection Helen Frankenthaler Foundation, Inc. (on extended loan to the National Gallery of Art, Washington
1965
Canyon
The topographical features of the landscape often served as inspiration for Frankenthaler's abstract imagery. With its brilliant red wash filling most of the canvas, Canyon reflects the change in Frankenthaler's artistic practice introduced several years earlier, when she began replacing turpentine-thinned oil with watered-down acrylic poured in larger stains and blots. The painting's gentle luminosity evokes the art critic Nigel Gosling's 1964 description of Frankenthaler's work, written in connection with the artist's London gallery exhibition of that year: "If any artist can give us aid and comfort, Helen Frankenthaler can with her great splashes of soft color on huge square canvases. They are big but not bold, abstract but not empty or clinical, free but orderly, lively but intensely relaxed and peaceful."
Acrylic on canvas - The Phillips Collection
1974
Savage Breeze
Depicting an open space above a mountain-like divide, Savage Breeze was Frankenthaler's first foray into the medium of woodcut. Her concern in this work with achieving the same vibrant color and amorphous forms as her painting resulted in a major technical innovation for this art form. The artist cut a thin sheet of plywood into separately inked shapes and then, in collaboration with ULAE (Universal Limited Art Editions), the Long Island studio that printed the work, devised a special method for eliminating the white lines between them when printing. The newly designed technique - hailed by one writer as "a departure so profound that virtually all subsequent woodcuts incorporated the thinking it embodied" - had a major impact on subsequent printmaking. Indeed, Savage Breeze is far removed from the graphic appearance of the traditional woodblock print, giving the appearance of painted, rather than carved, wood.
Woodcut
1976
Desert Pass
With its minimally defined forms and earthy palette, Desert Pass is an excellent example of the ways Frankenthaler responded to the natural landscape. Inspired by a trip to the American Southwest, the painting captures the colors and forms as well as the climate of the region. Among them: yellow-gold, evoking sand as well as the desert's aridity and intense light and greenish-blue, suggesting the form and color of cacti.
Acrylic on canvas - Smithsonian American Art Museum
1977
Essence Mulberry
An eight-color woodcut, Essence Mulberry consists of a large bluish gray area containing orange markings, framed by two broad stripes of rich red. The print's palette had sources in both art history - the faded colors of 15th-century prints Frankenthaler encountered at the Metropolitan Museum of Art - and nature: a mulberry tree located outside Kenneth Tyler's printmaking studio in New Bedford, New York. Using mulberry juice to capture the tree's rich red, the artist achieved the quality of painting - defying the graphic nature and helping expand the possibilities of the medium. Printed by Tyler Graphics, Essence Mulberry was the first of Frankenthaler's many collaborations with the master printer occurring over a roughly twenty-five year period.
Woodcut composition - The Museum of Modern Art, New York
2000
Madame Butterfly
Although the central white shape suggests a butterfly, this print evokes rather than depicts its subject, with a sense of delicacy appropriate for the Japanese heroine of Puccini's tragic opera of the same name. Frankenthaler's final collaboration with Tyler Graphics, Madame Butterfly is an incredibly complex work, involving 106 colors, 46 woodblocks, and measuring 6' in length. Both its subject and the manner in which the print was created, using traditional Japanese Ukiyo-e carving techniques, reflect the artist's sustained engagement with Asian art and culture. With its color washes, floating forms, and watercolor-like effect, Madame Butterfly is reminiscent of works like Mountains and Sea - a seeming realization of the soak-stain technique in the medium of woodcut.
Woodcut
Similar Art
The Conjurer (1959)
The Blue Painting Lesson: A Study in Painterly Logic, number one of five (1973)
Related Artists
Related Movements & Topics