Cassils
Canadian-American Performance Artist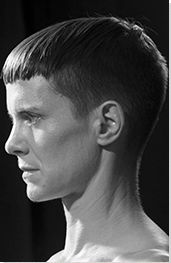 Born: September 26, 1975
Toronto, Ontario, Canada
I see my body as a material, just like paint or clay.
Summary of Cassils
Cassils' work uses the sculpting, training and transformation of their body to define their own parameters of identity and self-expression. Whether drawing on their experience as a personal trainer to gain pounds of muscle over an intensely short period, or on their stunt training to set themselves alight, Cassils has literally built their body into a vital and primary site of artistic inquiry. By pushing themselves to extremes of physical experience, and rendering the process or output in vivid performance, film and visual art, they illustrate the risks to, and subversive potential of, those who step outside established norms of gender and sexuality.

Based in LA, their practice draws on the rich history of body-based Performance Art whilst making significant inroads into the gallery, the academy and even mainstream popular culture. Their success in doing so reflects changing 21st century debates around self-definition, expression and identity.
Accomplishments
Cassils' work is heavily invested in the visibility and centrality of the transgender body, and in highlighting prejudice, marginalization, and abuse. Their work challenges established narratives about what it means to be of one gender or sexuality or another, and what kinds of bodies might be representative of that identity.
Cassils' work highlights the potential of the body to be transformed through physical activity, over both short and long periods of time. Whether by engaging in extensive weight training or bodybuilding or engaging in performative actions that radically change the framing of their body, highlighting the way that identity is constructed and projected onto different bodies is key.
Their work maintains real and material connections to the communities the artist highlights, both through direct participation (through initiatives like making body training available for free), and through presentation in collaboration with relevant institutions like the ONE archive of LGTBQIA+ history in Los Angeles.
Much of their early work was created in collaboration with others (most notably in the group Toxic Titties). Collaborative work reflected their dissatisfaction with the established marketized models of the art world and art education, and often explicitly challenged instances where performers and artworkers were being exploited. This process of collaboration continues, including with emerging artists.
Biography of Cassils
N.B. Cassils uses the plural pronouns "they", "them", and "their", as, in their own words, "this plurality reflects, through language, the position Cassils occupies as an artist".
Important Art by Cassils
Influences and Connections
Influences on Artist
Influenced by Artist
Influences on Artist
Friends
Julia Steinmetz

Clover Leary

Ron Athey

Katie Bush

Manuel Vason
Influenced by Artist
Friends
Julia Steinmetz

Clover Leary

Ron Athey
Useful Resources on Cassils