Marcel Broodthaers
Belgian Conceptual Artist, Filmmaker and Poet
Born: January 28, 1924
Brussels, Belgium
Died: January 28, 1976
Cologne, Germany
I remove the object from it usual context, I place it in another...
Summary of Marcel Broodthaers
Marcel Broodthaers' meteoric rise to the top of the art world upon his entrance onto the scene in 1964 - coupled with his brilliant output until his untimely death twelve years later - makes one wonder why he waited until age 40 to begin his artistic career. On the other hand, Broodthaers' work explores irony, contradiction, and the questioning of long-established artistic institutions, so it may be fitting that his artistic fame constituted a 180-degree turnaround from a 20-year period spent in poverty as a poet and journalist. Broodthaers' engagement with language, history, and identity helped establish the genre of Conceptual Art and fought to free visual art from the shackles of aesthetic taste and commercialization.
Accomplishments
Because Broodthaers spent years outside of the art world - despite his friendships with other prominent artists and intellectuals - much of his work exposes how art is often "colonized" by either an elite, by the state, or by commerce, and attempts to reclaim the exhibition of art as a catalogue of an artist's experiences, instead of a display showroom for a certain demographic.
Broodthaers often incorporates humor, language, and personal metaphor as source material, which both helps to make his conceptual work accessible to a broader public and challenges conventional understandings of governments, museums, galleries, and other sources of power and control both within and outside the art world.
Broodthaers' engagement with identity - and particularly Belgian identity - helped provide fresh attention to his native country's art for the first time after the Second World War, but paradoxically, it also called into question the meaning of national identity in an increasingly-globalized dialogue about art.
Broodthaers' films are diverse, ranging from comedies to documentaries to melodramas, and they often reveal a sense of humor and playfulness that is less apparent in his other work. Often they show him performing ridiculous acts under obviously staged circumstances, or humorous depictions of him dressed as historical or imaginary characters. They frequently illuminate the artistic influences on Broodthaers, such as Magritte and Schwitters, and critique both the methods of filmmaking and the locations of shooting and display.
Biography of Marcel Broodthaers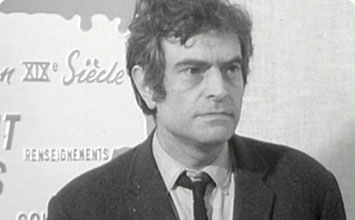 Marcel Broodthaers was born in Brussels in 1924. As a youth he was known to be bright and academically-inclined. From a relatively early age Broodthaers was involved in political and social issues. Around the age of 16, he was introduced to the "Surréalisme Revolutionnaire," a branch of the surrealists in Belgium, and during World War II he joined the anti-Nazi resistance.
Important Art by Marcel Broodthaers
Influences and Connections
Influences on Artist
Influenced by Artist
Influences on Artist
Artists
Stéphane Mallarmé
Influenced by Artist
Artists
Tino Sehgal
Movements
Process Art
Useful Resources on Marcel Broodthaers