Emmy Bridgwater
English Surrealist Painter and Poet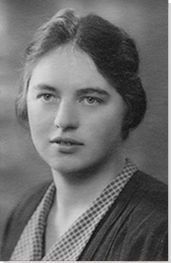 Born: November 10, 1906
Birmingham, United Kingdom
Died: March 13, 1999
Solihull, United Kingdom
Summary of Emmy Bridgwater
The work of Emmy Bridgwater - her paintings, drawings, collages, and poetry - is throughout infused with melancholy and a macabre interest in the degenerative progression of life. As a relative enigma in her early years as an artist, in 1936 she attended The International Surrealist Exhibition in London and henceforth, for the following two decades became a fixture in the art world. The exhibition not only provided a great source of inspiration, but also introduced other artists into Bridgwater's life who would become lifelong friends, including Conroy Maddox and Edith Rimmington. Dealing with pain, and recognizing that emotional pain can be as acute and de-habilitating as physical affliction are themes that run throughout the artist's career. As such she must wear "necessary bandages", not wounded in the flesh, but instead in heart and mind. It is as though Bridgwater carries an inherent regret, which likely surrounds the fact that her career was fragmented and cut short by the need to sacrifice art to the care of her family.
Accomplishments
Bridgwater was an automatist, meaning that she practiced a reduction of conscious control when making art in the hope to expose hidden and unconscious aspects of her personality. She was influenced less by the intricate carefully painted dreamscapes of René Magritte and Salvador Dali, and more by the urgent and uncontrolled writhing line of André Masson. Indeed, she shared fellow artist, Ithell Colquhoun's belief that automatism is the best means to capture the phenomena of the natural world in a constant state of flux and metamorphic transformation.
Birds recur in almost all of Bridgwater's imagery, as they also often do in the work of other female Surrealists and particularly in that of Leonora Carrington, Eileen Agar, and Edith Rimmington. The bird taking flight at this moment in history represents a collective desire to be free from patriarchal tethers and to unite the opposites realms of heaven and earth; the bird is an iconic and revealing symbol of Surrealism.
Significantly, Bridgwater was individually responsible for establishing better ties between the two strands of the Surrealist Group in England, that of the Birmingham and the London contingents. She was a member of both groups and instead of upholding animosity like many others she divided her time, talents, and loyalty between both.
Bridgwater's poetry is generally apocalyptic and nihilistic in tone, with lots of symbolism of death and endings. There is a sense, as upheld by the dissident Surrealists headed by Georges Bataille, that Bridgwater successfully considers and illustrates recurring frustrations and nightmares that plague the human condition. She does so in contrast to displaying the lofty ideals and dreams that drive us, as were the focus of André Breton and his followers.
Biography of Emmy Bridgwater
Emmy Bridgwater was born in Edgbaston, a district of Birmingham situated in the midlands of England. Her father was a chartered accountant and her mother a practicing Methodist. She was the couple's third and youngest daughter and appeared to enjoy a relatively comfortable middle-class childhood.
Important Art by Emmy Bridgwater
Influences and Connections
Influences on Artist
Influenced by Artist
Influences on Artist
Friends
Conroy Maddox

John Melville

Robert Melville
Influenced by Artist
Artists
Conroy Maddox

John Melville

Robert Melville
Friends
Conroy Maddox

John Melville

Robert Melville
Useful Resources on Emmy Bridgwater
Books
The books and articles below constitute a bibliography of the sources used in the writing of this page. These also suggest some accessible resources for further research, especially ones that can be found and purchased via the internet.

biography

artworks