Leland Bell
American Painter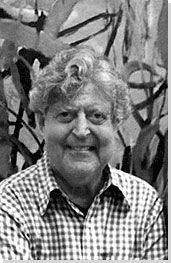 Born: September 17, 1922
Cambridge, Maryland
Died: September 18, 1991
New York, New York, USA
The artist's role is to invent rhythms and forms to reveal a deeper apprehension of reality for the viewer.
Summary of Leland Bell
Leland Bell, a post-war American painter, musician and instructor, defied categorization, creating works that were simultaneously classical, abstract, and representational. He set himself apart from his peers with a unique, rhythmic style that employed strong outlines, bold sections of color, and an engaging dynamism. Bell embraced the human figure as a primary subject when other artists were moving away from figurative representation. His artwork's exuberant take on everyday life did not conform to any one movement, making Bell distinctive within the art world.
Accomplishments
A former jazz drummer, Bell was drawn to the rhythmic movement in the artwork of Balthus, Alberto Giacometti, and Piet Mondrian, all of whom greatly influenced Bell's own aesthetic style.
Bell's most frequent subject was his own personal, domestic life. Unlike his contemporaries who sought to transcend or re-imagine the everyday world, Bell rejoiced in it.
Bell reworked his artworks numerous times, even after they were displayed or published, remaining passionate about painting as a continual process rather than a means to create a final product.
Biography of Leland Bell
Leland Bell was born in Cambridge, Maryland, in 1922, and grew up in Flatbush, Brooklyn. As a young boy, he was interested in drawing, often copying Norman Rockwell's illustrations and pictures in cowboy books. He also earned extra money by drawing caricatures for people on the street. Bell's other passion, jazz, led him to frequent New York's jazz clubs. In high school, Bell's Russian-Jewish parents moved the family to Washington, D.C. where he occasionally cut class to copy the works he saw at Phillips Memorial Gallery (now the Philips Collection) and the Library of Congress, and was particularly drawn to works by Paul Klee and Thomas Eakins.
Important Art by Leland Bell
Influences and Connections
Influences on Artist
Influenced by Artist
Influences on Artist
Friends
Jean Helion
Influenced by Artist
Artists
Louisa Matthiasdottir

Albert Kresch

Gabriel Laderman

Nell Blaine
Friends
Hilton Kramer
Useful Resources on Leland Bell